APSU Sports Information

Charleston, IL – Austin Peay State University's football team showcased its offensive prowess against one of the nation's top teams, but fell short on the road at No. 16 Eastern Illinois, 56-35, Saturday at O'Brien Field.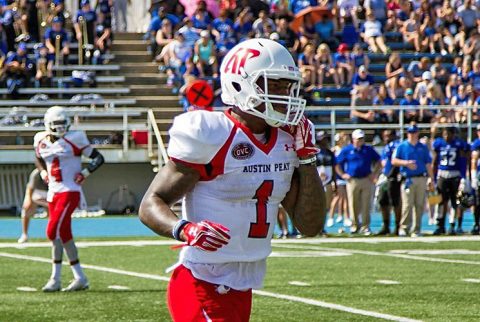 After an Austin Peay touchdown with 13:25 left in the fourth quarter that cut the EIU lead down to 35-28, the Govs dialed up a surprise onside kick and came away with the recovery.
However, on the ensuing extra possession EIU tipped a pass at the line scrimmage and came away with an interception. The Panthers capitalized on the turnover three plays later with a 12-yard TD pass to take a 42-28 lead with just over 12 minutes remaining.
Inside the Box Score
The Governors racked up 370 yards of offense in the contest, leading to the most points scored in an Ohio Valley Conference matchup since 2012 against Tennessee Tech. EIU entered the game allowing just 25.3 points per game which was 84th in the NCAA.
Junior receiver Jared Beard had a career day, nearly breaking the single-game receptions record with 11 grabs for 176 yards and two touchdowns. Beard also became the first Austin Peay player since Devin Stark in 2012 to catch 10 passes in a game.
Beard's 10 catches and 176 is an OVC high entering play this weekend.  He becomes just the sixth player in APSU history to record over 175 receiving yards in game.  For his career, Beard eclipsed the century receiving mark. He has hauled in 80 catches for 1,056 yards as a Gov.
Junior return man Kyran Moore had a 98-yard kickoff return touchdown to begin the third quarter. It's the first for the Govs since Enriques Perry did so against Southeast Missouri in 2013, which was the last game at the old Governors Stadium before renovations were made.
It was also the longest play for the Govs since Perry's 99 yard return. Moore's TD was the first score of his career.  Moore's 98-yard return was the second longest play prior to the weekend in OVC play.
Moore finished with 167 kick return yards, the highest total by a Gov since Terrence Holt had 189 yards against Murray State in 2010.
Redshirt-sophomore linebacker Gunnar Scholato totaled a career-high 18 tackles in the contest, one off the school record held by Johnathan Shuler (vs. SEMO, 2012).  Scholato also intercepted his first career pass as a Gov. With EIU driving late in the second quarter, Scholato pick off a pass in the end zone preventing the Panthers from scoring.
Junior DeKeivis Perry and freshman Neonta Alexander also had career days with double-digit tackle totals with 11 and 10, respectively.
Timarious Mitchell finished 15-of-22 for 211 yards and two TDs, while Tommy Hays completed three of his six attempts for 43 yards and score.
On the ground, Kendall Morris recorded his best game of the season running for 75 yards on 13 carries. Mitchell chipped in an extra 42 yards on nine carries.
Quotes
Head Coach Will Healy offers his overall thoughts
"I was proud of our guys. I thought we competed until the very end. I think we made strides from two weeks ago until now. I think the thing our guys had to learn the hard way, when you play a really good football team, every mistake is magnified. We've got to stop learning the hard way and make plays where we can win these games instead of being excited that we played and had a chance."
Head Coach
Will Healy
on Beard's performance
"I think he's a great player. He's continually changing his mindset. He understands his capabilities, and he's working hard. He deserves to have statistics like that. I'm proud of him and the effort he put forth. I think he's getting better each and every week, as is our football team."
Head Coach Will Healy on the offensive display
"I thought the offense did some good things. The frustrating part about it is we shot ourselves in the foot way too many times. When our drives stalled, it was self-inflicting wounds. We played against a really good football team, and they capitalized on those things. We had a 90-plus yard drive which was awesome, but we had some turnovers which put our defense in a tough position. I thought both quarterbacks did some really good things."
Summary
Austin Peay (0-3, 0-1) at Eastern Illinois (3-1, 1-0)
| Team | 1st | 2nd | 3rd | 4th | Total |
| --- | --- | --- | --- | --- | --- |
| Austin Peay | 0 | 14 | 7 | 14 | 35 |
| Eastern Illinois | 14 | 7 | 14 | 21 | 56 |
1st quarter
EIU 6:59 – EIU opened the scoring with a 11-yard touchdown pass from Austin Green to Korliss Marshall.
EIU 3:26 – Marshall extended the Panthers lead with a one-yard rushing score.
2nd quarter
APSU 13:59 – Austin Peay's first touchdown came on a three-yard score, with quarterback Tommy Hays finding freshman Prince Momodu wide open in the endzone.  Timarious Mitchell had a 23-yard scamper as the big play on the drive.
EIU 13:44 – Eastern Illinois answered quickly less than a minute later, with Devin Church rushing for a 50-yard touchdown on the drive's first play.
APSU 7:20 – Hays posted his first career rushing touchdown – a three-yard score following a 12-play drive. Mitchell found Beard four times on the drive for 47 yards.
3rd quarter
APSU 14:44 – To begin the second half, Kyran Moore returned the kickoff to the house – a 98-yard touchdown.
EIU 12:06 – The Panthers added another rushing touchdown to the scoreboard, this time with Christopher Anderson scoring from 12 yards out.
EIU 3:27 – Late in the 3rd quarter, the EIU quarterback Davis added to his touchdown total with an eight-yard rushing score.
4th quarter
APSU 13:25 – Junior wide receiver Jared Beard scored his first of two touchdowns on the day, an eight-yard connection himself and quarterback Timarious Mitchell.
EIU 11:27 – Green hooked up with Church for a 12-yard touchdown.
EIU 9:55 – Anderson plunged forward from three yards out, but APSU's Chris Hopkins forced him to cough it up. However, EIU's Shawn Mitchell was there to recover the fumble and walk into the endzone.
APSU 9:01 – The Mitchell to Beard connection worked once more late in the game, with Mitchell finding his favorite receiver wide open down the near sideline for a 46-yard touchdown.
EIU 4:53 – The Panthers capped off the contest with Anderson powering over the goal line for a six-yard touchdown.
What's Next
The Governors return home to Fortera Stadium to host Murray State, October 1st, at 4:00pm.