#11/11 Tennessee at #25/20 Georgia
Saturday, October 1st, 2016 | 2:30pm CT
Athens, GA | Sanford Stadium | TV: CBS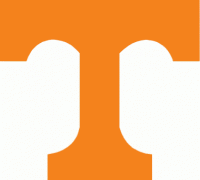 Knoxville, TN – No. 11/11 Tennessee heads to Athens, GA, to face No. 25/20 Georgia on Saturday at Sanford Stadium for a 2:30pm CT game on CBS.
SEC Nation will be on site in Athens at Myers Quad on Saturday. The show runs from 9:00am CT to 11:00am CT on SEC Network. Maria Taylor (bio) hosts the traveling pregame show, navigating the Saturday morning conversations with analysts Tim Tebow, Marcus Spears and Paul Finebaum. Laura Rutledge provides live reports of the sights and sounds of southern tailgating.
Fans who arrive early will receive a free SEC Nation t-shirt and chance to win tickets to the SEC Championship, a Regions bike, Belk prize pack, and more.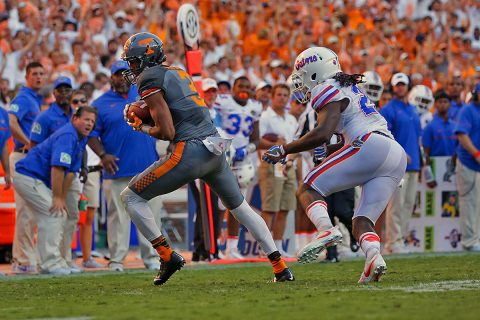 Saturday's broadcast on CBS will feature Verne Lundquist (PxP) and Gary Danielson (color analyst) calling the game from the booth and Allie LaForce reporting from the sidelines.
Fans can also listen live on their local Vol Network affiliate with Bob Kesling, Tim Priest, Brent Hubbs and Eddie Moore in the booth with John Brice on the sidelines. Fans can also listen in on the national Sirius XM broadcast on channel 80.
Tickets for the game can be purchased online via GeorgiaDogs.com.
Tennessee is 22-21-2 all-time against Georgia. The Vols snapped a five-game losing streak to the Bulldogs in 2015 with a thrilling 38-31 comeback win at Neyland Stadium. UT is 10-11-1 against Georgia in Athens and last won there in 2006 when Eric Ainge and Arian Foster led the Vols to a 51-33 comeback win.
That game was also the last time the two teams faced each other as ranked opponents as Tennessee was No. 13 and Georgia was No. 10.
UT is coming off of an exciting 38-28 comeback win over Florida this past week. Down 21 points in the first half, the Vols answered with 38-straight points thanks to a five-touchdown effort by Joshua Dobbs, who ran for a touchdown and threw for career highs of 319 yards and four scores, and Derek Barnett's (two sacks) second-half defensive surge.
The win snapped an 11-game losing streak against the Gators and tied for the third-largest comeback in program history.
Georgia suffered its first loss of the season last week, falling on the road to Ole Miss, 45-14. The Bulldogs could not overcome a 31-0 halftime deficit and the rebels finished with 510 yards of total offense to counter Georgia's 230 rushing yards.
Brian Herrian led UGA offensively with 11 carries for 78 yards and two touchdowns.
10-Straight Wins
Tennessee's thrilling 38-28 comeback win over Florida last Saturday pushed the Vols' winning streak to 10 games dating to 2015. It is the third-longest active winning streak in the nation and the longest UT win streak since the Vols won 14 in a row, spanning a 13-0 1998 season to a victorious first game in 1999.
A win on Saturday at Georgia would give the Vols the fifth-longest win streak in program history.
Comeback Kids
According to ESPN Stats & Info, Tennessee lost two games last season in which its win probability reached at least 90 percent, including its 28-27 defeat at The Swamp.
With last Saturday's comeback win over the Gators, the Volunteers now have two wins this season in which their win probability fell below 10 percent.
Record When Ranked
Against Georgia, Tennessee is …
13-7-1 when ranked
11-11 when the Bulldogs are ranked
9-5 when both teams are ranked
11-2-1 when the Vols are ranked higher
8-2 when entering the game undefeated
Tennessee-Georgia on CBS
Tennessee and Georgia are set to meet on CBS for the second straight year and for the fourth time in the last five seasons. Saturday marks the 12th Vols-Bulldogs game to appear on CBS.
Heralded sportscaster Verne Lundquist, who is retiring from the CBS football booth after this season, is calling his 40th Tennessee football game–all at CBS. With Lundquist calling last week's come-from-behind victory over Florida, the Vols are now 11-28 with him in the booth. Tennessee honored him with a tribute during last week's game at Neyland Stadium.
Lundquist's first-ever Tennessee game came on September 26th, 1987 — a 20-20 tie between the Vols and Auburn at Neyland Stadium.
Saturday is Lundquist's seventh Tennessee-Georgia game. He called the matchup in 2002, 2004 and 2005 and has also been in the booth for the last three editions on CBS: 2012, 2013 and 2015.
Scoring Fast
Tennessee has scored 16 offensive touchdowns this season and is averaging 1:54 in time of possession on those touchdown drives.
The Vols have five TD drives of fewer than a minute this season. Their longest TD drive, coming against Ohio on September 17th, took 4:54. That drive also featured a season-high 11 plays.
Note: UT's overtime touchdown against Appalachian State was an untimed drive and did not factor into these averages.
Malone's Touchdown Streak
Junior wideout Josh Malone is off to a quick start in 2016, opening the season with a touchdown reception in each of UT's first four games.
Malone has five touchdowns in those four games, scoring his fifth touchdown of the season on a 42-yard catch and run last Saturday against Florida.
Malone's streak is tied for the third-longest at UT all-time and is tied for the second-longest to open a season. Corey Fleming is the only Vol to start a season with touchdown catches in each of the first five games, a feat he accomplished in 1993.