Clarksville, TN – On Sunday, October 16th, 2016 between the hours of 1:00pm and 4:30pm, the Humane Society of Clarksville-Montgomery County will hold Clarksville's 4th Annual Pit Bull Awareness Day in the parking lot of The Pet Food Center located at 2243 Lowes Drive, Clarksville, TN.
This event is held to bring awareness about the misconception of Bully Breeds.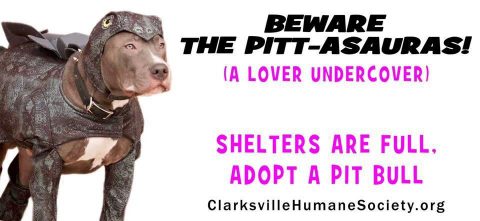 Raise funds specifically ear-marked to provide free or greatly reduced low cost spay/neuter surgeries for owners. Reduce euthanasia and increase adoptions of Pit Bulls and Other Mixed breeds in the Clarksville-Montgomery County area.
Come learn on how to get involved from animal care groups, professionals, and volunteer organizations from around the area.
This Year's Event Will Include:
Dress Your Bully Contest – There will be different categories of winners such as a best kisser, wild child etc. The Grand Prize will be your dog's picture on two educational billboards here in Clarksville! This year's theme will be Fall Carnival, please feel free to match your costume with our theme.
Pit Bull & Other Mixed Breeds Adoptions– will be available through Montgomery County's Animal Control Services mobile adoption van, and other Bully Friendly rescue organizations. Great time to come out and help a wonderful dog find a forever home!
Professional Pet Photography– will be onsite provided by Jordan Larissa Williams!
Kiss-A-Bull Booth & Carnival Themed Dog Games – a $1.00 donations for a Big Sloppy Pit Bull Kiss, and carnival games for your Pittie to get their Paws into!
Other Fun Stuff– a variety of Local Vendors will be on hand with dog services and treats, Raffles to win, Music to celebrate with, and Yummy Baked Goods for sale!
See us on Facebook and Come Celebrate Clarksville's 4th Annual Pit Bull Awareness Day.