APSU Sports Information

Clarksville, TN – Austin Peay State University men's basketball team couldn't quite get the final push needed to overcome visiting Morehead State in Thursday's 89-82 defeat at the Dunn Center.
The first half was the John Murry Show, with the senior displaying another burst of his offensive prowess early on.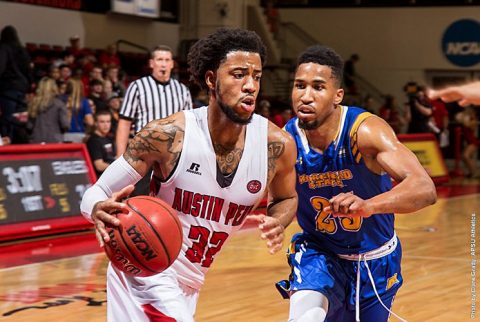 The Indianapolis native scored 10 points in 3:51 (18:15-14:34), the fifth time this season and second in as many games that he's needed less than five minutes to score 10 points. It was part of an 18-point first-half barrage for Murry that gave Austin Peay a 42-38 advantage at the break.
Although a half-opening three-pointer by Josh Robinson would give the Govs a seven-point lead to start the second half, Morehead State was able to stymie the Governors (36.0 percent) from much of the final period.
The two squads traded leads and ties until another Robinson three to tie the game at 75 with 4:59 remaining; the Governors would hit just one shot from the floor the rest of the way and were outscored 14-7 down the stretch.
Morehead State's Xavier Moon—who led all scorers with 26 points—scored 21 points in the second half and hit threes on back-to-back possessions to give the Eagles a five-point lead with 2:24 to go.
The Difference
Although Morehead State's control of the boards was notable, particularly the offensive glass (16 offensive rebounds), those turned into just nine second-chance points. However, the Eagles shot lights-out over the final 20 minutes, hitting 51.3 percent from the floor.
Notably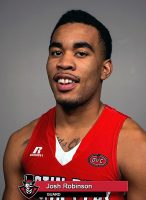 Robinson scored 23 points, his third straight game with 20 or more and 14th in 20 outings this season. He also tallied six assists, his most in OVC play through six games. His four steals also were his most against a Division I opponent in 2016-17.
Austin Peay held Morehead State to 11 assists (fewest since December 22nd against Mississippi State) and the Eagles first negative assist-to-turnover ratio since the contest against the Bulldogs.
Murry was again magnificent, notching 21 points (his fifth 20-point game this season and third in five games) on 6-for-10 shooting. He's reached double figures in all six conference contests and is averaging 18.2 ppg since OVC play began.
Austin Peay is now hitting 73.9 percent from the free-throw line in losses this season.
Sophomore Chris Porter-Bunton's 12-point performance was his most since a 14-point game against Lipscomb, December 20th, and his most against an OVC foe since a 12-point performance against Tennessee Tech in last season's OVC Tournament.
The Governors made a season-high 25 free-throws.
Sophomore Jared Savage scored 12 points—his fourth double-figure scoring game since the start of conference play—and is now averaging 12.1 ppg since December 28th.
The 15 rebounds procured by Morehead State's DeJuan Marrero were the most by an individual Austin Peay opponent in 2016-17, as were his five blocked shots.
Milestone Watch: Robinson passed Maurice Hampton and took over 15th on the all-time scoring list with 1,342 points.
Up next is his teammate Jared Savage's father Jermaine, who scored 1,345 points from 1992-96. He also passed Damarius Smith (2013-15) and Levi Carmichael (2001-05) for 22nd all-time with 185 assists.
Coaching Quotables

Head Coach Dave Loos
Overall impressions
"I don't think it was a terrible game overall, but we've certainly got to do better on the boards. We got outrebounded 16-3 on the offensive boards; it seems like they got every loose ball, and then we don't score a field goal for the last three minutes of the game, so it was tough from that standpoint."
On Morehead State's Xavier Moon and defensive intensity
"We went behind too many screens, which gave him some looks, so I was disappointed in that. We need to get over top of more screens; that didn't help us."
On going to zone defense
"It was somewhat (effective). Certainly at the end of the first half, we were able to get some good use out of the zone; the game was tied and in effect we got a four-point turnaround out of it."
Up Next for the APSU Govs
The Team Up North pays a visit to Clarksville when Murray State comes to town for the first Battle of the Border contest, 6:30pm, Saturday.