APSU Sports Information

Oxford, MS – Austin Peay State University track and field enjoyed a weekend filled with solid marks at the Joe Walker Invitational, hosted by Ole Miss against some of the best competition the southeast has to offer.
Austin Peay's jump contingent set the standard for the weekend.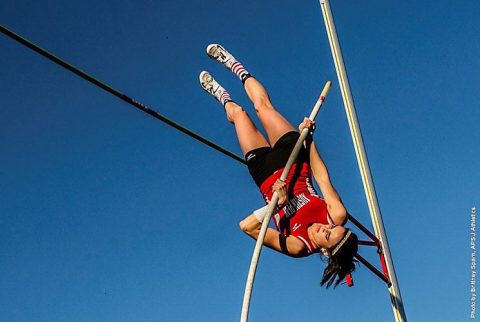 In Friday's long jump, senior Kaylnn Pitts placed fourth at 5.72m (18-9.25), while classmate Chancis Jones' 5.59m (18-4.25) mark earned her seventh.
Saturday, Pitts earned runner-up in the triple jump (12.44m; 40-9.75), with Jones narrowly missing a top-three spot with a 12.01m (39-5.00) mark to place fourth.
Sophomore Savannah Amato's 3.70m (12-1.50) pole vault was a season-best—earning her sixth-place—while Gretchen Rosch's 3.55m (11-7.75) was a personal-best.
In high jump action, sophomore Nia Gibbs-Francis' 1.55m (5-1.00) high jump earned her a share of fifth place.
Freshman Garielle Netter's 12.40 mark in the 100m dash placed her seventh among 29 runners, while senior Myiah Johnson's 14.48 placed her sixth out of 20 in the 100m hurdles to lead Austin Peay's track squad.
The Govs make it back-to-back journeys into SEC country next week when they travel to the Florida Relays, March 30th-April 1st, in Gainesville, FL.