Clarksville, TN – Since its debut in 2011, Theta-Delta has become another avenue for Phi Alpha Theta (PAT), Austin Peay State University's award-winning history honor society, students to demonstrate their capacity for historical research, authorship and criticism.
Modeled after scholarly magazines such as The Journal of Southern History, Theta-Delta allows APSU students to grow as editors as they mold a year's worth of classroom research into quality, publishable articles.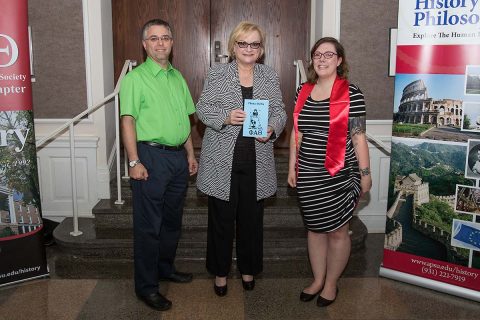 Theta-Delta recently celebrated another year of work when members of PAT presented APSU President Alisa White with the first printing of its now-seventh volume.
"Theta-Delta provides invaluable experience for our students as they prepare for their careers," Minoa Uffelman, APSU professor of history, said. "Students work as editors in every aspect of revising the paper into publishable scholarly articles, and they also work on all technical aspects of publication from budget, formatting, dealing with print and meeting deadlines."
The seventh volume of Theta-Delta covers a diverse range of topics and themes, from the fantastical, magical underworld of ancient Arabia and Europe and the impact of the Justinian Plague on fifth-century Byzantium and Constantinople to Operation Mongoose and the CIA's covert activities against Cuba and president Fidel Castro.
First-year Theta-Delta editor-in-chief Jenny Brown said compiling this year's volume was a learning experience for all involved, but said the range of topics and depth of thought in Theta-Delta reflect a job well done and an interesting read for fans of history.
"These papers are proof that the History and Philosophy Department at Austin Peay has some of the brightest students in the region," Brown said. "From the Black Death to the Russian civil war, the articles we have in this volume guarantee that readers can find a topic that suits their own passions and curiosity."
Brown, Uffelman and Dr. Cameron Sutt, faculty advisor for Theta-Delta, distributed a limited number of printed versions of the journal during last week's awards ceremony. The unveiling added to the excitement of that morning's event, which saw PAT awarded the 2016-17 APSU Student Organization of the Year, as well as the induction of new PAT members and the celebration of graduating members.
For more information on the magazine or PAT, contact Uffelman, the chapter's adviser, at uffelmanm@apsu.edu.