Clarksville, TN – According to Clarksville Police, a woman, Amanda Sparks, 29, of Clarksville, TN, out on bond for a April 26th, 2017 prostitution charge has been arrested and charged again for prostitution.
Clarksville Police Department's special operations unit has been targeting those offering sexual service in exchange for money using the website Backpage.com. Agents found an ad on May 10th, 2017 posted on Backpage.com in the Clarksville women seeking men section.
An agent contacted the person on the phone number listed and entered into an agreement for sexual services in exchange for $60.00.
The person who posted the ad provided a picture which an agent recognized as being the same person who was previously arrested during a similar operation.
An arrangement was made to meet at an area hotel, at which time, Amanda Sparks was arrested. She was booked into the Montgomery County Jail and charged with: Prostitution; Bond: $2500.
Amanda Sparks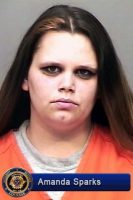 Name: Amanda Sparks
Gender: F
Race: W
Address: Franklin Street, Clarksville, TN
Arresting Officer: Smock
Charged With: Prostitution
Booked Into: Montgomery County Jail
Bond: $2,500.00
Sections
News
Topics
Bond, Clarksville Police, Clarksville Police Department, Clarksville TN, CPD, CPD Special Operations Unit, Franklin Street, Montgomery County jail, prostitution