APSU Sports Information

Oxford, AL – A pair of Austin Peay State University track and field athletes helped the Govs get off to a good start at the 2017 Ohio Valley Conference Outdoor Track and Field Championships at Choccolocco Park.
"Good first day in the books," said head coach Doug Molnar. "The people we had competing today got us out to a good start."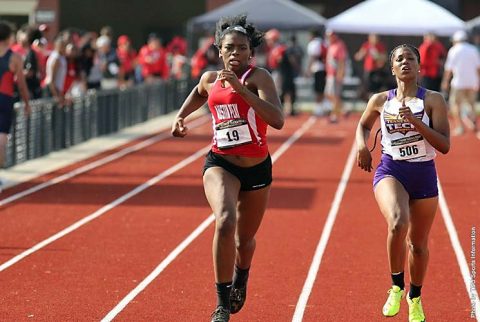 The Governors first three points were secured in the 10,000m run by
Emmaculate Kiplagat
; the Kenyan distance dynamo picked up a sixth-place finish with a 37:48.37 mark.
"Emma was up against some very good runners who hadn't run the 10K coming into this event," Molnar said. "She did a great job, battling with three laps to go and had a chance to steal it but wasn't able to hang onto it after the peloton ran them down. That was a great effort and we told the team tonight, that's what we're looking for; she really went for the win."
Senior Christiana Harris is poised for another medal run in the heptathlon, sitting in fifth through four events with 2,681 points—her fourth-place high jump (1.58m; 5-2.25) was her high-water mark for first day of competition. She will compete in the long jump, javelin and 800m run to conclude the event, Friday.
"Harris set herself up for a solid day tomorrow," Molnar said. "Two of her better events are the long jump and javelin, so she's set up well to be in contention."
Friday's action gets underway at 9:15am with the heptathlon long jump. Field events kick off at 1:00pm with the women's high jump and track prelims start up at 3:00pm with the 100m hurdles.