Written by Curtis Johnson
Tennessee State Representative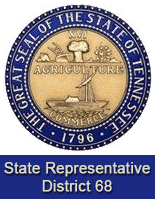 Nashville, TN – The first session of the 110th Tennessee General Assembly adjourned on May 10th, 2017, after passing major legislation that will benefit Tennesseans for generations to come. This is Part 6 of a 12 Part report.
This includes a measure making Tennessee the first state in the nation to offer all adults without a degree tuition-free access to community college; a new law rebuilding a safe and reliable transportation network, while reallocating revenues to maximize taxpayers' return on that investment; and a bill which provides a responsible path to improve access to broadband through investment, deregulation, and education.
Action in the General Assembly also included passage of a balanced budget which takes on no new debt, as well as legislation protecting the elderly, enhancing the state's robust job growth, cracking down on crime, and boosting efforts as the fastest improving state in the nation in K-12 student achievement. Following is a report on key legislation passed this year.
School Bus / School Zone & Student Safety
Student safety was a key issue for the 2017 legislative session as the General Assembly passed several bills which aim to make improvements, including major legislation to make traveling on school buses safer. That new law comes after a deadly crash in Chattanooga last year which killed six children and a fatal crash in Knoxville in 2014 which killed two children and a teacher aide, with driver error at fault.
School Bus Safety
Legislation was approved to enhance school bus safety by raising the minimum age for drivers to 25 and requiring all drivers to complete a school bus driver training program based on standards developed by the Department of Education and the Department of Safety prior to transporting any students. The new law clarifies that drivers must have five consecutive years of unrestricted driving experience prior to the date of application. The department must also be fully satisfied as to the applicant's good character, competency, and fitness before being employed.
The legislation requires school districts and charter schools to appoint a transportation supervisor, who receives annual training and is responsible for monitoring and overseeing student transportation for their district or charter school. The transportation supervisor will be responsible for implementing the school safety policy set by the local board of education, including a policy for investigating complaints.
Each school transportation policy must include:
A plan for initiating an investigation into any complaint of a safety violation or concern with regard to school bus transportation within 48 hours;
A plan for completing an investigation within 60 days of receiving a complaint and submitting a report detailing the findings and any action taken;
A procedure for collecting and maintaining records related to transportation services; and,
A procedure for notifying students and families of the process for reporting complaints or concerns.
House Bill 332 / Status: PC 289 / Effective Date: January 1st, 2018.
School Zone Safety
Legislation which bans drivers from knowingly driving through an active school zone while talking on a hand-held cell phone, met the approval of General Assembly in 2017. The new law applies to marked school zones when warning flashers are in operation. The legislation aims to provide greater safety for children as they go to and from school.
House Bill 868 / Status: PC 416 / Effective Date: January 1st, 2018.
SAVE Act / School Safety
Legislation amending the School Against Violence in Education (SAVE) Act to require each school to conduct at least one armed intruder drill per school year has been signed into law. The drill will be conducted in coordination with the appropriate local law enforcement agency. Currently, the SAVE Act requires that each Local Education Area (LEA) adopt a district-wide and building-level school safety plan for crisis intervention, emergency response, and emergency management. Each safety plan is to be reviewed annually by the appropriate school safety team and updated as needed.
House Bill 439 / Status: PC 313 / Effective Date: July 1st, 2017.
School Fire Drills
Legislation has been enacted to reduce the number of required evacuation drills in public schools. The measure decreases the minimum requirement of practice drills to seven drills over a 10-month period. While the first four must be a complete evacuation, the remaining drills may be executed in the classroom by way of review through any means available to the school. The legislation aims to improve the efficiency of these drills without undermining the safety of the children.
House Bill 192 / Status: PC 451 / Effective Date: May 25th, 2017.
Education / Teachers
Budget
Headlining key action taken this year by the Tennessee General Assembly is adoption of a budget that makes a large investment in education. The 2017-2018 budget fully funds the Basic Education Program (BEP) and appropriates $6.2 billion in total funding for K-12 education. It also provides additional recurring funding to the BEP for additional teachers and translators for English Language Learner (ELL) students.
In addition, the budget includes $100 million to improve teacher salaries to boost the state's efforts to be the fastest improving state in the nation in student achievement. In addition, appropriations in the budget provide non-recurring funding for career and technical education equipment and funds for Priority School Improvement Grants.
Teacher Education Programs / Engaging Collaboratively
As Tennessee emerges as a national leader in education improvements, legislators are creating innovative ways to further the educational advances that the state of Tennessee is making. One new law which aims to aid in this endeavor is a measure creating an environment where higher education teachers engage collaboratively in classroom activities at the K-12 level.
It requires the State Board of Education to meet annually to coordinate policies on educator preparation and gives it the authority to review educator preparation programs for non-compliance.
Research shows that teachers have the most impact of any in-school factor on student achievement. It is hoped that the legislation will close the gap between the higher and K-12 education systems, providing the state with better prepared educators to continue Tennessee's climb up the national education ranks.
House Bill 695 / Status: PC 402 / Effective Date: Upon becoming law on May 18th, 2017.
Teacher Training Programs / Flow of Information
Legislation passed this year calling for a flow of information between K-12 schools and teacher preparation colleges to improve the effectiveness of teacher education programs. The legislation requires the Department of Education to allow state-approved teacher training programs to access annual evaluation data for teachers and principals graduating from their programs for a minimum of five years after graduation.
Before a teacher training program may access the evaluation data, however, they must enter into a data sharing agreement with the department that includes provisions safeguarding the privacy and security of the data. The information will help the schools evaluate and improve the effectiveness of their programs.
House Bill 626 / Status: PC 143 / Effective Date: Upon becoming law on April 17th, 2017.
Teachers / Rights
Legislation providing a list of rights and protections for Tennessee teachers passed during the 2017 session. It gives educators the right to:
Be treated with civility and respect;
Have his or her professional judgment and discretion respected;
Report any errant, offensive, or abusive content or behavior of students to school officials or appropriate agencies;
Provide students with a classroom and school in which the educators, students, the property of the educator and students, and peers will be safe;
Defend themselves and their students from physical violence or physical harm;
Share information regarding a student's educational experience, health, or safety with the student's parent or legal guardian unless otherwise prohibited by state law or the federal Family Educational Rights and Privacy Act (FERPA);
Review all instructional material or curriculum prior to those materials being utilized for instruction of students; and,
Not be required to use their personal money to appropriately equip a classroom.
Under the new statute, the term "educator" applies to any teacher, principal, supervisor, or other individual required by law to hold a valid license of qualification for employment in the public schools of this state.
House Bill 174 / Status: PC 360 / Effective Date: Upon becoming law on May 11th, 2017.
Teacher Supplies Fund
A new law was enacted this year requiring all BEP funds set aside for classroom supplies be allocated directly to teachers. Presently, $200 is allocated for teacher supplies, with half going directly to the teacher and the other half to a committee which pools resources.
House Bill 457 / Status: PC 389 / Effective Date: July 1st, 2017.
Tennessee Educators Protection Act
Legislation has been approved creating liability protections for teachers, education employees, school board members, and authorized volunteers in Tennessee's public and private schools. Named the "Tennessee Educator's Protection Act," the new law protects school employees from frivolous lawsuits aimed at harassing faculty and staff while performing their duties.
The measure is based on the premise that meritless litigation against school employees interferes with the quality of public and private education, particularly where it arises out of the good faith efforts of educators to maintain classroom discipline or to address threats to student safety.
House Bill 1196 / Status: PC 407 / Effective Date: July 1st, 2017.
School Counselors / Additional Services
State lawmakers gave final approval to a bill which clarifies that a certified school counselor, in collaboration with a parent, may recommend additional mental health counseling for a student without obligating the cost of that counseling to the school system. The new law does not change or interfere with the services already provided by the school system.
The legislation simply eliminates the ambiguity that is often a barrier for school counselors to make this referral, which their ethics and training require, to a private counselor or therapist when the student's needs fall outside their scope of services.
House Bill 720 / Status: PC 18 / Effective Date: July 1st, 2017.
Retired Teachers / Substitutes
A bill which creates a solution for districts struggling to find competent substitute teachers has passed by allowing retired teachers to work as a substitute for 120 days, rather than the current 90 days. The measure requires that the school district exhaust other resources available before opting to hire the retired teacher.
House Bill 166 / Status: PC 287 / Effective Date: July 1st, 2017.
Retired Teachers / Substitute Teachers
Similarly, legislation was passed that guarantees a teacher, without an active license that has retired within the last five years, is eligible for the same rate of pay as retired teachers that have maintained their licenses. This new law addresses the need for short-term substitute teachers who are highly qualified.
House Bill 368 / Status: PC 387 / Effective Date: July 1st, 2017.