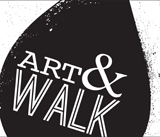 Clarksville, TN – Produced by The Downtown Clarksville Association, First Thursday Art Walk is a free, self-guided tour spanning a 5-block radius that combines visual art, live music, engaging events and more in the heart of Downtown Clarksville.
With 10+ venues, bars and businesses participating each month, the First Thursday Art Walk in Clarksville is the ultimate opportunity to savor and support local creative talent.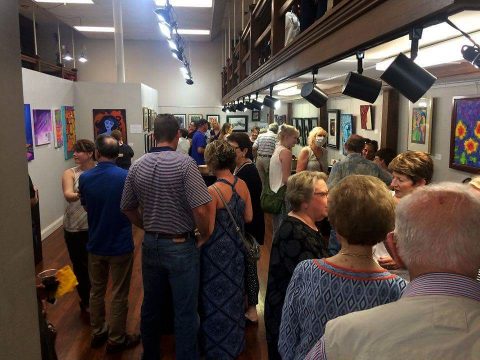 The July Art Walk will be held July 6th from 5:00pm to 8:00pm at the shops and galleries on Public Square, Franklin Street, and Strawberry Alley.
The participating businesses are listed below as well as a description of the work they will be exhibiting and services they will be offering during the event.
The Framemaker (705 North Second Street)
For over two decades, The Framemaker has offered a unique selection of frames and art services to the Middle Tennessee area.
Artist Information
The Feminine Mystique: New Work by Alexandra Pickett, Mitzi Cross and Malcolm Glass
The Framemaker proudly presents photography, poems and paintings by Alexandra Pickett, Mitzi Cross and Malcolm Glass. This exhibit is part of Clarksville's First Thursday Art Walk on July 6th, 2017. An opening reception will be held from 5:00pm to 8:00pm.
The exhibit will remain on display at the Framemaker throughout the month of July during normal business hours (Monday through Friday 10:00am to 5:00pm).
Mitzi Cross and Malcolm Glass art fine art photographers and writers from Clarksville, Tennessee Painter, Alexandra Pickett also lives and works in Clarksville, Tennessee. "The Feminine Mystique" presents work by the three artist who have collaborated over the past several years seeking to explore the figure, portraits and mystery of women.
Alexandra's painting are impressions of dreamlike imagery arising from her unconscious attunement to her own femininity. Mitzi finds the inner strength of women in line, shape, and shadow of the figure. Malcolm's portraits reveal character and emotion rising from the subconscious. Poems by Malcolm and Mitzi respond to both photographs and paintings and to the feminine body and soul.
Edward's Steakhouse (107 Franklin Street)
Artist Information
Edward's Steakhouse will feature local artist, Karla Tucker, during the July First Thursday Art Walk.
"Fragments" , is a series of wax-encased photographs by local artist Karla Tucker. This body of work features digital photographs that represents the past and present of everyday life. Handwritten, typed, or letterpress words are then layered with encaustic wax on top. Each piece is then fused together, leaving the images encased and some of her inner thoughts exposed. Between her photographs and multi-layering techniques, Tucker is allowing the viewers to see fragments of her life, feelings, and thoughts.
Tucker is an award-winning local artist living and working in Clarksville, Tennessee. She received her Bachelor in Fine Art from Austin Peay State University and is currently working at the Customs House Museum & Cultural Center in Historic Downtown Clarksville.
Stop in, see the art, listen to the live piano and enjoy the Thursday night special, 1/2 priced $7.00 appetizers and 2 for 1 draft drink specials.
The Roxy Regional Theatre (100 Franklin Street)
Peg Harvill Gallery
Artist Information
During the month of July, the Roxy Regional Theatre's Peg Harvill Gallery will host local artist, Brandt Hardin.
Brandt Hardin is a visual artist who has displayed his work in galleries and live events across the country.
The new paintings on display are from his Topsy-Turvy series, where the works of art can be hung in different directions for a new perspective!
You can follow Brandt's art through his website, www.dregstudios.com
Additional gallery hours are Monday through Friday, 9:00am – 2:00pm.
For tickets to and information about our current production, "Hedwig and the Angry Inch", please visit www.roxyregionaltheatre.org or call the box office at 931.645.7699.
Downtown Artists Co-op (96 Franklin Street)
The DAC is an association of talented local artists and interested patrons dedicated to promoting the visual arts in the Clarksville-Montgomery County area.
Our objectives are to sponsor art exhibitions of work by Co-op members and regional artists, to provide continuing support for the Co-op and its membership through the sale of art work, to encourage arts education with outreach programs and scholarship fundraisers, and to develop membership services which directly support the arts community.
Artist Information
Downtown Artists Co-op (DAC) is proud to announce our 16th Annual Members' Exhibit. This annual tradition is an exhibit of original art by our 40+ amazing regional artists, our entire DAC Membership. This month-long event features affordable, unique, and incredible fine art from our amazing group of artist members. Art on display includes: Painting, Drawing, Mixed Media, Photography, Jewelry, Woodworking, 3D/Fabric Arts, Installation and something for everyone!
The Opening Reception will be Thursday, July 6th from 5-8pm. The DAC will be serving up art, music, appetizers, friendship, water and wine for the opening reception. July music will feature guitar work by Stuart Bonnington, Gerald Bonner and Tom Griffin. Our Franklin Window exhibit features Regina Mick.
As always, the DAC opening is a central part of Clarksville's "First Thursday Art Walk", a wonderful evening of art, music and more in beautiful Historic Downtown Clarksville. First Thursday Art Walk occurs regularly on the first Thursday of each month. This 1st Thursday promises to be a wonderful evening of art, music, food and more.
The Members Exhibit is generously sponsored by: F&M Bank, Ellen & David Kanervo, The Frame Maker (Glen Edgin) and Sango Fine Wines and Spirits.
This featured exhibit will be on display during the entire month of July 2017 at the DAC Gallery. We are located at 96 Franklin Street, Clarksville, TN. DAC Gallery hours are Tuesday-Friday, Noon-4:00pm and Saturday, 9:00am – 5:00pm.
See our website at www.downtownartistsco-op.com or follow us on Facebook for more information.
Yada Yada Yada Deli (100 Strawberry Alley)
Artist Information
Yada Yada Yada Deli is proud to host Olasubomi Bashorun during the July First Thursday Art Walk.
Olasubomi Bashorun graduated with an art degree from Oklahoma Baptist University and now lives and works in the Middle Tennessee area. In addition to creating beautiful original work, he teaches art, instructs ballroom dancing and hosts creative workshops. Olasubomi's artistic inspiration was fostered and influenced, in part, by his high school art teacher, Kathleen Blake.
"I have always had talent to see and create, but she made me realize what art can do for the mind and soul. She taught me to be creative and express myself with my art. I've been doing that ever since."
"I believe that everyone of us should create. Sure, some peoples creation maybe more esthetically pleasing than others. But its not only about the outcome, it is about the process of starting from nothing, adding the first scribble then creating relationships from scribble to line, working through rough edges and the mistakes and then knowing when to walk away. Creating is for us all to get lost in something, express words, moods, feelings. Creating is life."
Customs House Museum (200 S. 2nd Street)
The Customs House Museum and Cultural Center is Tennessee's second largest general interest museum. It features fine art, history, and children's exhibits.
Artist Information
First Thursday Art Walk
July 6th, 5:00pm – 7:00pm
The museum is open to the public with free admission as part of Downtown Clarksville's First Thursday Art Walk.
Exhibits:
The Harmon and Harriet Kelley Collection of African American Art: Works on Paper
May 9th – August 1st, Orgain, Bruner & Crouch Galleries
This exhibition is one of the most comprehensive traveling exhibitions ever organized featuring works on paper by African-American artists from the 19th, 20th, and 21st centuries. The 70 works in the exhibition include drawings, etchings, lithographs, watercolors, pastels, acrylics, gouaches, linoleum cuts and color screenprints by such noted artists as Ron Adams, Benny Andrews, Romare Bearden, Aaron Douglas, Jacob Lawrence, Charles White, Elizabeth Catlett, John Biggers, Henry Ossawa Tanner, Eldizer Cortor, Margaret Burroughs, and many other outstanding artists.
This highly acclaimed exhibition has been featured in major museums stretching across America, and Clarksville is its only scheduled stop in a contiguous twelve-state region in our part of the country. The exhibition was organized by Landau Traveling Exhibitions, Los Angeles, CA.
Eric Buechel: The Familiar
June 2nd – July 30th | Planters Bank Peg Harvill Gallery
Eric Buechel grew up in a rural northern area of New Jersey, just west of Manhattan and attended the DuCret School of Art in Plainfield, New Jersey. He then transferred to Broward College in South Florida and earned a degree in fine art. Since moving to Tennessee in 2002, Buechel has focused exploring art the camera. His three year battle with cancer gave him the desire to create with a new found perspective.
This Is My Story
June 8th – October 15th | Jostens Gallery
Women writers representing multiple decades share their thoughts of who they are on May 14th, 2017 (Mother's Day). Their writings are suspended on cloth, hung "clothesline style" in the gallery.
Art of the Staff
June 1st – July 24th | The Leaf Chronicle Lobby
See art in a variety of mediums created by the staff of the Customs House Museum and Cultural Center.
Forward March
March 7th – July 30th | Kimbrough Gallery
This exhibit showcases maps, documents, dioramas, flags, and photos from several wars, featuring objects from the collection of Dr. John Olson.
Reading Appalachia: Voices from Children's Literature
March 23rd – August 20th | Memory Lane
This groundbreaking exhibition of Appalachian children's literature examines seminal titles published since the 1800s. Come explore our region's literary heritage and see how children's literature tells the story of Appalachia. This is a traveling exhibit from East Tennessee Historical Society and Knox County Public Library.
Journey's Eye Studio (131 Franklin Street)
Artist Information
Journey's Eye Studio is proud to host locals artist, Lucas Ryan Chambers, during the July First Thursday Art Walk.
Lucas Ryan Chambers is a Bachelor of Fine Arts student in the Department of Art and Design at Austin Peay State University. This body of work documents work performed by healthcare workers on a recent trip to Port-au-Prince, Haiti.
Lucas states: "I got to know some really amazing kids and took thousands of photos while there, but the friendships made hold the most sentiment".
Mildred & Mable's (109 Franklin Street)
Mildred & Mable's is a unique and fun gift boutique offering something special for every occasion. Custom monogramming and gift baskets available for babies, birthdays, weddings and more.
Mildred and Mable's is proud to support the July First Thursday Art Walk.
Stop in and check out and new look and all of the great gift and clothing options to transition you into the warmer months!
Rogate's Boutique (115 Franklin Street)
You are sure to find something new and exciting each time you visit Rogate's Boutique! Our store offers all the latest amazing fashion trends, while remaining focused on timeless style. And we know how much fun shopping should be, so you can always expect to have a great time here.
Rogate's Boutique will not feature an artist, but is proud to support the July First Thursday Art Walk.
Stop in an find a few new things to welcome the warmer temperatures into your wardrobe!
Couture Crush (101 Franklin Street)
Couture Crush is proud to support the July First Thursday Art Walk.
Find some new additions for your Summer wardrobe during the July First Thursday Art Walk!
Lilac Mums (127 Franklin Street)
Lilac Mums celebrated its Grand Opening Saturday, June 24th, 2017. The store, located at 127 Franklin Street, offers a place to celebrate local artisans.
From home decor to clothing and accessories,there is something for everyone.
They are so happy to be apart of the downtown community and would love for you to visit them during their first Art Walk. Meet the owners and get connected to Clarksville's newest creative destination.