Clarksville, TN – Archeology may not be a career Austin Peay State University history graduate student Katelynn DiStefano is pursuing academically, but that did not stop the graduate assistant in the University's Department of History and Philosophy from spending part of her summer searching for mummies along the northern coast of Peru.
DiStefano joined University of Alabama Ph.D. student Jenna Hurtubise, along with a small group of students and archeologists, in traveling to the South American country, where they continued Hurtubise's work in excavating and analyzing the history of the Casma, an underexplored ancient Peruvian culture.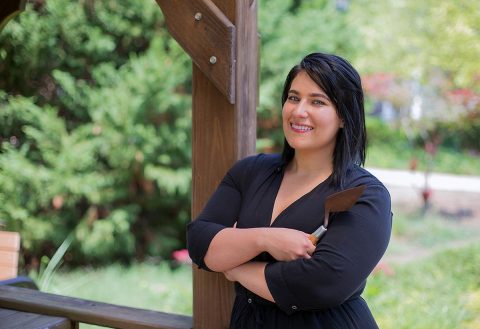 "Only three archeologists have ever really conducted any work on Casma culture, and Jenna is one of those people," DiStefano said. "Scholars call the pottery and other remains they find of Casma culture ugly, so it's considered less interesting to study. What has been found (from the Casma culture) is not as pretty as more studied cultures like the Incans or Moche, but it's still beautiful and we've been able to find out more about a culture that not even people native to Peru know much about."
Hurtibise's current researches focuses on the burial practices of Casma and its associated cultures, and DiStefano spent much of her time excavating a plot of land in the Nepeña district of Peru. The area has been a target of looters over the years, but nonetheless, DiStefano said that her team managed to make a number of unexpected discoveries.
"We were trying to find burials that had not been looted, but we were concerned with plots that at least still had the bodies," DiStefano said. "When we started work, we thought we would just find bones in the plots, but we actually came across some bodies that were basically accidentally mummified.
"We were not expecting to come across mummies, but it makes sense with (the area's climate), because people think of Peru as being green and lush, but the area we worked in was sandy, like the climate you expect from a place like Egypt (which practiced mummification)."
Days were long, with the team spending upwards of 10 hours in the field before returning to camp to study and record their findings. Work progressed at a quick pace, DiStefano said, as pottery shards, household items and other findings from the dig were transported quickly and carefully, so as to avoid the threat of looters.
In June, Hurtubise was awarded an Early Career Grant for her research from the Committee for Research and Exploration of the National Geographic Society. The grant, DiStefano said, is a recognition of the value of the work being done by both her and the rest of Hurtubise's team.
"(The grant) is a huge deal for Jenna, and it means that there could possibly be an article in National Geographic on the work that we've been doing in Peru," DiStefano said. "She's doing her dissertation on burial practices, but we're not only doing just that, but finding examples of architecture and gaining a much broader sense of these cultures.
"There's just this long stretch of history that we were able to uncover," DiStefano added. "I saw things that were really early era, I saw things that were really late era; we found things that covered this incredible span of time. It was a really amazing experience."
Peru was not DiStefano's first time at a dig site, as the Austin Peay graduate student had previously worked with archeologists from East Tennessee State University to uncover traces of Cherokee settlements in upper East Tennessee. That team's work helped to discover and document a large settlement of the Native American people with artifacts dating back to the 1500s.
A history major focusing on Civil War-era medicine, DiStefano said she jumped at these archeology opportunities because she wants to practice what she preaches to students as a graduate teaching assistant.
"As a GTA, I tell people that you should go find things to do while you're still a student," DiStefano said. "Even if you don't want to go into the field of archeology, these kinds of experiences look great on a resume. By taking advantage of these opportunities over the years, I'm at a place where I'm still in school, but I have a very full resume and I'll have options if I want to pursue my Ph.D. or go into a career."
For more information on Austin Peay's Department of History and Philosophy, visit www.apsu.edu/history