APSU Sports Information

Clarksville, TN – The sound of basketballs swishing through nets once again filled the halls of the Dunn Center Tuesday evening as Austin Peay State University women's basketball team held its first practice of the 2017-2018 season.
The water bottles are filled, the basketballs pumped and the coaches were ready for the start of another season.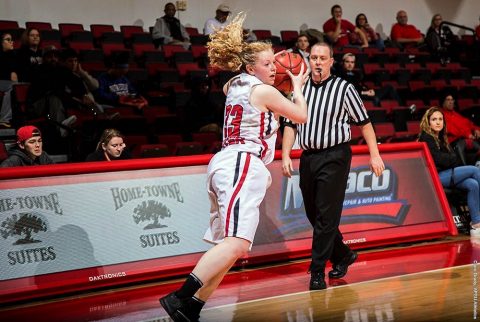 "We are obviously excited, a lot of coaches say that the first day of practice is like Christmas," said head coach David Midlick, "The team has worked extremely hard since Labor Day and we are anxious to start putting the pieces together."
The Dunn Center was quiet until the clock struck 6:00pm, and then laughter, chatter, and yes, bouncing basketballs filled the gym as the team took the court and assembled in the center circle. Teamwork, effort and attitude were the foundation of Midlick's message as team took to the court for warmups.
For a team who is working to integrate nine new players with seven returners, these hours on the court are precious. The coaching staff, as well as the student-athletes are focusing on a team-first mentality, emphasizing the growth and success as a team being a foundational piece to individual development.
The Govs may be a young team on paper, but they have plenty of veteran leadership. Seniors Brianne Alexander and Bri Williams, alongside redshirt junior Falon Baker and junior Keisha Gregory have been preparing for their leadership roles since last March.
The trio of sophomores (Shelbe Piggie, Nieja Crawford, and Arielle Gonzalez-Varner) are ready to excel after a year under Midlick's direction. All seven returners are looking forward to the opportunity to step up and help mold the young talent that coach Midlick and his staff have brought to Clarksville.
Junior transfers Michaela Campbell and Jemiah Harrison bring two years of experience to the floor this season. While the firepower of freshmen Kelen Kenol, Myah LeFlore, Brandi Ferby and Bri Ferby are sure to light up three-point lines across the Ohio Valley Conference.
The Governors non-conference schedule tips off November 11th as the Govs head to Indianapolis to face the Butler Bulldogs. The Govs open at the Dunn Center with a two-game homestand against Christian Brothers November 14th and Trevecca November 19th.
Season tickets for both men's and women's basketball are now available by calling 931.221.PEAY (7329) or emailing .