Clarksville, TN – Downtown Clarksville was the site of the 3rd Annual SpiritFest Saturday, a holiday event that preceded this year's 58th Annual Clarksville Lighted Christmas Parade.
Festivities were held in an area that included streets and parking lots between First Presbyterian Church on Main Street, Trinity Episcopal Church on Franklin Street, and the new Downtown Commons space.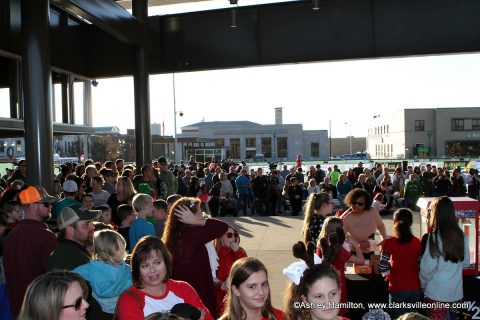 A beautiful day that felt fall-like brought huge crowds downtown to enjoy a live nativity with animals, ice skating, an art & gift market, kids inflatables, food trucks, live music and more. Many of our younger citizens actually had a chance to visit with Santa Claus, who made an early pre-parade appearance.
The event started at 2:00pm, giving parade-goers a chance to find a parking space, have some fun, and get in position to enjoy Clarksville's 58th Annual Lighted Christmas Parade.
Several local school choirs performed Christmas songs on the Downtown Commons stage like beginning at 2:00pm. The groups that performed were the Northeast High School Show Choir, Starlight Grande performance, Infinity Dance Fitness Academy, Clarksville Academy, Montgomery Central Elementary School Choir and the Rossview Signing Hawks.
The live music concluded with a performance by Fort Campbell's own 101st Airborne Band who took the stage from 4:00pm-5:00pm.
There was free hot chocolate and cookies at the Downtown commons along with popcorn provided by Century 21 Platinum Properties.
More than a dozen local businesses and organizations sponsored this year's SpiritFest, a kickoff to the Christmas season that had lots of family-friendly fun and helped support Clarksville's historic Downtown.
"The combination of SpiritFest and the parade will lend joy and splendor to the holiday season." said Rev. Gregory L. Glover, FPC Pastor. "So many organizations, businesses and individuals have pitched in to provide activities and diversions in the heart of our city for, literally, every age group to enjoy."
SpiritFest Photos
SpiritFest at Downtown Commons Photos