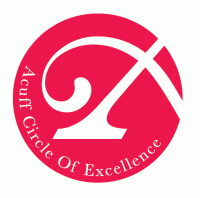 Clarksville, TN – Award-winning textile artist Sonya Clark will return to the campus of Austin Peay State University as the 2017-2018 Acuff Chair of Excellence. Clark was selected as this year's Acuff Chair by the faculty of the APSU Department of Art + Design after an overwhelmingly positive response to her first APSU visit in March 2017 as part of the Center of Excellence for the Creative Arts (CECA) Visiting Artist Lecture series.
This spring, Clark will facilitate a course for APSU art students, titled "Measuring Histories," which will be an in-depth extension of her featured PBS Art Assignment episode of the same name.
The course will be co-taught by Clark, APSU professor Billy Renkl and Michael Dickins, APSU director of galleries.
A culminating exhibition of the work created during the course will take place at the end of the semester and will be announced once more details are available.
Clark is known for using a variety of materials, including human hair, flags, currency and combs, to address race, culture, class and history in her work. She is a distinguished research fellow in the School of the Arts at Virginia Commonwealth University. From 2006–2017, she served as chair for the Department of Craft/Material Studies. She was previously named to the Emily Mead Baldwin Bell-Bascom Professorship in the Creative Arts at the University of Wisconsin-Madison.
Clark is the recipient of numerous awards and has exhibited her work in more than 300 museums and galleries in Europe, Africa, Asia, Australia and the Americas. Her work has been favorably reviewed in several publications, including the New York Times, Philadelphia Inquirer, Italian Vogue, Los Angeles Times, Hyperallergic and Huffington Post.
Clark holds a Master of Fine Arts from Cranbrook Academy of Art, and in 2011 she was awarded their first mid-career Distinguished Alumni Award. She also holds a Bachelor of Fine Arts from the Art Institute of Chicago and a Bachelor of Art from Amherst College. In 2015, she was awarded an honorary doctorate.
In 1985, country music legend Roy Acuff generously established an endowment to enrich the arts community at APSU and in Clarksville-Montgomery County. The result was the Roy Acuff Chair of Excellence, which brings regionally and nationally acclaimed artists to APSU to share their artistic innovation with students and the community in a dynamic atmosphere of unrestricted experimentation. The Acuff Chair of Excellence is administered by the Center of Excellence for the Creative Arts at APSU. The prestigious endowment rotates through the four arts departments on a four-year cycle.
For more information on Clark, visit www.sonyaclark.com
For more information on the Acuff Chair of Excellence, visit www.apsu.edu/ceca/chair
Sections
Education
Topics
Acuff Chair of Excellence, APSU, APSU Center of Excellence for the Creative Arts, APSU Department of Art + Design, Austin Peay State University, Billy Renkl, CECA, Clarksville TN, Clarksville-Montgomery County, Michael Dickins, Roy Acuff, Sonya Clark