Clarksville, TN – On Thursday, January 19th, 2018, Clarksville Police Chief Al Ansley recognized three officers for their actions during emergency situations, presenting each with a Lifesaving Award. The Lifesaving award is given to officers whose direct actions saves or extends the life of another person.
The officers receiving the awards were Sgt Johnny Ferguson, Officer Michael Blackwell, and Officer Brandan Hendricks. The awards were present for the following actions.
Officer Brandan Hendricks
On November 28th, 2017, Officer Hendricks responded to a call of a suicidal male on Poppy Drive. When he arrived on scene, he located a male in the backyard who was unresponsive. He determined the man was not breathing and began CPR.
The individual began gasping for air and eventually regained consciousness. An EMS supervisor stated that Officer Hendricks actions were vital in resuscitating the unresponsive man.
Officer Michael Blackwell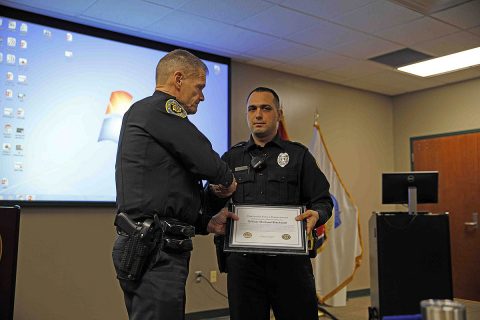 On December 9th, 2017, Officer Michael Blackwell responded to a medical emergency call on Hayden Drive. A 13 year old had called 911 and said her grandmother was unresponsive. When Officer Blackwell arrived on scene, he retrieved his AED, and began CPR while the AED initialized. Officer Blackwell's quick thinking and actions were directly responsible for the woman surviving the cardiac incident.
The woman was transported to Nashville in stable condition and additional medical care.
Sgt Johnny Ferguson
On December 10th, 2017, Sgt Ferguson responded to a medical emergency call on Madison Street. A 30 year old male was not breathing and CPR was in progress. When Sgt Ferguson arrived, he assessed the situation and determined CPR was not being properly administered. He took over and performed chest compressions for approximately eight minutes.
Additionally, a dose of Narcan was provided to the man. The combination of these actions were responsible for the resuscitating the man. EMS attributed the individual's survival to Sgt Ferguson's actions. This is Sgt Ferguson's 2nd Lifesaving Award.