#18 Tennessee Vols vs. Oil Miss
Saturday, February 3rd, 2018 | 5:00pm CT
Knoxville, TN | Thompson-Boling Arena | TV: SEC network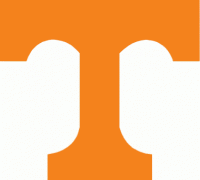 Knoxville, TN – No. 18 Tennessee remains at home Saturday for a matchup with Ole Miss in Thompson-Boling Arena, where the Vols will look to extend their four-game winning streak. The game tips at 5:00pm CT and will be televised live on SEC Network and streamed online via WatchESPN.
The Vols (16-5, 6-3 SEC) are coming off an 84-61 victory over LSU at home, marking UT's second 23-point win in as many games. Tennessee's recent success has been a result of stellar defensive play, as the Volunteers are holding opponents to just 58.7 points per game over the last six contests. The group ranks as the No. 7 team in the country for defensive efficiency according to KenPom.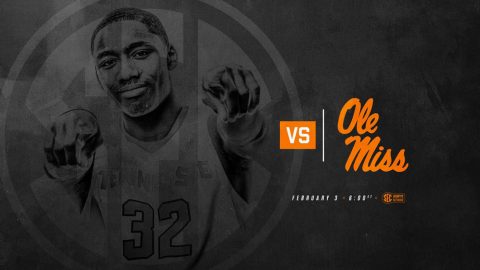 Ole Miss (11-11, 4-5 SEC) had a slow start to the season but found its groove once starting SEC play, boasting wins over Alabama and Florida, both of which are in the top half of the league standings. Deandre Burnett, a preseason All-SEC first-team selection, has been the Rebels' best player this year.
He currently ranks 12th in the SEC in scoring (15.2 ppg) and fourth in assists (4.5 apg). The senior guard has been the team's leading scorer in eight games this season, including UM's last three contests.
After Saturday's matchup, Tennessee prepares for its toughest stretch for the rest of the season, with roads games against Kentucky (February 6th) and Alabama (February 10th). UT's 6:00pm CT tip against the Wildcats will be televised on ESPN as part of Super Tuesday.
The Series
Overall: UT leads, 71-44
In Knoxville: UT leads, 41-12
In Oxford: Series tied, 25-25
Neutral Sites: UM leads, 7-5
Current Streak: Tennessee has won one
Last Meeting: Tennessee won, 75-66, in Knoxville, 2/8/17
Rick Barnes vs. Ole Miss: 1-2
Rick Barnes vs. Andy Kennedy: Kennedy leads, 2-1
Right Now
Tennessee ranks ninth nationally in average home attendance, having drawn 15,768 fans through 11 home games at Thompson-Boling Arena.
Tennessee has held its last six opponents to an average of 58.7 points per game.
Per KenPom.com, Tennessee rates in the national top 30 in both offensive (27th) and defensive (7th) efficiency. The Vols are rated No. 12 in the NCAA RPI and own the nation's third-rated SOS, per KenPom.com.
Tennessee and Auburn share the SEC's longest active win streak at four games.
A Win Would
Give Tennessee a five-game overall win streak (its longest of the season) and a four-game win streak in SEC play.
Extend the Vols' home win streak to five games.
Improve Tennessee's record as a ranked team to 11-4 this season.
Give Tennessee its 17th victory of the season. The Vols finished with 16 total wins a season ago.
About the Ole Miss Rebels
One of the longest-tenured coaches in the SEC, Andy Kennedy is in his 12th year at the helm in Oxford. Ole Miss (11-11, 4-5 SEC) had a slow start to the season, going just 7-5 before conference play.
During their non-conference slate, the Rebels dropped three contests in overtime by four points or less. Since beginning the SEC schedule, Ole Miss has proved it can play with the anyone in the conference, boasting wins over Alabama and Florida, both of which are in the top half of the league standings.
After a loss to Auburn on Tuesday night, the Rebels have lost four of their last five games. Against the Tigers, Ole Miss had four scorers in double-figures, led by Deandre Burnett's 16 points in 36 minutes of action, but it wasn't enough as Auburn held a 9-5 advantage from 3-point range, which proved to be the difference in the game.
Burnett, a preseason All-SEC first-team selection, has been Ole Miss's best player this year. He currently ranks 12th in the SEC in scoring (15.2 ppg) and fourth in assists (4.5 apg). The senior guard has been the team's leading scorer in eight games this season, including UM's last three contests.
Junior guard Terence Davis, who is averaging 13.6 ppg and 6.1 rpg, stands as the team leader in rebounds (134) and blocks (22). Barnett and Davis are joined by Markel Crawford (10.0 ppg, 3.8 rpg, 2.1 apg, 1.0 spg) as the Rebels' double-digit scorers.
Like Tennessee, Ole Miss boasts a deep roster, with nine players averaging more than 15 minutes per game this season. Kennedy isn't opposed to changing up the lineup either, using 11 different combinations for his starting five.
Last Meeting With Ole Miss
After going into the second half down by four and struggling to contain the Ole Miss Rebels, Tennessee turned around a close game to win, 75-66, on February 8th, 2017, in Thompson-Boling Arena.
Tennessee took control of the game with 3:49 left, finishing on a 17-2 scoring run. Robert Hubbs III was the hero the Volunteers were looking for, as he ignited two major back-to-back plays under the basket, one of those being a layup that would give the Vols a 66-64 lead with 1:52 left, their first lead since the 5:54 mark of the first half. Jordan Bowden drained a huge 3-point dagger with under a minute to play. The Rebels were plagued by fouls in the second half, with 27 of their 46 coming in the closing half.
Grant Williams led the way for the Vols with 18 points and seven rebounds. Three Vols found themselves in double-digit scoring in the win, including Hubbs with 18 points, while Bowden added 12.
After a fast-scoring start by both teams, Tennessee enjoyed an 8-0 scoring run two minutes into the game that was sparked by a slam dunk from Kyle Alexander. The run left the Rebels struggling to score for four minutes. The Vols would find themselves holding their largest lead of the first half during that run at seven points.
Ole Miss turned things around after spending a majority of the first half shooting less than 30 percent. The Rebels went on a 15-6 scoring run nearly halfway through the first, highlighted by three 3-pointers. Tennessee struggled from the free-throw line but made them when they were needed in the second half. After making all eight attempts in the first half, Tennessee was 16-of- 25 over the final 20 minutes. The Vols made eight of nine free throws in the final four minutes.
Trending Now
During SEC play, junior wing Admiral Schofield ranks third in the league in 3-point percentage (.452) and fifth in the league in steals per game (1.4).
Sophomore guard Lamonté Turner has made 20 consecutive free throws dating to Tennessee's Jan. 6 win over Kentucky. In SEC play, his .949 free-throw percentage (37-of-39) leads the league.
Junior forward Kyle Alexander has 15 blocks over UT's last six games.
UT Has Matched Last Season's Wins Total
Tennessee has already matched last season total of 16 wins, and the Vols have nine regular-season games remaining (plus at least one SEC Tournament game).
Two Blocks of Granite, A Big Canadian & A Pair of Jordans
Tennessee has used the same starting five since December 3rd at Georgia Tech—a span of 15 games. Jordan Bone, Jordan Bowden, Admiral Schofield, Grant Williams and Kyle Alexander (the Canadian), have started 19 of UT's 21 games this season. Tennessee is 14-5 when that unit starts.
Alexander, Walker Don't Miss
While neither player looks to score first, Tennessee forwards Kyle Alexander and Derrick Walker are taking—and making—extremely high-percentage shots during SEC play.
The duo is combining to shoot .917 (33-of-36) from the field during league games.
Alexander, the starter at the five, is 22-for-24 from the field in SEC play (.917).
Walker, a true freshman whose minutes have increased since mid-January, is 11-for-12 from the field against SEC opponents (.917).
More Minutes for Walker
True freshman forward Derrick Walker has significantly bolstered the Vols' frontcourt depth over the last five games, playing an average of 14.8 minutes per game off the bench during that span.
The Kansas, City, Missouri, native is averaging 4.8 points and 3.4 rebounds while shooting .909 (10-of-11) from the field during that span. In Tennessee's win at South Carolina on January 20th, Walker was 5-for-5 while finishing with a season-high 10 points, four rebounds and a block in a season-high 25 minutes.
Turner Provides High-Powered Scoring Punch Off the Bench
Vols sophomore Lamonté Turner has come off the bench to score 15 or more points six times this season, and he has scored 20 or more in two of UT;s last four games.
He is the team's third-leading scorer both overall (10.4 ppg) and in SEC play (11.8 ppg).
Turner made a season-high six 3-pointers in last Saturday's win at Iowa State while finishing with a team-high 20 points. It was the fifth time this season that he's led the Vols in scoring.
In addition to his hot shooting of late, he also is riding a streak of 106 consecutive minutes played without committing a turnover, dating to the first half at South Carolina on January 20th.
Schofield Stuffing State Sheet Over Last Eight Games
Tennessee head coach Rick Barnes said that junior wing Admiral Schofield had his best game as Vol when UT defeated Kentucky on January 6th. That win started a streak of stellar play for Schofield.
Over the last eight contests, Schofield is averaging 12.5 points, 7.0 rebounds, 2.3 assists and 1.6 steals per game. He is shooting .463 overall and .432 from 3-point range during that span.