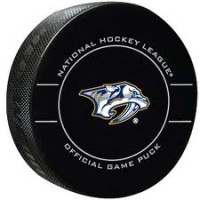 Clarksville, TN – Pekka Rinne blocked 47 shots, the second highest total in his illustrious career, and Ryan Ellis scored the game winner, as the Nashville Predators defeated the Montreal Canadiens, 3-2 at the Bell Center. Tonight's win was the third overtime game of the four game road swing.
Rinne showed why he should be in the conversation about "elite" NHL goaltenders, with tonight's performance. Not only did he stonewall the Canadiens for the victory, but the Predator's netminder stopped 10 shots in the overtime period alone. Montreal netminder Carey Price, blocked 30 shots on the night.
The Nashville victory gave the Predators 6 out of 8 possible points from this road trip. Three of the four games went to extra time.
Montreal was first on the scoresheet, when Brendan Gallagher scored off of his own rebound at 8:35 of the second period for the 1-0 lead.
Nashville would come back as Scott Hartnell took a pass from Nick Bonino at 3:38 of the second period to tie the game at 1-1.
Kevin Fiala put the Predators up 2-1 with 7:41 left in regulation, scoring his 20th goal of the season.
Montreal pulled their goalie with just over two minutes remaining in regulation, and Jonathan Drouin tied the game at 2-2, beating Rinne on the high side to push the contest to overtime.
In the shootout, the Canadiens elected to shoot first, but were unable to crack the Rinne wall. It was only fitting that Rinne would shutout the Habs in the shootout for the win, after the performance he put on tonight.
Nashville saw the return of Filip Forsberg who had served a three game suspension imposed by the NHL for a hit on Jimmy Vesey of the New York Rangers.
Montreal welcomed former Canadien P.K. Subban back to the Bell Centre since being traded for Nashville's Shea Weber two years ago. Weber has been out with a foot injury and was not in the line-up tonight.
Nashville will return home to begin a four game homestand on Tuesday night, hosting the St. Louis Blues at Bridgestone Arena.