APSU Sports Information
Clarksville, TN – Austin Peay State University's baseball team broke out with its best two offensive outings of the young season to claim a doubleheader sweep, 16-4 and 12-2, against Toledo, Friday afternoon at Raymond C. Hand Park.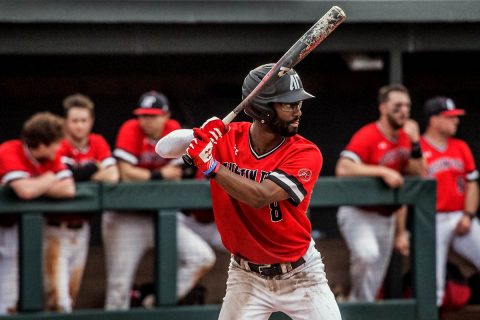 Austin Peay (5-1) broke the bats out in the opener, using a trio of four-run innings en route to posting season bests in runs (16) and hits (14).
The nightcap was more of the same with a season-best six extra-base hits and finishing with 12 runs on 12 hits.
First baseman Parker Phillips enjoyed a 6-for-9, three RBI outing in the doubleheader, including four hits in the opener. Utility man Andrew Flaherty had four hits in the nightcap, including a two-run home run.
The Governors offensive outburst helped starting pitchers Michael Costanzo and Jacques Pucheu post their season's first wins. Costanzo opened the day by holding Toledo to two runs while striking out eight in his five-inning outing. Pucheu picked up the thread in the nightcap, striking out seven and walking none over 6.2 innings.
Game 1: Govs season-best offensive outing helps Costanzo to win
Austin Peay trailed early in the season opener as Toledo led 1-0 and 2-1. The Governors took a 5-2 lead with a four-run burst in the third inning that was aided with four consecutive singles by left fielder Brandon Kelley, shortstop Garrett Kueber, center fielder Nick Walker and first baseman Parker Phillips.
The Governors tacked on four runs in the fifth inning with right fielder Kyle Wilson supplying a two-run single to cap the inning. Austin Peay salted the game away with a four-run eighth frame that third baseman Bobby Head punctuated with a two-run single.
Costanzo (1-0) allowed the leadoff hitter to reach base in both the second and third innings. The left hander would allow a leadoff home run in the third but responded by striking out the next four batters he faced. Costanzo would strike out eight in his five innings, scattering five hits and three walks.
Phillips, who entered the day with two hits in the season's first week, broke out with a 4-for-5, two RBI effort in the opener. Head posted his first collegiate hit as part of a 2-for-4, three RBI performance.
Toledo starter Michael Jacob (0-1) suffered the loss after allowing nine runs on seven hits and five walks in his 4.1-inning outing. Shortstop Matt Hansen, center fielder Ross Adolph, catcher Michael Ryan each had a solo home run in the Rockets eight-hit outing.
Game 2: Early offensive barrage aids Pucheu's first victory
Pucheu set the tone in the night cap, retiring the first six batters he faced and 12 of the first 13 – allowing only a leadoff single in the third inning. He would surrender solo home runs in both the fifth and sixth innings, but that was the only damage Toledo could hang on the lefty.
But before the Rockets could post a run, Austin Peay's bats staked Pucheu to a 7-0 lead. Left fielder Andrew Flaherty's two-run home run in the third handed the Govs a 6-0 lead. Shortstop Garrett Kueber extended the lead to seven runs with a sacrifice bunt in the fourth that allowed center fielder Imani Willis to score.
The Govs rallied after Pucheu surrendered his first run, loading the bases in the fifth. Toledo attempted to counter with a pitching change and got two outs after the change. However, Willis would not let the Rockets escape and hit a grand slam to break the game open.
Pucheu (1-0) picked up the win after holding Toledo to two runs on five hits in his 6.2 innings of work. Hw would strike out seven of the 25 batters he faced and did not allow a walk.
Willis posted his third career five RBI outing as part of a 2-for-3 effort at the plate. Flaherty went 4-for-5 with two RBI to aid the Governors offense.
Rockets starter Layne Schnitz-Paxton went just three innings in the loss, allowing six runs on six hits and three walks. Hansen hit his second home run of the series in the night cap and third baseman Brad Boss added a solo shot to account for Toledo's lone runs.
Govs Notably
Willis With Another Five RBI Day
Center fielder Imani Willis responded to his return to the starting lineup with a 2-for-3, five RBI performance in Friday's nightcap. It was his third five RBI performance in the last 11 months, following five RBI outings last season at Murray State (March 17th) and Eastern Illinois (May 17th). He is the 12th Governors with three career five RBI outings since 1996.
Phillips 1st With Four-Hitter
Entering the weekend with only two hits in four games, first baseman Parker Phillips broke out with the Governors first four-hit outing this season. His 4-for-5, two effort in the opener was followed by a 2-for-4 output in the nightcap. The six-hit day bumped him to the top of the Governors leaders in hits this season (eight).
Flaherty Follows With Own Four-Shot
Phillips didn't have to wait long for someone to join him in the four-hit club this season as left fielder Andrew Flaherty went 4-for-5 with two RBI in the nightcap. He had a two-run home run and a double in the outing.
Next Up for APSU Baseball

Austin Peay and Toledo are scheduled to complete their three-game set with a 1:00pm, Saturday contest at Raymond C. Hand Park. However, with inclement weather forecast for the Clarksville-area, fans are encouraged to visit LetsGoPeay.com or @AustinPeayBSB on Twitter for any schedule updates.
No matter when the finale is played, the Governors will send right-hander Brandon Vial (1-0, 0.00 ERA), the reigning adidas® OVC Pitcher of the Week to the mound. Toledo will counter with right-hander Sam Shutes (1-0, 7.20 ERA).