APSU Sports Information

Clarksville, TN – Austin Peay State University men's tennis team fell to Detroit Mercy by a score of 6-1, Thursday, at the Governors Indoor Tennis Center.
The Titans (7-5) got off to a quick start in the doubles portion of the match, winning at No. 1 and No. 2 doubles to take a 1-0 lead in the match.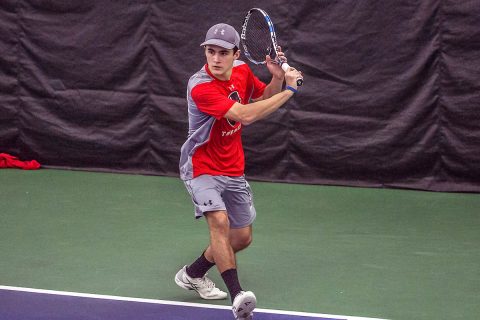 The team of Evan Bottorff and Timo Kiesslich were leading 5-4 in their match at No. 3 doubles, but the match went unfinished.
Things did not get much better for the Govs (1-9), as the Titans clinched the match with three straight-set singles wins at the top of the order (No. 1- No. 3 singles). Detroit also collected two more straight-set wins at No. 4 and No. 6 singles. However, Jacob Lorino won in three sets over Alvaro Arce at No. 5 singles (6-2, 2-6, 10-6) to claim Austin Peay's lone point of the match.
The Govs travel to Tennessee for a 4:00pm start, Sunday, before returning home to host IUPUI, 12:00pm, Tuesday. The Govs already played IUPUI once this season, losing 5-2 in Indianapolis.
Box Score
Detroit Mercy 6, Austin Peay 1
Doubles
1. Luka Soskic/Nathan Ponton (DET) def. Aleh Drobysh/Almantas Ozelis (APSU) 6-3
2. Alvaro Arce/Jenya Sirous (DET) def. Jacob Lorino/Christian Edison (APSU) 6-1
3. Evan Bottorff/Timo Kiesslich (APSU) vs Gvidas Motuzas/Adam Zychowicz (DET) 5-4, unfinished
Singles
1. Nathan Ponton (DET) def. Almantas Ozelis (APSU) 6-2, 6-3
2. Luka Soskic (DET) def. Christian Edison (APSU) 6-0, 6-2
3. Jenya Sirous (DET) def. Aleh Drobysh (APSU) 6-2, 6-3
4. Gvidas Motuzas (DET) def. Timo Kiesslich (APSU) 6-2, 6-4
5. Jacob Lorino (APSU) def. Alvaro Arce (DET) 6-2, 2-6, 10-6
6. Adam Zychowicz (DET) def. Chad Woodham (APSU) 6-3, 6-1
Order of finish: Doubles (2, 1); Singles (2, 1, 3, 4, 6, 5)