Written by Maria Yager
Blanchfield Army Community Hospital Public Affairs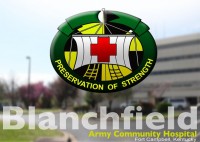 Fort Campbell, KY – April is National Occupational Therapy Month and marks the 101st Anniversary of a profession started to help those suffering from injury and illness regain function to live a purposeful life.

"This is the 101st anniversary of the profession and I think it's very special that we're in the 101st Airborne Division," said Lt. Col. Colleen Daniels, chief of occupational therapy at Blanchfield Army Community Hospital and installation ergonomics officer, who serves as a consultant of ergonomics for the 101st Airborne Division.

"The roots of occupational therapy in the military began with reconstruction aides, civilian women who served in World War I. Their task was to provide treatment in the form of occupation to enable servicemen suffering from wounds or battle neurosis to return to the battle front."

"Today, OTs continue to serve in the military along with civilian OTs to optimize Soldier performance and readiness in both garrison and deployed environments and assist Soldiers, retirees and family members to recover from injury and overcome physiological, psychological, intellectual and behavioral deficits through the therapeutic use of performance based activities and everyday activities."

In Army Medicine, the OT practice includes physical disabilities, behavioral health, inpatient/outpatient rehabilitation, work and community reintegration, ergonomics, burn/amputee rehabilitation, TBI rehabilitation, Warrior Transition Care and Combat Operational Stress Control. The Army has both occupational therapist officers and enlisted occupational therapy specialists.

OTs deploy with Combat Operational Stress Control Units and implement prevention and restoration programs to help Soldiers cope with operational and personal stressors. They conduct unit surveys to help commanders get a pulse on the psychological factors and physiological factors that might be affecting the unit and provide therapeutic interventions to maintain Soldier readiness.

"We can offer training and intervention to help with mitigating and alleviating combat stress reactions and the research shows that we have been able to keep more Soldiers in the fight with those interventions than when we don't have them, so, we play a key role," said Daniels.

When Army OTs are not deployed, they serve in hospitals and Warrior Transition Battalions, doing inpatient and outpatient work, conduct training and research and some serve as ergonomics consultants when the Army develops new equipment.

"We run the gamut across the spectrum to help people retain or return to functional purposeful activity," Daniels said.

During a recent safety stand down at Fort Campbell, Daniels provided training to more than 200 civilians and Soldiers serving with the installation's Dental Activity. Focusing on ergonomics, Daniels had earlier visited the dental clinic and studied the tasks DENTAC personnel performed at work.

"This week alone we saw about 1,000 Soldiers who belong to Taylor Dental Clinic. It's a pretty large DENTAC. Our clinic alone has about 11,000 Soldiers. We do a lot of cleanings and exams," said Sgt.

1st Class David Moore, non-commissioned officer in charge of Taylor Dental Clinic. "We're doing the same types of treatments on different patients every day. The treatment will probably be identical, at least the movements, because it's the same set up, same equipment, same instruments, a lot of the same movements, but it will be a different patient."

Daniels explained how ergonomics can benefit the personnel at the DENTAC specifically, and how it can help the Army as a whole.

"Ergonomics is making changes in the work environment to fit the individual worker, operator, or user — and not the reverse, which tends to happen way too often where the operator and user have to force themselves to fit into the work environment. Anyone who has work tasks that require them to do the same motion over a period of time, apply force, work in extreme temperature or have to work in awkward postures, ergonomics can apply," said Daniels.

During the training, Daniels shared her observations with DENTAC staff, identified risk factors and offered suggestions for improvements.

"It was great training. I appreciate the opportunity to learn some new information," said Moore, recognizing changes he can institute as a leader to the Soldiers and civilians at his clinic, "Just emphasizing things on a daily basis like proper hand techniques, proper holds, taking micro breaks, trying to stretch a little between patients. Just try to break the norm."

Daniels and her team are available to provide training for units on post.

"A big part of what we do is intervention and that's where the ergonomics piece come in. You cannot afford not to consider the risk factors. There are inherent risk factors in every job. Some are acceptable, some are unacceptable and some are modifiable. Our goal is to go after the ones that can be changed. I know that there are some that cannot be changed but for the ones that can be changed an ounce of prevention is worth a pound of cure," said Daniels.

In observance of National Occupational Therapy Month, BACH's Occupational Therapy Clinic will host an open house Wednesday, April 25th from 11:30am to 2:00pm in the OT clinic. The clinic is located in BACH's Building A, 4th floor.



Sections
News
Topics
101st Airborne Division, Bach, Blanchfield Army Community Hospital, David Moore, Fort Campbell KY, Warrior Transition Battalion, World War I, WW I