Clarksville, TN – On Friday night, May 4th, 2018, Hilltop Supermarket held their 1st annual Country Kids Cook-Off. The event is part of the 2018 Dwayne Byard Memorial BBQ Cook-Off.
Hundreds of people attended the event despite the overcast skies and chance of rain. The rain held off and it turned into a wonderful night.
"This is just an all around good community event right here at Hilltop and always appreciated what they do to bring the community together," said Montgomery County Sheriff John Fuson.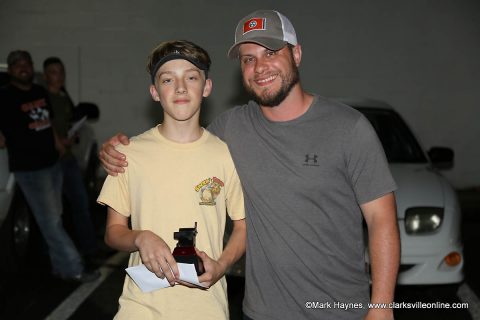 There was BBQ available for purchase and live music by The Beagles and The Ballistic Pintos. Everyone had a good time sitting around eating BBQ and listening to the music.
"Tonight has been excellent. It's been a great event. We have had a great turnout considering the weather. The Beagles and The Ballistic Pintos provided some great music for the event. We sold alot of BBQ and raised a good amount of money for the Dwayne Byard Scholarship Fund for his grand children," stated Cody Jackson with Hilltop Supermarket.
Kids between 7 to 17 years of age could sign up for the cook-off and cook two ribeye steaks anyway they liked for the judges. Trophies were awarded for 1st, 2nd and 3rd place winners.
The contestants were Austin Alberd, Jeremy Elliott, Will Johnson, Austyn Prichett, Hunter Lannom, Blake Bowers, Dylan Byard, Drake Castleberry, Hunter Grimes and James Grimes.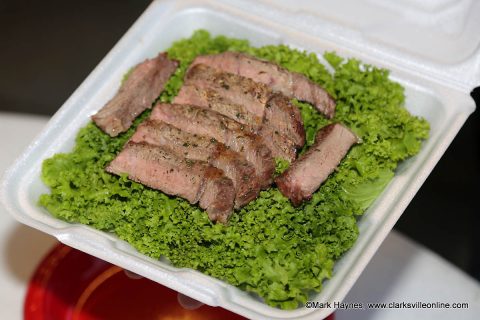 "This is about the third or fourth time that I have judge this. I think the first three times were on a Saturday. Tonight, I am going to do it on a Friday night," said Fuson. "The kids are going to be cooking steaks tonight. I look forward to taking part in that. I know it is exciting for them. There are a lot of kids out here and it's good to see them get involved in cooking."
"The kids did really good. Their presentation was good. They were just as good as the big timers. The steaks looked incredible. They did a great job. We will defiantly be doing this again next year. The kids seemed to really love it," Jackson stated.
Once the judges scored were tallied, it was time to announce the winners. 3rd place went to Blake Bowers. 2nd place was awarded to Austin Alberd. The winner of the 1st annual Country Kids Cook-Off was Dylan Byard.
"Winning tonight was just really crazy. I had never cooked a steak before in my life. My cousin showed me how to do it," stated Dylan Byard. "I'm really glad I won."
"Hilltop Supermarket puts this event on for the community. We are a local store. We survive because of this community. We want to give back as much as we can. We want to do these type of events on this side of the river for people to attend and have a good time," said Jackson.
The 2018 Dwayne Byard Memorial BBQ Cook-Off continues Saturday with the adults cooking chicken, ribs, pork, beef brisket and dessert. Judging will begin at 11:30am with the dessert category.
Photo Gallery
About Hilltop Supermarket
Hilltop Supermarket is located at 400 Highway 149, Clarksville TN. From Clarksville, you would take Hwy 48/13 south across the river, turn right on highway 149 and Hilltop Supermarket is located on the left at the top of the hill next to Freds. Hilltop serves the grocery needs of the southern Montgomery county area.
Visit their website at: www.hilltopsupermarket.com