APSU Sports Information

Richmond, KY – Austin Peay State University's softball team saw its best season in program history come to an end, Friday at Gertrude Hood Field, with a 3-0 loss to Toledo in the regional round of the National Invitational Softball Championship.
The Governors (39-19) and Rockets (35-22) traded scoreless innings through the first four frames, but a leadoff triple to open the fifth inning, followed by a sacrifice fly to center field gave Toledo a 1-0 lead.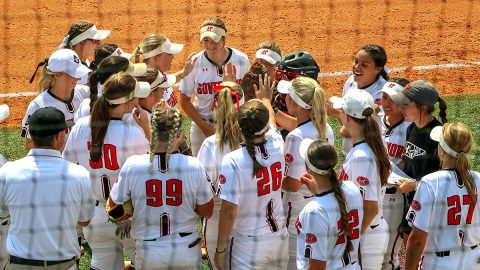 A walk and an error opened the door for the Rockets to add two more unearned runs in the inning to build their lead to 3-0.
Despite being held to three hits on the day, the Govs did have several chances to score.
In the third inning, Emily Moore and Brooke Pfefferle reached on a walk and an infield hit and then advanced to second and third base – with just one out – but a strikeout and a ground ball ended the APSU threat.
In the fourth inning, Danielle Liermann led off the inning with a double, but was caught off base on a diving stop of a hard-hit ball in the hole off the bat of Carly Mattson to cut that potential rally short.
Finally, in the fifth inning, the Govs got two runners on, with Pfefferle getting hit by a pitch, followed by a single from Kacy Acree, but couldn't capitalize after Acree's hit.
The Govs placed three players on the NISC Region 3 All-Tournament Team, with Liermann (3B), Pfefferle (SS) and Kelly Mardones (P) earning the honors.
Follow the Govs softball team on Austin Peay's official athletics website Let'sGoPeay.com or on Twitter @AustinPeaySB for more information or updates.
Inside the Box Score
Danielle Liermann's double in the fourth inning was the Govs 66th double of the season, setting a team single-season record.
Danielle Liermann's double versus Toledo pushed her season sum for total bases to 118, setting a school single-season record by an individual player.
The 58 games played this season by Natalie Schilling, Morgan Rackel, Carly Mattson and Brooke Pfefferle tied for the more appearances in a single season by an Austin Peay softball player.
The .963 fielding percentage by the Govs this season was the best single-season mark in school history.
The 19 losses suffered by the Govs this year tie for the fewest in a single season, despite playing seven more games overall.
Coaching Quotables with Head Coach Rodney DeLong
On great season
"This was definitely a season to celebrate. It was a great year one for our staff and our program and I'm excited for the future moving forward and there is nothing to hang our heads about."
On building on this year's foundation
"We're excited about the future and what's going on at Austin Peay with the administration, with the university growing and with every part of our program. We have a lot of kids coming back and we have some kids coming in that will really help us in some areas that we may have been a little lacking in this year. It's definitely a good time to feel positive about the future of the program and where its heading."