United Way of the Greater Clarksville Region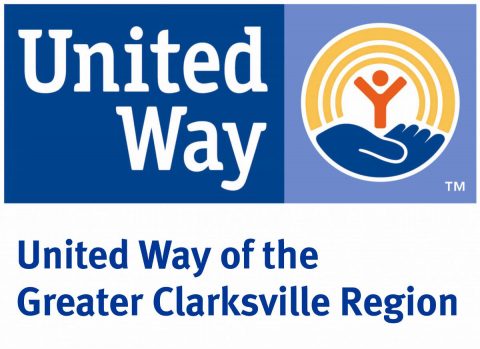 Clarksville, TN – United Way of the Greater Clarksville Region and the Roxy Regional Theatre joined together to usher in United Way's giving campaign and celebrate an official re-lighting of the Roxy marquee.
"This year's giving campaign encourages local residents and businesses to play their part in strengthening our community. Together, we are more than we can achieve alone. Tremendous support is needed for local nonprofits that join hands to enhance our collective quality of life and lift up those struggling. United Way is proud to open this year's giving campaign season with the Roxy, one those organizations and a valuable asset in our region," said Ginna Holleman, local United Way CEO.
The Roxy's iconic 1947 marquee suffered extensive damage in November 2016 after being struck by an 18-wheeler delivery truck. Following a lengthy insurance claim process, the marquee was finally able to undergo a full, historically accurate restoration by Memphis-based Balton Signs, which created the original marquee.
"With the help of our good friends at Harrison Signs and Dunn Electrical Service, who upgraded our electrical system to connect to the restored marquee, we were at last able to present the marquee in all its glory, even lighting some components of the original signage which have not worked in decades," said Ryan Bowie, Roxy Regional Theatre Executive Director. "We are so pleased to be able to offer this to the community as yet another example of the revitalization and redevelopment currently occurring in Historic Downtown Clarksville, and we are thrilled to kick off Season 36 at the Roxy Regional Theatre with the return of our iconic marquee."
Gathered under the marquee, guests enjoyed a block-party event featuring live music by Syd Hedrick and the Phalcons, as well as food and beverages contributed by local merchants. Cast members and attendees kicked up their heels in celebration of the joint kick-offs, dancing in the street as they awaited the reveal.
At sunset, Bowie, Holleman, Roxy Board President Stacy Turner, United Way Board Campaing Chair Tom Kane ceremoniously powered on the marquee. Brightly aglow on the marquee was United Way's 2018-2019 campaign goal of $1,130,000 and the Roxy's upcoming production of "Hairspray: The Musical." The production opens September 7th and runs through September 29th.
United Way gains much of its fundraising dollars through workplace giving campaigns. Prior to the re-lighting ceremony, workplace campaign managers assembled in the Roxy theatre for an entertaining workshop and finale performance by the Roxy cast.
"Every day people struggle with issues that may seem impossible to solve. There are tough problems that threaten the future of individuals and our community. We each have an important responsibility to inspire others to take action and find solutions. Directing a successful campaign will not just result in dollars or hands raised. When you give, advocate and volunteer, you help United Way raise hope and lower barriers to success. You strengthen lives from the inside out. Together, we are what it means to live united," said Kane, president of Fortera Credit Union and United Way Campaign Chair.
About United Way of the Greater Clarksville Region
United Way of the Greater Clarksville Region is a local 501 (c) (3) organization whose mission is to mobilize the caring power of the community. Funds raised annually support high-performing local nonprofits serving education, health and financial stability initiatives.
To learn more about United Way of the Greater Clarksville Region's local impact and how to get involved, visit www.liveunitedclarksville.org or call 931.647.4291.
About the Roxy Regional Theatre
The Roxy Regional Theatre is a 501(c)(3) nonprofit organization dedicated to producing professional live theatre and promoting the arts, with emphasis on education, in Clarksville, Middle Tennessee and the Southeast. The theatre is located at 100 Franklin Street in Historic Downtown Clarksville.
For more information about the Roxy Regional Theatre, visit www.roxyregionaltheatre.org