Written by Maria Yager
Blanchfield Army Community Hospital Public Affairs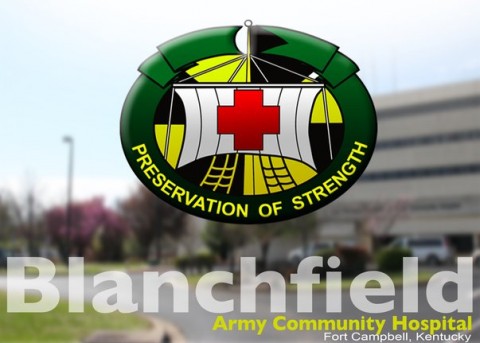 Fort Campbell, KY – Fort Campbell Warrior Transition Battalion staff welcomed back Army families, showing their continued support, during a Gold Star Family breakfast and memorial garden rededication at the battalion September 13th, 2018.
The annual breakfast is put together by the WTB's military and civilian staff to honor the memory and support the families of the 37 WTB Soldiers who fought their final battle at the battalion.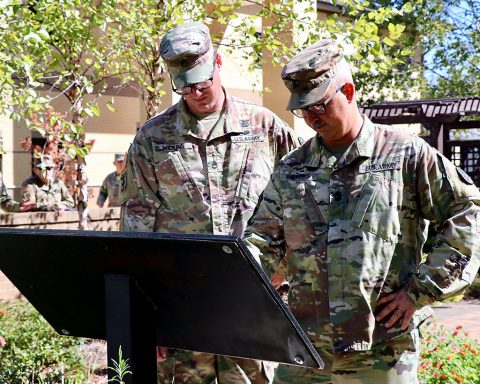 While the Fort Campbell Warrior Transition Battalion works to help wounded, ill and injured Soldiers recover and return to duty or prepare for a successful transition from the Army, some Soldiers come to the WTB for their final battle.
"Unfortunately, we have Soldiers who have a terminal illness. We want to make sure that they are taken care of for their time here and also set their families and their children up for success because it is a very trying time for them as they are going to lose a loved one. We help them and explain the situation as far what's out there for support and what they can expect from us. These families are always part of this organization," said Lt. Col. Shawn Butler, WTB commander.
During the breakfast families reconnect, share their stories and open their hearts to new members.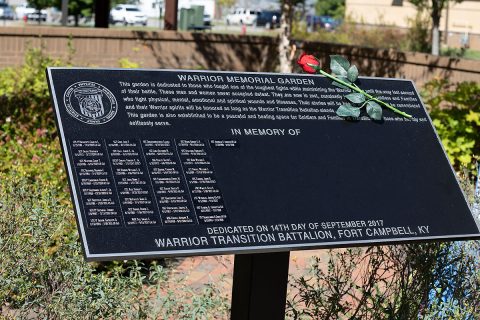 "It's a family you don't ever want to be a part of. The membership dues suck, but, there are a lot of good people. I remember the very first woman who called me. I don't know how she could be so supportive for me when she had gone through the same thing four years earlier," said Gold Star mother, Debra Moore, whose son Spc. Cody Moore passed away unexpectedly in 2010.
Army Wounded Warrior advocates are part of the care team for each Soldier at the battalion. In most cases they are supporting Soldiers in their recovery, but their role changes when an Army family loses their Soldier.
One of those family members is Alma Codgill, a Gold Star spouse, who lost her husband of 38 years, Army National Guard Master Sgt. Anthony Codgill. Master Sgt. Codgill arrived at the WTB in 2011 after breaking his neck during a deployment to Kuwait.
After undergoing surgery and a recovery period, Codgill's health continued to decline. Perplexed, doctors completed more tests and Codgill was diagnosed with a very rare condition called amyotrophic lateral sclerosis, or Lou Gehrig's disease.
"He fought a hard fight from 2011 to 2016. He fought hard," said Mrs. Codgill. "It's a mean horrible disease. For those who don't know. It takes everything from you. The only thing that you have left is your eyes and your ears and you can feel, but you can't do anything else. It takes your speech. It takes your breath. He laid in bed for the last three years and moved nothing. He couldn't speak."
Master Sgt. Codgill first underwent treatment at the Fort Campbell Warrior Transition Battalion but as his disease progressed he was moved to his home two-hours away in Hohenwald, Tennessee, where he could be surrounded by family.
"This group here is outstanding. We had the entire team coming to us in our home, and that meant a lot to Tony, a lot, because this was all he knew. They have done everything for us," said Mrs. Codgill.
Her sentiment is shared by fellow Gold Star spouse Vina McCauley, whose husband Sgt. Karl G. McCauley lost his battle with cancer in 2012.
"Sometimes it's not easy but it's been six years since my husband passed away and WTB has been a great part of recovering and moving on. They have always been my family and I am always grateful," said McCauley, who has been an annual participant at the breakfast and maintains contact with the WTB.
Butler said, in addition to their day-to-day duties, his Army Wounded Warrior advocates at the battalion lead the effort to support the battalion's Gold Star Families.
"They reach out. They stay in constant contact. If a family is having problems or issues they are not sure how to handle or take care of they'll reach out to us. We invite them to all of our events so that they can feel a part of belonging because the Army is a major part of their lives. Sometimes they lose that, so we always want to keep them in our thoughts and make them feel like they always belong and that they are always welcomed here," said Butler.
"It's us honoring this organization and its purpose and why the Army stood them up and it gives us that opportunity to reflect and kind of reset ourselves and remember we're here to take care of those Soldiers and their families," Butler stated.
After the breakfast, guests and Fort Campbell Warrior Transition Battalion staff moved outside to the battalion's Eagle Warrior Memorial Garden for a rededication ceremony.
The garden is a quiet tranquil place for Soldiers and families to find peace. Battalion staff previously erected a plaque in the garden to memorialize its fallen Soldiers. This year four names were added, Spc. Abiodun Awojajo, Lt. Col. Joseph Weigman, Sgt. 1st Class Jeffrey Fleming and Pvt. Corey Shackelford.
Battalion staff, Gold Star Families and other supporters filled the garden to remember these Soldiers and offer comfort to the new families. Hugs were shared, telephone numbers exchanged and new friendships were made.
"I made new friends," said Mrs. Codgil, after getting a hug from another Gold Star spouse. "I'm glad I came. I really am. I hesitated about coming. I kept putting it off. The fear of the unknown. When you do something like this you're peeling off that Band-Aid and you're going to peel that scab off and you're going to have to heal again. The more you do that, I guess the better you get at rebounding and getting back to where you need to be."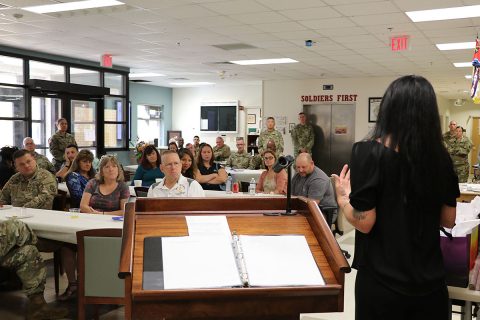 On Fort Campbell, the Army's Survivor Outreach Services office is an additional resource for Gold Star Families. They provide services to the garrison and nearby communities where families live.
For more information visit https://campbell.armymwr.com/programs/survivor-outreach-services