Roxy Regional Theatre

Clarksville, TN – The Roxy Regional Theatre presents J.A. Ball and Michael M. Chemers' contemporary take on Aristophanes' bawdy anti-war comedy "Lysistrata", November 2nd – November 10th, 2018. "What if they stopped a war because nobody came?" From this premise springs forth the first make-love-not-war play ever written.
In keeping with the theme of Season 36 — "Theatre You Can't Resist" — Clarksville's oldest professional theatre follows a group of women as they put up a resistance against Greece's political climate to bring about unprecedented change.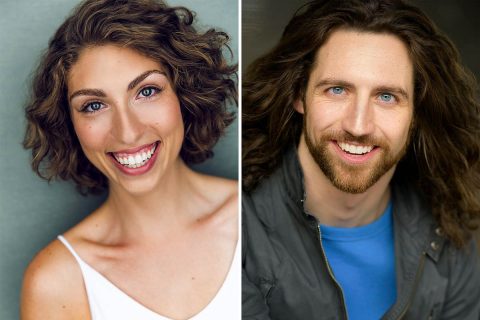 As part of the theatre's opening night pay-what-you-can tradition, all tickets not pre-sold at the regular ticket price for the 8pm performance on Friday, November 2nd, will go on sale at 7:30pm that evening for a $5.00 minimum donation.
One of the only surviving comedies from the 5th century BC, Aristophanes' "Lysistrata" tells the story of a lone woman's mission to unite the women of Greece in order to end the Peloponnesian War, using the only weapon at their disposal: sex.
Molly O'Brien stars as "Lysistrata", who leads a group of soldiers' wives in a strike against the men of Greece, denying them sex until they've agreed to put down their arms and end the disastrous wars between Athens and Sparta.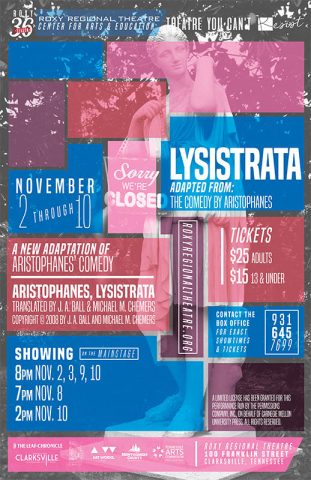 However, "Lysistrata"'s strategy effectively creates even more war than before as a comedic battle of the sexes ensues!
Directed by Ryan Bowie, "Lysistrata" also features Drew Stairs as Archon, Brian Best as Phalaccidos, Jessica Caracciolo as Myrrhine, Matthew Combs as Kinesias, Ian Erbe as Spartan Herald, David Graham as the Chorus of Men, Jamila Hunter as Kleonike, Judi Jerles as Opisthenia, Briar Moroschak as Ismenia and Alexandra West as Lampito.
"Lysistrata" is intended for mature audiences only, due to sexual innuendo and language. Performances run November 2nd through November 10th, playing Thursday at 7:00pm and Fridays and Saturdays at 8:00pm, with a 2:00pm matinee on Saturday, November 10th.
Tickets are $25.00 (adults) and $15.00 (ages 13 and under) and may be reserved online at www.roxyregionaltheatre.org, by phone at 931.645.7699, or at the theatre during regular box office hours (9:00am to 2:00pm, Monday through Friday, and one hour prior to curtain). Military, APSU students and CitySaver coupon holders can receive two tickets for the price of one to Thursday's performance.
"Lysistrata" is presented in part through the generous support of Hugh & Joy Hatcher and John & Cathy Stanton.
Aristophanes' "Lysistrata" is translated by J.A. Ball and Michael M. Chemers. A limited license has been granted for this performance run by The Permissions Company, Inc., on behalf of Carnegie Mellon University Press. All rights reserved.
About the Roxy Regional Theatre
The Roxy Regional Theatre is a 501(c)(3) nonprofit organization dedicated to producing professional live theatre and promoting the arts, with emphasis on education, in Clarksville, Middle Tennessee and the Southeast. The theatre is located at 100 Franklin Street in Historic Downtown Clarksville.
For more information, visit www.roxyregionaltheatre.org