APSU Sports Information
Clarksville, TN – Austin Peay State University's (APSU) baseball team announced five signees to open its 2018-19 signing period, which began November 14th, 2018.
Highlighting the 2020 class were a pair of catchers: Alex Hay of Nesbit, Mississippi, and Tyler Cotto of Surprise, Arizona.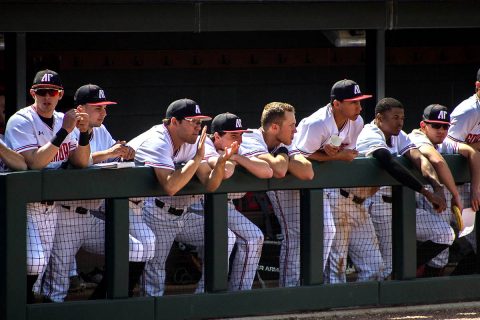 The Govs also added infielders Ryan Ritter, of Tinley Park, Illinois, and Reid Brown, of Marietta, Georgia. Finally, the Govs added outfielder Brock Lomax of Covington, Tennessee to round out the first group.
The four incoming prep signees each enter their senior years regarded as some of the best players in their states. Ritter is the No. 4 ranked shortstop – and 20th ranked overall – in Illinois as ranked by Prep Baseball Report. Cotto was ranked No. 3 among all Arizona catchers and No. 18 among all players in the state by PBR. Lomax was ranked No. 6 among outfielders and 19th overall in Tennessee by PBR.
"We're really happy with the beginnings of this recruiting class," said Governors head coach Travis Janssen. "We believe we've added five student-athletes that can all contribute early in their Austin Peay careers. We believe they're high-character guys off of the field and we believe they're gritty, tough competitors on the field.
"We think they'll all be great additions to our program. Our assistant coaches worked hard on assembling this group, and I'm very appreciative of Coach [Greg] Byron's and Coach [David] Weber's work. We'll continue to work throughout the winter and spring to bring a couple of more student-athletes that want to play at this great institution," Janssen stated.
Ryan Ritter, 6-1, 170-pound, Shortstop, Tinley Park, Illinois (Lincoln-Way East HS)
Helped lead Lincoln-Way East to Class 4A Sectional Semifinal in 2018… prepped for head coach Eric Brauer… Father Ken played three seasons in minor leagues, including two seasons in the Oakland As system.
Janssen's Thoughts: "We're losing a quality middle infielder and wanted to find a front-line guy to keep us strong up the middle. Ryan is a very dynamic athlete that is going to be a nice player for us early in his career. He can really defend and is also very athletic with the bat. He's a high school infielder that we believe has the athleticism and arm strength to stick on the left side of the infield early in his career."
Alex Hay, 6-2, 195-pound, Catcher, Nesbit, Mississippi (Lewisburg HS/East Central CC)
In freshman season at East Central Community College, batted .294 in 31 games with 27 RBI… NJCAA All-Academic Third-Team honoree as a freshman… Helped lead Lewisburg High to three straight district championship… prepped for head coach Neal Holliman.
Janssen's Thoughts: "Alex was the first catcher we signed this spring. We made it a priority to find a quality catcher from the junior college ranks and we believe we have found that guy in Alex. He's a leader, a quality defender, and has some power from the left side. Alex is first-class kid off of the field as well."
Tyler Cotto, 6-3, 185-pound, Catcher, Surprise, Arizona (Valley Vista HS)
Batted .380 as a senior with 21 RBI and 16 runs scored in junior season at Valley Vista High… Was a First-Team 6A Southwest All-Region selection as a junior… Previously played at Verrado High… prepped for his father and head coach Enrique Cotto.
Janssen's Thoughts: "With the departure of two quality catchers, it was imperative that we signed a couple of quality catchers. Tyler is a guy that we think can play early in his career. He's a lanky catcher that has room to put on some muscle with hard work in the weight room. He is an all-around great defensive guy behind the plate that we believe will also add value with his bat."
Reid Brown, 6-0, 215-pound, First Baseman, Marietta, Georgia (Hillgrove HS)
Batted .362 as a junior with 17 RBI and 10 stolen bases… Named to 2018 Region 5-6A All-Region Second Team… prepped for head coach David Richardson, an Austin Peay baseball alumnus (1991-94).
Janssen's Thoughts: "We identified Reid relatively early in the summer and followed him most of June. We think Reid has a chance to be an impact bat early in his career. We think he'll add some extra-base hit potential as well. Reid has played for a high school coach that we have great respect for (Austin Peay baseball alumnus David Richardson), so we know he'll be ready for the adjustment to college baseball. We are very excited to get Reid on campus."
Brock Lomax, 6-0, 170-pound, Outfielder, Covington, Tennessee (Covington HS)
Has helped lead Covington High to consecutive Class AA State Tournament appearances… Batting from the leadoff position in 2018, he was responsible for four of Covington's six runs in the tournament, batting 3-for-7 with a run score, three RBI and a double… Went 5-for-14 (.357) with two RBI in 2017 state tournament, leading Covington to third-place finish… Named to Commercial Appeal All-Metro Second Team as a junior in 2018, batting .410 with 51 runs scored and 27 RBI… Named to Tennessee Baseball Report's Super Freshman/Sophomore Team in 2017 after batting .395 with 48 runs scored and 34 RBI as a sophomore in 2017 … Also plays quarterback for Covington football team and has led that program to the Class AAA State Championship game in both 2017 and 2018.
Janssen's Thoughts: "Brock is a guy that we believe is a winner. He's a competitive physical outfielder that can hit. He's been a leader for his summer program (Memphis Tigers), and been a leader of his high school. He's lead Covington High to the state football championship the last two seasons as their starting quarterback. Govs fans will fall in love with his toughness and his competitiveness."
2020 APSU Governors Signing Class
Ryan Ritter, 6-1, 170-pound, Shortstop, Tinley Park, Illinois (Lincoln-Way East HS)
Alex Hay, 6-2, 195-pound, Catcher, Nesbit, Mississippi (Lewisburg HS/East Central CC)
Tyler Cotto, 6-3, 185-pound, Catcher, Surprise, Arizona (Valley Vista HS)
Reid Brown, 6-0, 215-pound, First Baseman, Marietta, Georgia (Hillgrove HS)
Brock Lomax, 6-2, 180-pound, Outfielder, Covington, Tennessee (Covington HS)