#3 Tennessee Vols (12-1 | 1-0 SEC) at Missouri (9-3 | 0-0 SEC)
Tuesday, January 8th, 2019 | 6:00pm CT
Columbia, MO | Mizzou Arena | TV: ESPN2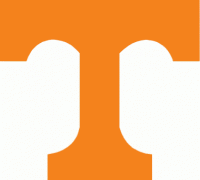 Columbia, MO – Winners of its last eight games, No. 3 Tennessee Vols basketball team hits the road for the second game of the SEC slate to take on the Missouri Tigers at Mizzou Arena on Tuesday night.
The game will tip at 6:00pm CT and will be televised on ESPN2 and can also be viewed online through WatchESPN. Fans can listen live on their local Vol Network affiliate to hear Bob Kesling and Bert Bertelkamp describing the action.
Tennessee (12-1, 1-0 SEC) is coming off one of its best performances ever in conference play, beating Georgia in a lopsided 96-50 game at home.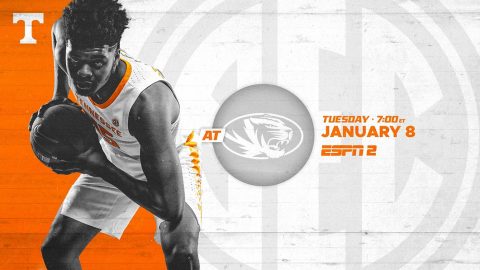 It was tied for the second largest margin of victory ever by the Vols against an SEC opponent. Jordan Bowden (20), Admiral Schofield (18) and Grant Williams (18) combined to outscore the Bulldogs by themselves, while Kyle Alexander recorded his second double-double of the season with 12 points and a career-high 14 rebounds.
Missouri (9-3, 0-0 SEC) was one of four league teams to not open the conference slate Saturday. The Tigers enter Tuesday's matchup riding a six-game winning streak after going undefeated during the month of December. MU boasts one of the best defenses in the SEC, ranking second with 63.2 points allowed per game.
While Mizzou doesn't score a lot of points, the Tigers are very dangerous from beyond the arc, where they shoot a 39-percent clip to lead the conference.
The Series
Tennessee trails the all-time series with Missouri, 6-7, dating to 1961. The Tigers have a 5-1 edge when the series is played in Columbia.
The Volunteers have never been ranked higher than No. 21 for a clash with Missouri.
A Win Would
Extend Tennessee's win streak to nine games.
Give the Vols a four-game win streak in true road games, dating to last season.
Give Tennessee 17 wins away from home since the start of last season.
Move Rick Barnes into a tie for 24th on the all-time Division I coaching wins list. Barnes has 673 career victories. Ralph Miller (Wichita State, Iowa, Oregon State) stands alone in 24th with 674 triumphs.
Storylines
Missouri last played on December 29th and will have had nine days off. Cuonzo Martin was Tennessee's head coach for three seasons from 2011-14.
Tennessee leads the country in assists per game (21.3 apg) and assist/turnover ratio (1.9). Over their last five games, the Vols are averaging 92.0 points while shooting .560 as a team.
Tennessee is off to its best 13-game start since also starting the season 12-1 in 2007-08. With an average attendance of 17,499, Tennessee ranks fourth nationally.
The Vols haven't trailed since the 10:40 mark of the first half against Wake Forest. That's a streak of 110 minutes and 40 seconds of game action. Tennessee's 53 first-half points against Georgia Saturday were more than UGA managed the entire game (50).
Layups
Grant Williams leads the SEC in scoring (19.9 ppg), ranks second in field-goal percentage (.597), fourth in rebounding (8.3 rpg) and eighth in assists (4.1 apg). He also owns the team's best plus-minus (per 40) rating at +25.36.
Admiral Schofield is the SEC's third-leading scorer (18.2 ppg), and his .455 3-point percentage ranks second in the league.
Kyle Alexander is shooting .826 from the field over the last three games (19 of 23).
Jordan Bowden is coming off a season-best, 20-point effort in Saturday's dismantling of UGA.
Junior guard Lamonté Turner, last season's SEC Co-Sixth Man of the Year, returned from a nagging left shoulder injury to play 15 minutes vs. Georgia Saturday. In just his fourth appearance of the season, Turner totaled six points and two assists.
Last Meeting vs. Missouri
The 21st-ranked Tennessee Volunteers never found a rhythm offensively on January 17th, 2018, in Mizzou Arena, falling to Missouri, 59-55.
After back-to-back threes by the Tigers, the Vols faced a 10-point deficit with 6:43 remaining. UT would fight back to make it a one-point game with 1:33 left in the game.
After a stop on defense, Tennessee had a chance to take the lead, but a turnover in the paint with less than a minute to play gave the Tigers the ball back to run the clock down. The Volunteers were forced to foul with 14.4 seconds left. Mizzou guard Jordan Geist knocked down both free throws to make it a 3-point game.
On the ensuing trip down the floor, Mizzou fouled James Daniel III with 4.4 seconds left, and he converted on just one of the attempts. Tennessee was forced to foul after the second attempt, and Missouri forward Kevin Puryear drained both attempts to seal the game.
The Vols were led by Grant Williams, who finished with 15 points, five boards and a pair of steals in 35 minutes of action. Kyle Alexander posted 12 points on 6-of-6 shooting to go along with four rebounds and three blocks. Admiral Schofield chipped 11 points as well to round out UT's double-digit scorers on the night.
Missouri was locked in to begin the second half, going on a 7-0 run over the first four and a half minutes of play to take a 34-27 lead. The Vols responded with a 9-2 run of their own to tie things up at 36-36.
Tennessee struggled early on in the game, never finding a consistent flow on offense. The Vols shot 34 percent from the field in the first half compared to Mizzou's 45 percent.
Martin Led Tennessee Vols For Three Years
Second-year Missouri head coach Cuonzo Martin was the head coach at Tennessee for three seasons from 2011-14.
Martin led the Vols to a 63-41 (32-20 SEC) record and a memorable 2014 NCAA Tournament run that began in the First Four and ended in the Sweet Sixteen (one possession away from the program's second all-time Elite Eight appearance).
On April 15th, 2014, it was announced that Martin had accepted the head coaching job at Cal, where he spent three seasons before transitioning to Mizzou.
Memorable Tennessee Vols Performances Against Missouri
Knoxville native Rob Jones totaled 14 points, 11 rebounds, one assist and a team-high three blocks against the Tigers December 10th, 1984, in Columbia, but it wasn't enough, as Missouri posted a 70-61 victory. Five Tigers scored in double figures in the win.
Mizzou had no answer for the great Bernard King, as the legendary Vols forward recorded a double-double with 32 points and 18 rebounds in a 99-77 Tennessee triumph at the Big Sun Invitational on December 21st, 1974 in St. Petersburg, Florida.
Two-time first-team All-SEC honoree Mike Edwards tallied a team-high 19 points against Missouri during a 67-57 loss to the 12th-ranked Tigers in the 1972 Vol Classic title game in Knoxville on December 16th, 1972.
In the first-ever meeting in this series, 6-10 Tennessee center Orb Bowling led the Vols in scoring (12) and rebounding (8), but Missouri managed an 86-61 win on Dec. 20, 1961, in Knoxville.
Road Warriors
Dating to the start of last season, Tennessee has won 16 games away from home. That includes victories this year over Louisville and Gonzaga (both at neutral sites) and at Memphis.
Balanced Scoring Each Half
Tennessee's scoring output has been balanced in each half this season.
The Vols score 43.3 points in the first half of games (563 total points).
Tennessee's second-half scoring average stands at 42.1 points (547 total points).
Under Barns,Tennessee Vols are 31-9 as a Ranked Team
Tennessee has played 40 games as a ranked team (AP poll) under head coach Rick Barnes, and the Vols are 31-9 (.775) in those contests.
Coming up Next for Tennessee Vols
After Tuesday's showdown, Tennessee will face another challenging road test by taking on the Florida Gators in Gainesville. That game will take place Saturday night at 5:00pm CT and will be televised on ESPN.