#5 Tennessee (27-3 | 15-2 SEC) vs. Auburn (21-9 | 10-7 SEC)
Saturday, March 9th, 2019 | 11:02am CT
Auburn, AL | Auburn Arena | TV: ESPN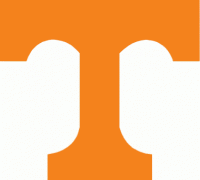 Auburn, AL – No. 5 Tennessee Vols will have a chance to repeat as SEC Champions on Saturday, as the Vols travel to take on Auburn in the regular-season finale.
The game will tip at 11:00am CT and will be televised on ESPN and can also be viewed online through WatchESPN. Fans can listen live on their local Vol Network affiliate to hear Bob Kesling and Bert Bertelkamp describing the action.
Tennessee (27-3, 15-2 SEC) has never won back-to-back conference titles in program history, and a win against the Tigers would clinch at least a share of the SEC Title.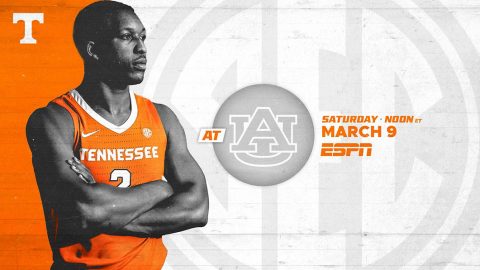 A victory would also give UT its second-most wins ever in a season (28) and would match the program record for wins during conference play (16).
It will be no easy task, though. Auburn (21-9, 10-7 SEC) is fighting for the four seed in the SEC Tournament, which grants a double bye.
The Tigers have won five of their last six games and own one of the most explosive offensive attacks in the country, ranking sixth in the nation in threes per game (11.0) and seventh in total 3-pointers made (330) while shooting a 38-percent clip from beyond the arc.
The Series
Tennessee leads its all-time series with Auburn, 78-39, dating to 1927.
The Tigers have a 27-23 edge when the series is played in Auburn.
Tennessee has won 11 of the last 13 meetings in the series, including four of the last five in Auburn.
A Win Would
Give Tennessee back-to-back SEC regular-season championships for the first time in program history.
Give Tennessee 28 wins this season, tying for the second-most victories in program history.
Give the Vols 16 SEC wins for just the second time in program history. The 1976-77 SEC Championship team also won 16 league games (16-2).
Signal the most victories by a Rick Barnes-coached team since his 2010-11 Texas squad finished 28-8.
Storylines
The Tennessee Vols is in a two-way tie for first place in the SEC standings with LSU.
Two of Tennessee's three losses this season have come in overtime, and all three were away from home against top-15 opponents and Q1 teams.
For the second year in a row, the Vols are assured of finishing the season with single-digit losses.
Tennessee's final average home attendance of 19,034 ranks fourth nationally.
Vols junior Grant Williams and Auburn senior Bryce Brown enter Saturday's game tied with 1,506 career points—tied for third among active SEC players.
Tennessee guards Jordan Bone (2.9) and Lamonté Turner (2.3) rank first and third in the SEC, respectively, in assist/turnover ratio during league games. Not surprisingly, the Vols also rank first as a team (1.6).
About the Auburn Tigers
With a bid for the four seed and a double bye in the SEC Tournament on the line, Auburn (21-9, 10-7 SEC) has won five of its last six games.
Auburn is this week's top vote-getter among teams outside the AP Top 25.
Head coach Bruce Pearl and the Tigers boast wins over Arizona, Washington and Xavier in non-conference play and are an impressive 14-2 at home this season.
Auburn is led by its All-SEC duo in Bryce Brown (15.7 ppg, 1.8 apg, .400 3FG%) and Jared Harper (15.2 ppg, 5.8 apg, .384 3FG%). The two have combined for 176 of Auburn's 330 3-pointers this season.
Another player to keep an eye on is sophomore Chuma Okeke. The 6-8 forward is averaging 11.5 points, 6.8 rebounds, 2.0 assists, 1.6 steals and 1.2 blocks per game. He has the ability to score at all three levels and is third on the team in 3-pointers, with 39.
Auburn is seventh in the nation in total 3-pointers made while also ranking sixth in threes per game (11.0) and 3-point field-goal percentage (.375). The Tigers are dangerous from beyond the arc and that is a big factor in them placing third in the SEC in points per game at 79.9.
Tennessee Vols Last Meeting vs. Auburn
Sophomore Lamonté Turner scored a career-high 25 points, but the No. 23 Tennessee Volunteers lost to Auburn, 94-84, on January 2nd, 2018, in UT's SEC home opener at Thompson-Boling Arena.
Turner scored 20 of his 25 points in the second half for Tennessee—including a perfect 13 of 13 from the free throw line—but Auburn made five 3-pointers in the final six minutes to pull away for the victory.
Auburn extended its winning streak to 11 games, recording its first win in Knoxville since 1998.
Grant Williams matched his season high with 22 points for the Vols. Jordan Bone added 18 points for the Vols on 6-of-10 shooting, including three 3-pointers.
The Vols jumped on a 14-2 run early. Admiral Schofield completed a three-point play to cap the run and give the Vols a 23-9 lead with 11:52 remaining.
Auburn dug in and turned the tide. Down 28-14, the Tigers went on a 19-3 run to take a 33-31 lead on a 3-pointer by Bryce Brown. The Tigers closed out the half leading 42-36, the first time Tennessee has trailed at half all season.
The Tennessee Vols retook the lead in the second half and led by as many as five points at 59-54 on a pair of free throws by Turner with 9:07 left.
Auburn took the lead for good on an 8-0 run, capped by a steal and a dunk by Mustapha Heron, putting the Tigers ahead 64-61 with 7:10 left. Auburn eventually led by as many as 12 points.
Memorable Tennessee Vols Performances Against Auburn
Carl Widseth made a then-school-record 17 free throws on The Plains against the Tigers en route to another school record, 47 points, on February 25th, 1956, in a 91-87 Tennessee triumph.
Dalen Showalter recorded a double-double with 27 points and 13 rebounds as the unranked Vols upset No. 2 Auburn, 56-55, at UT's Armory Fieldhouse on February 23rd, 1959.
Playing a team four times in a calendar year is rare. In 1979, UT played a home-and-home series with Auburn. They met again in the 1979 SEC Tournament. The first game of the 1979-80 series was played in December. The Vols were 4-0 vs. Auburn in 1979 (February 2nd & 7th, March 2nd, December 12th).
Tony White broke UT's single-game scoring record with 51 points against the Tigers in Stokely Athletics Center on Valentine's Day 1987. UT won 103-84.
Tennessee Vols vs. Former Head Coaches
The Tennessee Vols is 8-5 all-time when facing a team led by a former UT head coach.
The Volunteers have gone up against teams coached by Don DeVoe (1979-1989), Kevin O'Neill (1994-97), Bruce Pearl (2005-11) and Cuonzo Martin (2011-14).
The first time the Vols faced a former Tennessee head coach was January 17th, 1990, when the Big Orange beat DeVoe's Florida squad 80-75 in Gainesville. The Vols also won the rematch later that season, defeating Florida 75-57 in Knoxville on February 17th.
Tennessee played a home-and-home series with Southern California, coached by O'Neill, during the 2009-10 and 2010-11 seasons. On December 19th, 2009, the Trojans defeated UT, 77-55, at the Galen Center in Los Angeles. USC also posted a 65-64 win December 21st, 2010, in Knoxville.
Tennessee is 4-2 against Pearl during his tenure at Auburn, and the Vols are 2-1 against Martin's Missouri teams.
Tennessee Vols Have Never Won Back-Back SEC Titles
While Tennessee's 10 SEC championships are tied for second-most among league schools, the Volunteers have never captured consecutive conference crowns.
The Tennessee Vols won a share of the regular-season SEC championship last year with a 13-5 record in league play.
In addition to Tennessee's 10 SEC titles (three of which came via winning the conference tournament in 1936, 1941 and 1943), the Vols also won the SEC Tournament in 1979.
A league title this season also would give head coach Rick Barnes his first back-to-back league titles. He enters the 2018-19 campaign with three Big 12 and one SEC championship under his belt.
Tennessee Vols Wins Total Among Program's Best
Tennessee has recorded 27 wins for the third time in program history. This is the first time the Vols have won at least 25 games in back-to-back seasons.

RECORD SEASON SEASON RESULT
31-5 2007-08 NCAA Sweet Sixteen
28-9 2009-10 NCAA Elite Eight
27-3 2018-19 TBD
26-9 2017-18 NCAA Second Round
26-7 1999-2000 NCAA Sweet Sixteen
From Losing Season To #1
Tennessee's four-week reign atop the national rankings this year marked the 26th time in AP poll history that a team ascended to No. 1 within three seasons of posting a losing record. The Vols were 15-19 in 2015-16 and 19-19 in 2016-17.
Before UT this year, the last programs to do experience such a turnaround were Indiana and Michigan, both in 2012-13.
Only 10 players in SEC history have experienced a losing season and a No. 1 AP ranking in their career, and seven of the 10 were Vols: Kyle Alexander, Lucas Campbell, Admiral Schofield and Brad Woodson from this year's team; and Chris Lofton, JaJuan Smith and Jordan Howell from the 2007-08 squad.
The other three SEC players were members of Alabama's 2002-03 team.
Bone's Role, Minutes Way Up
Through 30 games, junior point guard Jordan Bone has played the equivalent of seven more games than he did a season ago (40 mins = one game).
As a sophomore last season, Bone played 681 minutes through 30 games (681/40 = 17.0 total games played).
This year, Bone has logged 971 minutes in 30 games (971/40 = 24.3 total games played).
The Nashville native has 182 assists this season; he totaled 190 assists in his first two seasons combined (58 games).