Tennessee Lady Vols (19-11 | 7-9) vs. Mississippi State (27-2 | 15-2 SEC)
Friday, March 8th, 2019 | 11:02am CT
Greenville, SC | bon Secours Wellness Arena | SEC Network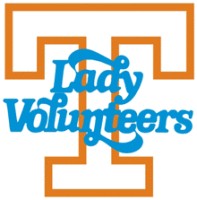 Knoxville, TN – No. 8 seed Tennessee Lady Vols (19-11, 7-9 SEC) will meet No. 1 seed Mississippi State (27-2, 15-1 SEC) at noon on Friday in the quarterfinal round of the SEC Tournament.
Tip-off is slated for 11:02am CT at Bon Secours Wellness Arena in Greenville, SC, for a contest that is being televised by the SEC Network and carried by the Lady Vol Radio Network and SiriusXM Radio. The winner of the UT-MSU game will advance to face the victor of Friday's contest between No. 4 Kentucky and No. 5 Missouri at 4:00pm CT (ESPNU).
The Lady Vols survived and advanced by coming from seven down in the third quarter to defeat LSU, 69-66.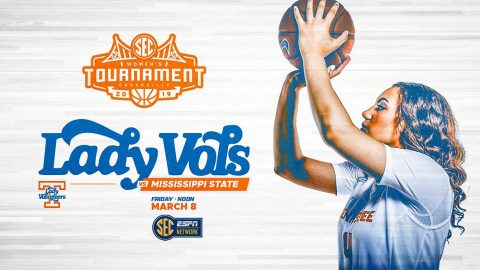 The win gave UT a season sweep over the Lady Tigers. After a six-game midseason losing streak, UT has won seven of its past 11 contests and finds itself playing for its 43rd-straight 20-win season.
No. 5/5 Mississippi State won its second straight SEC title this season, closing the year at 15-1 in league play with a 68-64 victory over South Carolina in Columbia on February 3rd. The Bulldogs' only two losses came at Oregon on December 18th (82-74) and vs. Missouri on February 14th (75-67).
In the first meeting this season between MSU and UT, the Bulldogs grabbed a 91-63 triumph in Starkville on February 10th, just four days prior to MSU's Mizzou loss. The Lady Vols, who trailed MSU by six (40-34) at the half and cut the deficit to three in the third period, played without point guard and leading scorer Evina Westbrook. She sat out due to a violation of team rules (missing a class).
This marks the 43rd all-time meeting between these schools in women's hoops and the sixth time they've faced off in SEC Tournament play. UT is 4-1 in previous meetings in the tourney and 37-5 overall vs. MSU.
Broadcast Information
Courtney Lyle (play-by-play), Tamika Catchings (analyst) and Steffi Sorensen (sideline) will have the call for the SEC Network.
Mickey Dearstone is behind the microphone for IMG College/Lady Vol Network radio/online broadcasts for the 20th season. A link to the live audio stream can be found on each game's Hoops Central page or the Lady Vol schedule on UTSports.com.
Air time for games on the Lady Vol Radio Network generally occurs 30 minutes prior to tip-off.
The SEC Radio Network will broadcast all games during the tournament and can be heard on Sirius 138, XM 191 and Online 962.
Tennessee Lady Vols – Mississippi State Notes
This marks the 43rd meeting between the Lady Vols and MSU, with UT possessing a 37-5 record in the series.
The Tennessee Lady Vols won the first 36 games in the series, dropped three straight to the Bulldogs and then won one in Starkville before dropping the last two contests.
UT is 17-2 vs. Mississippi State in Starkville, 16-2 in Knoxville and 4-1 at neutral sites.
Including this game, MSU has been the higher ranked team in the past seven games, entering this one with a 5-1 edge over UT.
Holly Warlick is 4-5 vs. the Bulldogs and Vic Schaefer, including 2-2 at home, 2-2 on the road and 0-1 at neutral sites (2016 SEC semifinals).
The Lady Vols were unable to defend their home court last season, falling, 71-52, on January 21st and fell in Starkville in 2019, 91-63. UT point guard Evina Westbrook missed this year's first meeting due to a violation of team rules.
UT won on MSU's 2017 senior day, 82-64, with Jaime Nared registering a career-high 30 points to lead the Big Orange siege.
Tennessee suffered its first-ever loss to the Bulldogs on January 28th, 2016, when #13/13 MSU came from 12-down in the fourth quarter to force OT and defeat the #19/23 Lady Vols in Starkville, 65-63.
#15/15 MSU took the second meeting in the SEC semifinals that year, taking a 58-48 triumph over the unranked Lady Vols in Jacksonville on March 5th, 2016.
In the 2012 matchup in Starkville, won by Tennessee, 57-41, UT scored its (then) fewest points in the series, while State posted its second-lowest total.
UT's 48 points in the 2016 SEC tourney became UT's lowest scoring total in the series.
Third-year UT assistant coach Sharrona Reaves was an assistant coach and recruiting coordinator at MSU from 2008-10.
About the Tennessee Lady Vols
E420
Against LSU, Evina Westbrook had her 10th 20-point game of the year. She tied Shanna Zolman for 15th on a list of Lady Vols with the most career 20-point games.
Reliable Rennia
Rennia Davis scored in double figures for a team-high 24th time on Thursday. She also had a 5-of-6 day at the free throw line and continues to lead the SEC with an .871 shooting percentage.
Top Sophs
Evina Westbrook
ranks No. 3 all-time among UT sophomores for single season assist average (5.1) and is fifth in scoring (15.1).
Rennia Davis
is No. 7 in scoring (14.7).
Mimi Making Moves
Freshman Mimi Collins started her second straight game and scored 10 points in 21 minutes. She's averaging 11.0 ppg. and hitting 63 percent on field goals and 78 percent at the free throw line over the past three games.
Green Machine
Cheridene Green is averaging 13.3 ppg. and 8.0 rpg. the past three games, shooting 71 percent from the field.
Youngsters Clutch vs. LSU
UT got all 22 of its fourth-quarter points against LSU from the trio of sophomore Rennia Davis (12), sophomore Evina Westbrook (6) and freshman Mimi Collins (4). Davis and Westbrook combined for 27 of UT's 41 second-half points.
Strong On The Boards
UT has won the rebounding battle in 25 of 30 games, including vs. 15 of 17 SEC opponents (MSU, VU).
Rising To The Occasion
UT is learning to play under pressure with such a young t­eam. The Lady Vols are 14-0 when leading after three quarters, but their victory over LSU gave them just their third triumph this season in 14 games where they trailed heading into the fourth quarter.
Making Good Shots
UT has been more patient in seeking good shots, and the results are showing. The Lady Vols were 16 of 27 in the second half vs. LSU (.593), helping them turn in a percentage of .491 for the game that ranked as their fourth-best all season.
Tennessee Lady Vols In The SEC Tournament
The Tennessee Lady Vols enter Friday's game with a 79-22 (.780) all-time record in the 40th year of the SEC Tournament.
UT improved to 35-5 all-time in its opening game of the SEC Tournament and is 26-8 in its second contest of the tourney.
UT was a No. 7 seed a year ago and is playing as a No. 8 seed for the first time.
Tennessee is seeking to capture its league-leading 18th SEC championship trophy. UT was victorious in 1980, 1985, 1988, 1989, 1992, 1994, 1996, 1998, 1999, 2000, 2005, 2006, 2008, 2010, 2011, 2012 and 2014.
The Tennessee Lady Vols were runners-up on six occasions, including 1982, 1990, 1991, 1995, 2003 and 2015.
UT has advanced to the title game in two of the past five seasons, winning in 2014 as a #2 seed, 71-70, over #4 Kentucky and falling as a #2 seed to #1 South Carolina, 62-46, in 2015.
The Big Orange women are 24-6 in SEC Tournament play since 2007-08.
Holly Warlick has forged a 10-5 record in SEC Tournament games as a head coach, including 1-1 in title games.
Tennessee has had 15 SEC Tournament MVPs through the years, with a Lady Vol winning four of the last eight awards.
Isabelle Harrison (2014), Glory Johnson (2012), Shekinna Stricklen (2011) and Alyssia Brewer (2010) were the past four MVPs from Tennessee.
Current assistant coach Bridgette Gordon was a two-time SEC All-Tournament selection (1988, 1989), claiming MVP honors in 1989.
UT head coach Holly Warlick was a senior point guard on the Lady Vol team that won the very first SEC Tournament title in 1980, defeating Ole Miss, 85-71, at Stokely Athletics Center in Knoxville.
Previous Visits To Greenville
This marks the third time Greenville has played host to the SEC Tournament.
UT improved to 4-1 in games played in this city after beating LSU on Thursday, 69-66.
No. 2 seed Tennessee defeated #1 seed LSU in the tourney title game, 67-56, on March 6th, 2005, the first time the event was held here.
Shyra Ely was named the SEC Tournament MVP that year, while Shanna Zolman and Brittany Jackson joined her on the all-tournament team.
UT beat Auburn in the second round (64-54) and Vanderbilt in the semifinals (76-73) that year.
The last trip to Greenville was a short visit for the Lady Vols, as they fell to Alabama, 72-64, in the second round on March 2nd, 2017.
Last Time Out For The Tennessee Lady Vols
Sophomores Evina Westbrook and Rennia Davis combined for 27 second-half points to rally eighth-seeded Tennessee to a 69-66 win over ninth-seeded LSU in the second round of the SEC Tournament on Thursday.
Westbrook led UT in scoring with 20 points while Davis was close behind with 19. Freshman Mimi Collins tallied 10 points in the game, eight of which came in the second half.
LSU was led by Khayla Pointer, who had 21 points and five assists. Faustine Aifuwa and Ayana Mitchell were also in double figures for the Lady Tigers with 16 each.
Notes From Tennessee Lady Vols – LSU Game
Cleaning The Glass
The Lady Vols out-rebounded the Lady Tigers 31-28. They have now out-rebounded 25 of 30 opponents on the season by an average of 43.4 rpg. to 34.2 rpg.
20+ Westbrook
With 20 points against LSU,
Evina Westbrook
recorded her 10th 20+ performance of the season and first since knocking down 24 against Arkansas on January 21st.
Collins Coming On Strong
Mimi Collins recorded her seventh double-digit effort of the season with 10 points against LSU. Over the last three games she is averaging 11 ppg., raising her season average to 5.3 ppg. Prior to the last three games she was averaging just 4.6 ppg.
Competitive Friends
Head coach Holly Warlick and LSU coach Nikki Fargas are long-time friends. Warlick will have bragging rights this offseason after taking two from the Lady Tigers this year to improve her record to 7-3 vs. Fargas. Warlick is now 41-18 in games vs. teams with former Lady Vol players and/or staffers.
About The Mississippi Bulldogs
Back-to-back SEC champion MSU is led by 6-7 center Teaira McCowan, who averages 17.3 ppg. and 13.4 rpg. and shoots 65 percent from the field.
Also scoring in double figures are Texas A&M graduate transfer Anriel Howard (15.9 ppg.) and Arkansas transfer Jordan Danberry (13.3). MSU lost three-point ace Chloe Bibby (11.9 ppg., 36 3FGs) to a knee injury in the season's 18th game.
The Bulldogs are outscoring foes 86.2-57.0 in all games and 81.0-61.1 in league play.
MSU has finished as runner-up at the Final Four the past two seasons and won its first-ever SEC regular season crown in 2017-18.
MSU lost four starters from that squad, including WNBA Draft pick Victoria Vivians (19.8 ppg.).
Mississippi State's Last Game
No. 5 Mississippi State repeated as the SEC regular-season champs after defeating No. 14/15 South Carolina on the road on February 3rd, 68-64.
The Bulldogs (27-2, 15-1 SEC) overcame a seven-point halftime deficit and their first time trailing at the break this season, outscoring the Gamecocks (21-8, 13-3 SEC), 36-25, in the second half. State survived a late challenge from S.C., who outscored MSU, 9-4 in the final 3:30 of play.
Teaira McCowan collected her 63rd career double-double with 18 points and 17 rebounds. Anriel Howard recorded her 42nd double-double with a season-high 16 boards and 13 points. Andra Espinoza-Hunter (17) and Jordan Danberry (12) joined them in double figures.
Last time Tennessee Lady Vols Met Mississippi State
The Lady Vols scrapped to within three in the third quarter but couldn't overcome a No. 6 Mississippi State team that shot an impressive 52.2 percent to win 91-63 on February 10th.
The Tennessee Lady Vols (15-8, 4-6 SEC) was led by sophomore Rennia Davis, who fired in a season-high 29 points. Freshman Zaay Green added 13.
UT leading scorer Evina Westbrook missed the game due to a violation of team rules.
MSU's (22-1, 10-0 SEC) high scorer was senior Teaira McCowan, who logged a double-double with 24 points and 15 rebounds. Seniors Jordan Danberry and Anriel Howard also had big days for MSU, finishing with 20 and 16 points, respectively. Howard added 11 rebounds to claim a double-double on the afternoon.
Last Time In The SEC Tournament
Tennessee's SEC Tournament run came to an end on March 5th, 2016, as the Lady Vols fell to No. 3 seed Mississippi State, 58-48, in the semifinals.
Diamond DeShields paced the Lady Vols (19-13) with 22 points. Victoria Vivians scored 30 points to help No. 16/16 Mississippi State (26-6) punch its ticket to the title game.
Bashaara Graves grabbed 15 rebounds for the Tennessee Lady Vols.