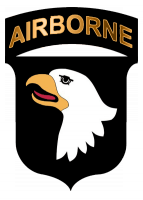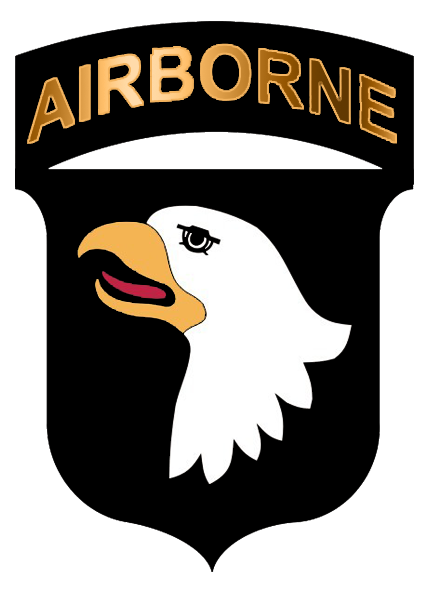 Fort Campbell, KY – As Motorcycle Safety Month comes to an end with Memorial Day weekend, the team at Fort Campbell Traffic Management and Collision Investigations, Installation Provost Marshal Office, wants to emphasize the importance of safe riding and driving practices among Soldiers, Army civilians and Family members as they enjoy the start of summer.
Motorcycle safety is just as important to automobile drivers as it is to motorcycle riders because everyone shares the same road. Adherence to proper road safety also protects Army readiness, said Lt. Nicholas Pietila, traffic supervisor.
"Our goal is to modify driver behavior, because if you have a collision where you become injured you are no longer combat-effective and that speaks to readiness of the force," Pietila said. "It is a direct impact on readiness. If you are not fit for the fight either somebody else has to pick up that slack or it does not get done."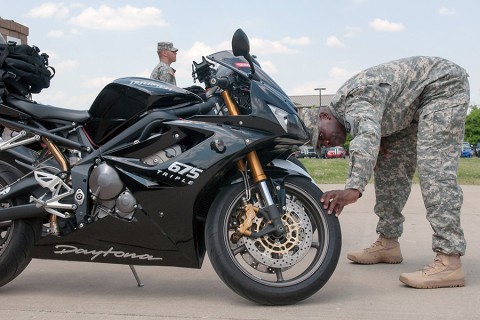 In the calendar year of 2018, four Fort Campbell Soldiers lost their lives in motorcycle wrecks, "that is out of the 22 motorcycle fatalities Armywide – almost a quarter of the deaths," he said.
According to the National Highway Traffic Safety Administration 5,172 motorcyclists were killed in crashes in 2017 – the latest national numbers available – making motorcycle riders an "overrepresented [group] in traffic fatalities."
Army researchers found traffic accidents produce the greatest number of fatalities within the Army, as well as Fort Campbell, according to CAM Regulation 385-7. The regulation also points out that male Soldiers ages 18-25 are at higher risks of traffic crashes because "they fail to recognize the hazards of driving their POVs [which includes motorcycles], underestimate their personal risk, and overestimate their personal ability to handle those risks."
To mitigate the risk of death and injury from a collision to military, Army civilians and Family members, the Fort Campbell Traffic Management and Collision Investigations team will conduct the enforcement portion of Motorcycle Safety Month through the end of May, said Staff Sgt. Shane Manning, Fort Campbell Traffic Management and Collision Investigations noncommissioned officer in charge.
"We will be looking for anything that goes against the regulations for riding on-post, because if you aren't following the regulations on post you are not going to follow them off-post," Manning said. "We will be making sure they are doing the right thing by the law and safety-wise – this will include the gates and on-post."
It is the motorcycle rider's responsibility to attend the proper motorcycle training, which is required by CAM Regulation 385-7 and Army Regulation 385-10. Fort Campbell offers courses for basic riders, experiences riders and military sport bike riders. While riding, motorcyclists must be in possession of a motorcycle license or driver license with a motorcycle endorsement, proof of insurance, vehicle registration and a motorcycle safety course certification card. Additionally, the motorcycle license plate must be mounted properly on the bike, Manning said.
Motorcycle riders must also wear the proper personal protective equipment on- and off-post as required by law and regulation, and detailed in CAM Regulation 385-7.
According to the regulation, motorcycle helmets must meet Department of Transportation Federal Motor Vehicle Safety Standard No. 218, United Nations Economic Commission for Europe Standard 22-05, British Standard 6658, or Snell Standard M2005 in accordance with Department of Defense Instruction 6055.
Eye protection must meet or exceed American National Standards Institute Z87.1.
Footware must be sturdy and extend over the ankle to protect feet and ankles.
Protective clothing must include long-sleeved shirt or jacket, long trousers and full-fingered leather or abrasion-resistant material gloves.
"The reality is the regulations – contrary to what some believe – applies equally off-post as it does on-post," Pietila said. "The reason that is important to service members is because that can effect the line-of-duty investigation [after a wreck]."
CAM Regulation 385-7 reads, "failure to wear the PPE or comply with licensing or operator training requirements may be considered in making line-of-duty determinations if the injury is from such nonuse of PPE or noncompliance."
Although the laws and regulations are in place to enforce compliance, the reason for the rules is to protect Soldiers, Army civilians and Family members from needless risk while riding motorcycles.
"If you ride on two wheels at some point you will go down," Pietila said. "It can be the other driver's fault, it can be mechanical, a driver could pull out in front of you – there are all kinds of variables that you do not have when driving on four wheels."
When Pietila was a teen, he wrecked for the first time in his parent's driveway.
"I had a Honda Enduro that was street legal. … It was an older bike and the front break shoe sheared and it locked up my front tire. I went down, just like that," he said, snapping his fingers. "Literally, I was driving, I go to slow down, touched the break and I was in the dirt. Luckily I was only doing about 20 mph."
Had he not been wearing a long-sleeved sweatshirt and a helmet, Pietila believes he would have suffered injuries.
"It wasn't my fault, I was not doing anything unsafe," he said. "A piece in my bike broke and I ended up on the ground and that can happen to anyone."
Riders also should be aware of the on-post restriction of motorcycle club affiliated colors or cuts, Pietila said.
According to CAM Reg 210-1, Appendix A:
Colors identify the rank of members within clubs from new members, from "prospects/probate" to full members known as "patch-holders," and usually consist of a top and bottom circumferential badge called a "rocker" stating the club name and location, and a central logo of the club's insignia, with a fourth, smaller badge carrying the initials "MC" or "RC" standing for motorcycle club or rocket club.
Cuts or cut-offs are usually made from leather or denim jackets with the sleeves removed, or cut very short, and often adorned with patches, badges and painted artwork that display motorcycle club affiliations known as colors.
A garment displaying three of the seven identified criteria listed below is banned prohibited from being worn on Fort Campbell:
Top rocker – used for club name
Club logo plus MC/RC patch
Bottom rocker – used for territory
1 percent signifying outlaw intent
Club name or location
Office or rank held within club
Side patch – usually a club saying
For more information, contact the Fort Campbell Installation Provost Marshal Office at 270.956.4900.