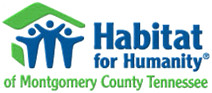 Clarksville, TN – On Sunday, June 9th, 2019 a dedication ceremony was held by Habitat for Humanity of Montgomery County for its 97th Clarksville home.
Overlia Williams, Mario Owens, and daughters KeVi and Anna were joined by more than 50 supporters and family members at the dedication.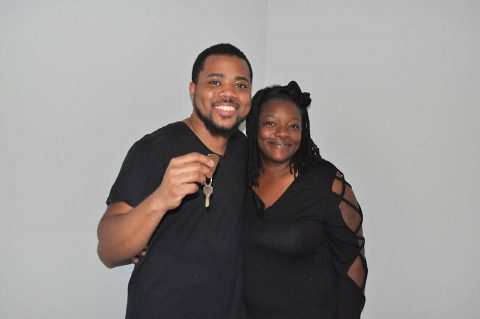 Construction of the home at 115 Edmonson Ferry Road was completed by partner-builder Edward Burchett C. Construction with the help of 28 local contractors who donated their time and efforts to the project.
The ceremony, which opened with a prayer by LaKisha Tramill-Williams, followed by well wishes from Clarksville City Councilwoman Wanda Smith, State Representative Jason Hodges, and Clarksville Mayor Joe Pitts.
Linda DeGraw with the Clarksville Quilt Posse presented a handmade quilt to the family, which she said symbolizes the warmth and comfort of home. Diana Anderson with Daughters of the American Revolution presented a home library for the family to enjoy, and Margaret Pace of the Master Gardener Association gifted them a pot of bulbs and a certificate for a native Tennessee tree.
Habitat founding board member Herb Baggett presented the family with a Bible that included heartfelt inscription by board President Kevin Underwood. The presentation of a family Bible is a tradition of the organization dating back to 1992.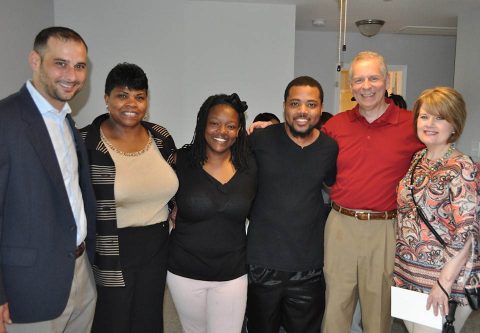 Board member Debbie Frazier led a blessing of the home and the highlight of the ceremony was the presentation of the keys from Eddie Burchett to Overlia and Mario.
Burchett praised Herb Baggett, calling him a quality and dedicated servant. He said Baggett was the reason for his involvement as builder on the project.
"One of the great things about my job is I get to develop relationships with people and see how generous so many of the people are that work for me," Burchett said. "Jesus's teachings are alive and well here at 115 Edmonson Ferry Road."
Executive Director Rob Selkow in closing honored his predecessor, Erica Outlaw, who was very close to the family and helped guide them through the Habitat program, which included attending classes on home ownership, budgeting, and actual manual labor, or 'sweat equity' on the home.
At the end of the ceremony, guests were taken on a tour of the home, followed by a reception at The Bridge Church Hope House, located across from the new Habitat home.
"Our family appreciates everyone being here to celebrate this day with us and thank God for the opportunity he has given us and the many blessings we now enjoy," Owens said.
Congratulations to Overlia, Mario, and their children.
Habitat for Humanity, in partnership with qualifying Montgomery County families has completed 98 houses since 1992, using donated funds, labor and materials.
The Clarksville based ministry is seeking individuals, churches and local companies for volunteer projects related to eliminating poverty housing in Montgomery County.
For information, call 931.645.4222 or visit www.habitatmctn.org