Clarksville, TN – The Clarksville Police Department is making the public aware of the series of motor vehicle thefts and vehicle burglaries over the weekend, between June 21st and June 24th, 2019. There were 16 vehicle burglaries reported and 10 stolen motor vehicles. Most occurring during the hours of darkness.
Out of the 16 vehicle burglaries, only one showed signs of forced entry.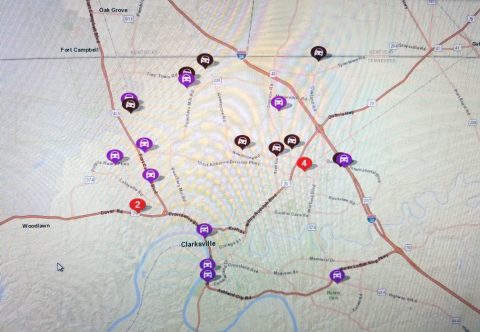 There were two guns stolen, a couple of laptops, credit cards, and about $150.00 in cash.
Many of the vehicles were rummaged through and nothing appeared to be taken.
There was one arrest made in one of the burglaries.
In the 10 motor vehicle thefts, eight either had keys/fobs left in the vehicle or keys/fobs were taken without consent of the homeowner and no signs of forced entry. Two of the vehicles were abandoned and recovered.
While processing the vehicles or interviewing victims, there were multiple instances where surveillance footage showed small groups wandering through neighborhoods attempting to or breaking into vehicles.
The video surveillance footage a couple of individuals breaking into or attempting to break into vehicles. There is also a map which shows the areas where the vehicle break-ins and stolen vehicles occurred. All the locations aren't shown since mapping data was updated before all the reports came in.
CPD are asking the public to check and see if they have surveillance footage which may help us identify any of the suspects. Please call 911, if you find footage which may be helpful so an officer can come review it.