Charlotte, TN – The Austin Peay State University (APSU) soccer team were unable to answer an early Georgia State goal despite the Govs aggressive offensive attack in the second half in a 1-0 exhibition loss at Creek Wood High School, Monday.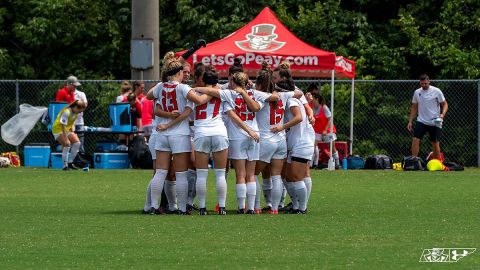 Georgia State struck first scoring a goal in the 20th minute to take a 1-0 lead.
After a fairly quite first half, the Governors cranked up their offensive attack, applying near constant pressure to the Georgia State defense and goalkeepers.
Despite having double the shots on goal (four to two) as Georgia State, the Govs were unable to get a shot past the Panther's keeper.
The usual suspects of Claire Larose and Morgan Drawdy, two of the Govs leading scorers from 2018, combined for three of the team's four shots on goal, with newcomer Lexi Maslowski accounting for the other. Senior goalkeeper Mary Parker Powell started and garnered the majority of the minutes in goal for the Govs.
The APSU Govs will be back in action Sunday, August 18th, 2019 at 6:00pm, when they travel to Western Kentucky for their final exhibition match. The regular season begins the following Friday, August 23rd when the Govs play a 5:00pm match at Chattanooga.
Naomi Kolarova Thoughts
On the defense
"I thought our defense played relatively well in the back third, we limited their opportunities to shoot and that's something I wanted the team to work on going into the game."
On the offensive end
"Offensively I thought we struggled in the first half, but in the second we looked dangerous down the right side with Ashley Whittaker making some good runs at their back line."
On Georgia State
"They scored a great goal early on and I thought we'd be able to get one back, but their goalkeepers did a good job of cleaning up our chances."
Final thoughts
"Overall, I thought we were too sloppy and slow on the ball and we were disorganized defensively as a team. But we showed a solid work rate as a whole and we improved as the game went on. We have to take the negatives with the positives this early in the season and just continue to build."