Clarksville, TN – Tickets are on sale now for the Gateway Chamber Orchestra's 2019-2020 Season – "Emotion Abounds". This season, the GCO will perform inspiring musical programs that will transport audiences through time to explore the passionate works that have influenced centuries of music.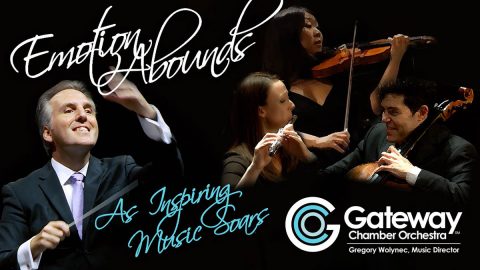 Join the GCO for a musical experience that will surprise, entertain and move you as you listen to some of the most noteworthy musicians in the Southeast.
This season presents a slate of powerful and emotional programs, featuring favorite composers of the GCO including Wolfgang Amadeus Mozart, Franz Schubert, Arnold Schoenberg and of course, Franz Joseph Haydn. Internationally acclaimed soloists are scheduled to perform, including Pittsburgh Symphony Orchestra principal flutist Lorna McGhee.
"The 2019-2020 season continues a thread from last season by featuring works and composers who have helped shape our unique musical voice," said Gateway Chamber Orchestra Music Director Gregory Wolynec.
"Each program will explore a wide range of emotions in collaboration with exhilarating soloists. The sublime beauty of Mozart's Gran Partita, the symphonic weight of Schubert's Tragic and the radiant glow of Schoenberg's Transfigured Night will be just a few of the highlights of the upcoming season," Wolynec stated.
In addition to the Masterworks Series, the Gateway Chamber Orchestra will offer a number of special events, including a family-friendly concert featuring Tchaikovsky and Ellington's Nutcracker Suite with a special reading by celebrated author Anna Celenza and the holiday favorite Winter Baroque. The 2nd Annual BBQ, Brews & Beethoven will feature Copland's Appalachian Spring, local craft beer and delicious BBQ.
Season ticket packages for the Masterworks Series plus the Nutcracker Suite concert and Winter Baroque (six concerts) begin at $40.00 for students, $48.00 for military and $81.00 for adults. Season tickets for the Masterworks Series only (four concerts) begin at $30.00 for students, $36.00 for military and $60.00 for adults. Family packages are available as well. The Gateway Chamber Orchestra performs at Austin Peay State University's George and Sharon Mabry Concert Hall, with events typically held on Sunday afternoons.
For more information or tickets, go to gatewaychamberorchestra.com or call 931.444.6240. Season tickets are on sale now. Individual concert tickets will be available September 3rd.
The GCO is a nationally-recognized cultural institution committed to enriching lives through innovative concerts, distinctive recordings and inspiring educational programs. Conducted by Gregory Wolynec, the GCO performs in two permanent homes – the Mabry Concert Hall on the campus of Austin Peay State University in Clarksville and The Franklin Theatre in Franklin.
Masterworks Series
Artistry of Lorna McGhee
Sunday, September 29th, 7:30pm.
Gabriel Fauré – Pelléas and Mélisanda Suite
Carl Reinecke – Flute Concerto with Lorna McGhee
Franz Schubert – Symphony No. 4 in C minor
The GCO kicks off an emotion-packed new season with powerful works from Gabriel Faure, Carl Reinecke and Franz Schubert. The orchestra welcomes Lorna McGhee, principal flute of the Pittsburgh Symphony, for Reinecke's gripping concerto. Schubert provides a dramatic finale to the season opener with his Tragic Symphony.
Transfigured Night
Sunday, November 3rd, 4:00pm.
Ottorino Respighi – Ancient Airs and Dances Set III
Claude Debussy – Danses with Paula Bressman, harp
Arnold Schoenberg – Transfigured Night (Verklärte Nacht)
Soar through darkness into light with this dramatic program of works by renowned Ottorino Respight, Claude Debussy and Arnold Schoenberg. GCO harpist Paula Bressman casts light onto the beautiful Danses with grace and elegance. Schoenberg's stunning Transfigured Night pushes the GCO's boundaries to new heights in a performance you will not want to miss.
Gran Partita
Sunday, January 26th, 4:00pm.
Felix Mendelssohn – Nocturno
Jacques Ibert – Cello Concerto with Meghan Berindean, cello
Wolfgang Amadeus Mozart – Serenade in Bb, K. 361/370a Gran Partita
The GCO tugs at heartstrings in this concert featuring GCO cellist, Meghan Berindean. Works from Felix Mendelssohn and Jacques Ibert lead up to Wolfgang Amadeus Mozart's powerful Gran Partita serenade, a 'signature' work for the GCO featured on our debut recording and received national media praise.
America's Haydn Festival*
Thursday, April 2nd, 7:30pm.
Sunday, April 5th, 4:00pm.
Franz Joseph Haydn – Symphony No. 49 in F minor La passion
Franz Joseph Haydn – Lord Nelson Mass
The final Masterworks concert honors the late Franz Joseph Haydn at our 2nd Annual America's Haydn Festival. The multi-day event includes a string quartet performance featuring the Omer Quartet as well as full orchestra and choir performances of works from the famed composer.
*String Quartet tickets sold separately.
Special Events
Nutcracker Suite with Anna Celenza
Sunday, November 17th, 3:00pm.
Pyotr Ilych Tchaikovsky – Nutcracker Suite
Duke Ellington – Nutcracker Suite
The whole family will enjoy this special kid-friendly event featuring award-winning author Anna Celenza. The performance includes a multi-media experience with the Nutcracker Suite as reinvented by Duke Ellington as well as an instrument "petting zoo."
Winter Baroque
Sunday, December 5th, 5:00pm.
The GCO Choir joins us to celebrate the holidays in the annual Winter Baroque featuring Baroque classics and crowd favorite sing-along. The performance will be held at Madison Street United Methodist Church.
BBQ, Brews & Beethoven*
Saturday, May 16th, 5:30pm.
Copland – Appalachian Spring
The season finale includes a laid back, delicious array of food and music at Clarksville Regional Airport. The featured work will be Copland's Appalachian Spring in a casual setting with GCO musicians, savory BBQ and local craft beers.
*Tickets sold separately later in the season.
Season Ticket Pricing
Complete season packages (includes six concerts) begin at:
TYPE COST QTY $ TOTAL
Adult $81.00 | Student $40.00 | Military $48.00 | Family $201.00
Masterworks Series season packages (includes four concerts) begin at:
Adult $60.00 | Student $30.00 | Military $36.00 | Family $150.00