Boulder, CO – Austin Peay State University (APSU) soccer found itself locked in a close match, before Colorado was able to pull away late in the second half.
The Governors defense kept them in the match in the first half against Colorado.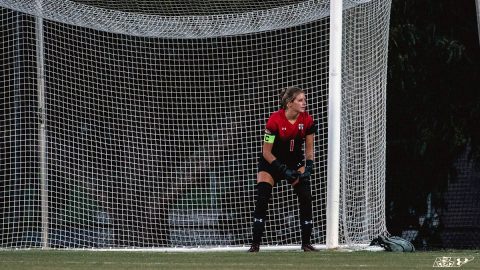 Led by senior captains Renee Semaan and Mary Parker Powell, the Governor defense warded off all nine Colorado shots, including three saves from Powell, to keep the match tied after the first 45 minutes.
In the 64th minute Colorado found the back of the net first. The Buffaloes added another goal in the 88th minute to knock off the Govs, 2-0.
After weather delayed the start of the match for an hour, the Govs took the opening kickoff and in the 11th minute, junior Claire Larose got off the match's first shot. Larose had a team-high four shots, including one of the Govs two shots on goal. Both of the Govs shots on goal came in the second half, with junior Morgan Drawdy supplying the second chance on net.
Playing in the high altitude, only one Governor played all 90 minutes of tonight's match. Renee Semaan stayed on the pitch all night, logging her team leading 380th minute, as she remains the only Gov who has yet to leave the field this season.
In another solid defensive effort, Austin Peay keeper Mary Parker Powell made four saves before the Buffaloes were able to sneak one past her. Colorado scored the game winner in the 64th minute, and was able to hold on from there to stay unbeaten on the season. Despite another tough battle, the Govs drop to 0-3-1 for the 2019 season.
Naomi Kolarova Thoughts
Opening remarks
"I am really proud of the team tonight. An hour delay is never easy, but we stepped out ready to go and battled for the full 90 minutes."
On the offense
"I thought our ball movement and possession was good tonight. We created opportunities and supported each other off the ball."
Final thoughts
"We fought hard defensively, and pushed ourselves physically with the altitude. Colorado is 30th in the country right now, so to go out and play the 90 minutes we did against them was very promising. Tonight shows we have the fight, grit, and heart. We need to continue to play like that, and the results will swing our way eventually, hopefully on Sunday!"
Next Up For APSU Soccer
The Govs will be back in action on Sunday for a noon match at Northern Colorado. As of now the Govs and Bears will both be looking for their first win of 2019 on Sunday, but Northern Colorado will have two matches prior to playing Govs to grab their first win. Sunday's match in Greeley, Colorado, will be the first ever meeting between Austin Peay State University and Northern Colorado.
For news and updates on every Governor's soccer match, follow along on Twitter (@AustinPeaySOCR).