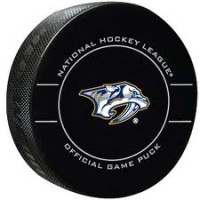 Nashville, TN – Nick Bonino scored a hat-trick and Pekka Rinne pitched his second shutout in a row, as the Nashville Predators defeated the flailing Chicago Blackhawks, 3-0.
The Predators fired 51 shots on goal tonight, compared to Chicago's 20. The real star of the game should have been Chicago goalie Robin Lehner who ultimately stopped 48 shots on the night, but lost the game.
His frustration showed throughout the night, but the Predators were relentless.
Predator's captain Roman Josi led his team onto the ice tonight with a smile on his face as he signed an 8 year contract extension worth 9 million dollars per year. The contract will likely keep him in Nashville for the rest of his career and makes him the third highest paid defenseman in the NHL.
But the game was all about Nick Bonino and Pekka Rinne.
At 17:56 of the opening period, Bonino battled for a rebound off a Rocco Grimaldi shot on net, and pushed the puck into the net for the early 1-0 lead. Grimaldi assisted on each goal tonight.
Into the second period it was Bonino again. This time at 9:03 as he picked up a loose puck and lifted into the net for the 2-0 Nashville lead.
The Blackhawks as rebuilding and are not the team of old, but they pushed back against the Predators. With only 20 shots on goal, Pekka Rinne stood tall in net and kept the shutout alive as Chicago tried desperately to get on the scoreboard. The frustration was clearly evident with the Blackhawks as they could be seen shouting at each other on the bench throughout the final period.
In the third period, there was a feeling that the Predators weren't finished yet, then at 3:40 of the final frame, Bonino took another rebound and lifted the wrist shot into the net and he had the natural hat trick for the final score, 3-0.
This was the fourth straight win for the Predators who stormed back on Saturday night in Tampa Bay for the 3-2 overtime win.
In his post-game interview, Roman Josi said his teammates were feeling good about each other and he thought that each line was playing good. He noted that each night someone steps up to lead the team and they have a good feeling about their game at the moment.
The Predators host Calgary on Thursday night as it's Filip Forsberg bobblehead night at the Bridgestone Arena. Puck drops at 7pm.