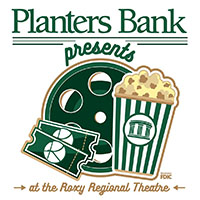 Clarksville, TN – This Sunday, discover your inner elf with our first installment in a string of holiday movie classics. Planters Bank Presents… ELF on the Roxy Regioal Theatre big screen this Sunday, November 24th, 2019 at 2:00pm.
After accidentally falling into Santa Claus' gift sack, a human baby is raised at the North Pole, growing up to believe he is an elf. Due to his large size, Buddy (played by Will Ferrell) causes chaos in Santa's workshop, forcing Kris Kringle to send him on a mission to find his human roots.
Traveling to New York in full elf uniform, he eventually finds his real father, a cynical businessman who attempts to start a relationship with the childlike Buddy with hilarious results.
Rating: PG / Running time: 97 minutes / Release year: 2003 / Director: Jon Favreau / Cast: Will Ferrell, James Caan, Bob Newhart, Edward Asner, Mary Steenburgen, Zooey Deschanel
Admission is $5.00 (cash or check only), and tickets are available at the box office between 9:00am and 2:00pm, Monday through Friday. Any remaining tickets will be available beginning an hour prior to showtime. Advance ticket purchases are strongly encouraged. Popcorn, assorted candy and beverages will be available as concessions.
While you are here on Sunday, be sure to pick up your tickets for the next movie in our Planters Bank Presents… Film Series, "The Polar Express", showing Sunday, December 1st at 2:00pm.
In the coming weeks, you can also look for such favorites as "It's A Wonderful Life" and "White Christmas".
The Roxy Regional Theatre is located at 100 Franklin Street in Clarksville, TN.
For our complete schedule of films and more information, please visit www.roxyregionaltheatre.org/filmseries. Like us on Facebook at www.facebook.com/PlantersBankPresents!
Sections
Events
Topics
Clarksville, Clarksville TN, Elf, Franklin Street, James Caan, Planters Bank, Planters Bank Presents, Roxy Regional Theatre, Will Ferrell