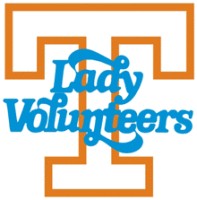 Knoxville, TN – A dominant effort in the paint and an outstanding defensive second quarter helped the Tennessee Women's basketball team give Lady Vols head coach Kellie Harper a victory in her Southeastern Conference debut Thursday, as No. 22/23 UT defeated Missouri, 77-66, to open conference play.
Tennessee (11-2, 1-0 SEC) held the Tigers (3-11, 0-1 SEC) to three field goals and just seven points in the second period. And the Lady Vols outscored Mizzou 44-22 in the paint during Thursday's triumph.
The Lady Vols lived up to their reputation as one of the nation's top-rebounding teams, out-rebounding the Tigers, 43-22. Tennessee pulled down 18 offensive boards and enjoyed a 19-4 edge in second-chance points.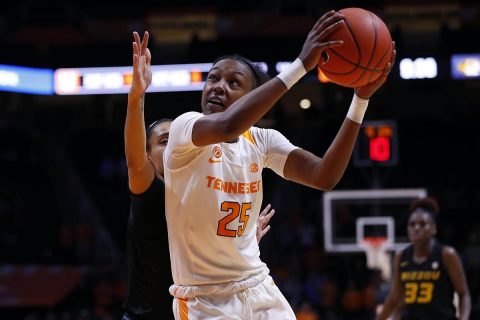 Lady Vol junior
Rennia Davis
recorded her seventh double-double of the season and the 25th of her career Thursday, finishing with 19 team-high points and a game-high 12 rebounds.
Jazmine Massengill
handed out a career-high 12 assists and also added seven points and six rebounds.
Tamari Key totaled 16 points on 8-of-11 shooting, and fellow freshman Jordan Horston scored 13.
The teams traded blows during the game's first five minutes. Tennessee held a 14-12 lead at the first media timeout of the afternoon—the 4:18 mark in the first quarter. Each team was shooting 50 percent from the field at that point.
Mizzou then clamped down on defense—holding the Lady Vols without a field goal for close to five minutes—and strung together a 9-2 run to lead by five at the end of the first quarter.
The Tigers' drained five 3-pointers in the opening frame, matching UT's long-range output for the entire game. The Lady Vols held Mizzou to just six more triples over the game's final 30 minutes, as nearly half of the Tigers' 23 field goals Thursday came from beyond the arc.
Tennessee buckled down defensively in the second quarter, holding Missouri to 3-of-15 shooting in the frame. The Lady Vols, meanwhile, shot 62 percent (8 of 13) in the second quarter.
A transition layup in traffic by UT sophomore Rae Burrell less than a minute before halftime capped an 8-0 run and gave the Big Orange a 32-28 lead at the midway point.
Horston led the Lady Vols with eight first-half points, while fellow starters Lou Brown and Davis added six points each.
Massengill assisted on back-to-back baskets by Key early in the third quarter, pushing UT's lead to eight points and forcing a timeout by the Tigers.
Minutes later, the Massengill-to-Key combo struck again on a fast break, causing Mizzou to burn another timeout in an effort to quell a 12-2 Tennessee run that gave the Lady Vols a 46-32 advantage.
The Tigers fought back in the closing minutes of the third quarter, making four straight field-goal attempts at one point and closing the period on a 9-2 run that trimmed the Tennessee lead to seven, 51-44.
A 3-pointer by Mizzou's Haley Troup early in the fourth quarter cut the Lady Vols' lead to 51-47, but that was as close as the Tigers would come. Tennessee erupted offensively in the game's final 10 minutes, scoring 26 fourth-quarter points on 10 of 19 shooting.
Senior Amber Smith was Mizzou's leading scorer with 22 points.
UT In SEC Openers
The win over the Tigers was UT's sixth straight in an SEC opener, moving the Lady Vols to 32-6 all-time, including 17-3 at home.
Massengill Dishing
Sophomore point guard Jazmine Massengill doled out a career-high 12 assists while committing only one turnover against Mizzou to make her way into the record book, tying for sixth-most single-game assists in Lady Vol history. She has managed double-digit assists in two of the last three games, averaging 8.0 apg. over that span while turning the ball over only three times.
Hot Hands
Tennessee shot 50.0% from the floor against Missouri, marking the fourth time this season the team has hit at least half of its shots.
Key Settling In
Freshman Tamari Key set a new career high of 16 points in her first SEC action. After scoring in double figures in just two of the first six games, she has now made her way into double digits in four of the last seven contests.
Davis Climbing The Charts
Tennessee junior Rennia Davis posted her 25th career double-double (seventh this season) against Missouri with 19 points and 12 rebounds. She currently ranks 11th all-time for career double-doubles and third in the SEC among active players behind Unique Thompson (Auburn) and Ayana Mitchell (LSU) who have each recorded 31 in their careers. Her 19 points on the game moved her career total to 1,076, passing Isabelle Harrison and Cierra Burdick and tying with Peggy Evans for 40th all-time among Lady Vol scorers.
Next Up For Tennessee Lady Vols Basketball
The Tennessee Lady Vols basketball team hit the road for a 3:00pm matchup at No. 13/13 Kentucky on Sunday. The game will be televised by ESPN2.