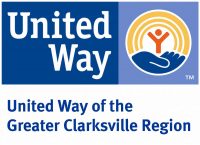 Clarksville, TN – DBO Gallery presents The Art of Giving, an upscale, live auction event featuring hand-selected artists, both local and out-of-state. The Art of Giving will take place at the Ruby Cora Saturday, February 22nd, 2020. Cocktail hour starts at 6:00pm with the auction set to begin at 7:00pm.
President of F&M Bank Sammy Stuard will conduct the live auction, presenting works by Olasubomi Aka-Bashorun, Erin Elise, Stephen Watkins, Omari Booker, Lorenzo Swinton, Ty Christian, Douglas Charlton, James Diehr, Chloe Bennett, Andrea Jacobson, and Justin Gaffrey.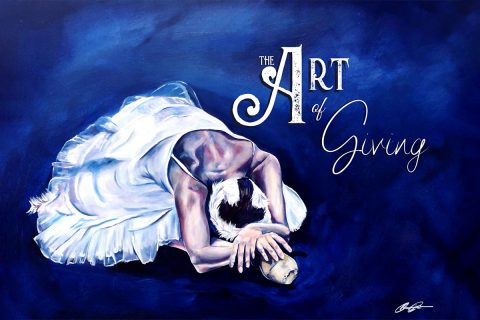 "I am honored to be a part of The Art of Giving," said local artist Lorenzo Swinton.
"Each artist selected offers inspiration through their works. I am excited for people to unearth that creative experience."
In addition to the live auction, the event will include live music from Nashville artist Emily Chambers, a live painting by Olasubomi Aka-Bashorun, special decor by Journey's Eye Studio, an open bar and catered heavy hors d'oeuvres by local restaurants, wineries and breweries, to include: Ajax Distributing Company, Blackhorse Brewery, Beachaven Winery, Yada on Franklin, Roux, Upstairs at Strawberry Alley, and more.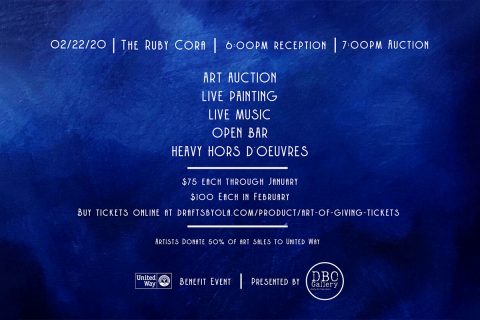 "Part of the gallery's multi-layered mission is to create unique opportunities to assist non-profit organizations within our communities," said Olasubomi Aka-Bashorun, founder of DBO Gallery.
"This event not only adds eclectic entertainment and brings forth an understanding of the beauty of art in a growing city, the event also gives back to the core of our community…its people."
The event will benefit United Way of the Greater Clarksville Region. United Way is a non-profit organization that advocates for the education, health and financial stability of citizens in our community. Fifty percent of each auction sale will go to support United Way's 30+ non-profit agency partners.
Tickets are $100.00 each and can be purchased at www.draftsbyola.com/product/art-of-giving-tickets/
Early bird ticket pricing allows individuals to purchase a ticket for $75.00 each. The special will run through the month of January and end February 1st.
The Ruby Cora is located at 2300 Gunn Road, Adams Tennessee.
Event sponsorships are also available, ranging from $500.00 to $1500.00. For more information about event sponsorships, please contact ATEM Services at atemservices1@gmail.com
DBO Gallery
The mission of DBO Gallery is to encourage appreciation and understanding of art, artists and our role in society through direct engagement with original works of art. The gallery stimulates active learning about art through workshops and art talks. The gallery strives to not only exhibit works from current established
artists but to also educate, encourage and provide studio space to up and coming creators of all ages. DBO Gallery's intent is to impact our community and to stimulate positive change and growth.
Olasubomi Aka-Bashorun
Olasubomi Aka-Bashorun is a Clarksville artist and business owner. Originally from Nigeria, Bashorun, known locally as Ola, desires to ignite a passion for the arts. He has galleries in both Clarksville and Nashville. His most popular works include Clarksville Starry Night and Clarksville Hi-five murals, #HomelessYouthSeries, and portrait paintings of world-known legends.