Clarksville, TN – The Austin Peay State University (APSU) men's tennis will get right back on the court after their season opening match at Louisville, as the Governors will hit the road for a 5:00pm, Monday, match against in-state foe Middle Tennessee at the Adam's Tennis Complex.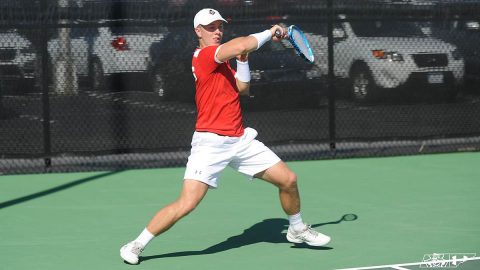 Just two days after the Governors fell to Louisville in their season opener, they will have a chance to get right back in action when they take on Middle Tennessee.
Monday's match against the Blue Raiders will mark the sixth consecutive season that the Govs have played a match against Middle Tennessee in Murfreesboro.
In singles play, the Governors will be led by junior Christian Edison, who pushed Louisville's No. 1 player to a 7-6 (unfinished) match in the season opener. In doubles action, Edison will likely be matched up with fellow junior Jacob Lorino. The Governors two elder statesmen fell, 6-1, in the season opening match against Louisville, but posted a 3-3 record when playing together this fall.
The All-European duo of Anton Damberg and Julius Gold were paired together in the season-opener at Louisville. The duo had pushed the Cardinal's No. 2 pairing to a 4-3 match that was never finished, and will look to build off that success against Middle Tennessee. In the fall season, Damberg and Gold posted a 6-3 record when playing together, which was the best record of any Governors pairing. In singles, Damberg played as the Govs No. 2 last time out, while Gold played as the No. 3.
Oliver Andersson made his return to the court for the Govs at Louisville, after not playing during the fall season. Andersson was paired with freshman Thiago Nogueira during doubles play, where the duo fell, 6-2, against the Cardinals. In singles play, Andersson and Nogueria played as the No. 5 and 6 for the Govs, respectively.
About the Middle Tennessee Blue Raiders
All-Time Series: APSU trails 33-7
Last Meeting: MTSU won 7-0 at the Adams Tennis Complex, January 16th, 2019
The Blue Raider opened their season with a win over Michigan State, January 17th, dispatching the Spartans, 6-1, at the Adams Tennis Complex. Before the Blue Raiders take the court against the Governors, they will play a 12:00pm, Monday, match against New Mexico.
Next Up For APSU Men's Tennis

The APSU Governors will continue their three-game season-opening road trip with another trip inside the Volunteer State, when they play a 6:00pm, Friday, match against Lipscomb at the Huston-Marsh-Griffith Tennis Center.