Clarksville, TN – The Arbor Day Foundation has named CDE Lightband a 2020 Tree Line USA® in honor of its commitment to proper tree pruning, planting and care in the provider's service area.
Tree Line USA, a partnership between the Foundation and the National Association of State Foresters, recognizes public and private utilities for pursuing practices that protect and enhance America's urban trees.
Tree Line USA promotes the dual goals of delivering safe and reliable electricity while maintaining healthy community forests.
"Trees are a critical part of urban landscapes all across the United States," said Dan Lambe, president of the Arbor Day Foundation. "They provide important benefits to residents, including clean air, clean water and a tolerable climate. Service providers like CDE Lightband demonstrate that it's possible for trees and utilities to co-exist for the benefit of communities and citizens."
CDE Lightband achieved Tree Line USA by meeting five program standards. Utilities must follow industry standards for quality tree care; provide annual worker training in best tree care practices; sponsor a tree planting and public education program; maintain a tree-based energy conservation program; and participate in an Arbor Day celebration.
"It is an honor to be recognized for the 2020 Tree Line USA® for the seventh consecutive year," said Brian Taylor, general manager of CDE Lightband. "Our dedication to vegetation management provides reliable electric and broadband services to our customers. Without the support of the Power Board and the diligent work of the right-of- way maintenance team, this program would not be possible."
More information about Tree Line USA can be found at www.arborday.org/TreeLineUSA
About Arbor Day Foundation
The Arbor Day Foundation is a million-member nonprofit conservation and education organization with the mission to inspire people to plant, nurture and celebrate trees. Its recent launch of the Time for Trees initiative marks an unprecedented effort to plant 100 million trees in forests and communities and inspire 5 million tree planters by 2022.
More information on the Foundation and its programs can be found at www.arborday.org
About CDE Lightband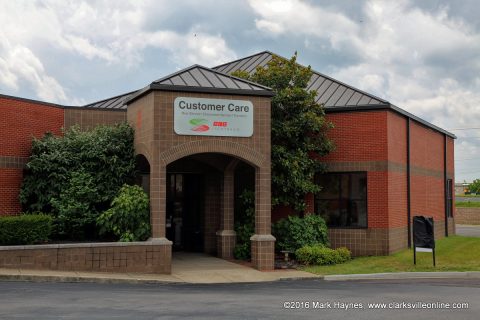 CDE Lightband is a municipally-owned public power and broadband service provider serving 70,000 electric and 22,000 broadband customers with the city limits of Clarksville, TN.
CDE Lightband provides reliable utilities delivered at the speed of light. Our service area, consisting of 100 square miles within the municipal boundaries, includes 892 miles of power lines and 960 miles of fiber optic cable.
Our world-class Fiber Optic Network keeps electric costs low and allows us to deliver exceptional products and constant innovation. The network provides savings of over $1 million annually in operating costs and provides over $5 million annually in income for electrical grid improvements that result in half as many large scale power outages compared to peer cities.
Additionally, access to our network increases home values by 3% or an average of over $5,000, according to the Fiber to the Home Council. Based in large part on access to the superior digital products provided by CDE Lightband, Clarksville has been designated a first 50 "Next Century City."
CDE Lightband offers Electricity, Internet, Digital TV and Telephone services with blazing fast speed and superior performance … with the additional convenience of 24/7 local support and bundling all your utilities into a single bill.
Our staff includes 200 full-time employees, a management team with over 100 years of combined industry expertise and governance provided by a board of five local business leaders.
For more information, visit their website at www.cdelightband.com