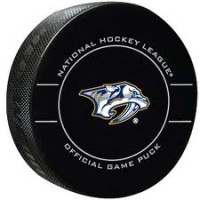 Nashville, TN – The Nashville Predators saw their three-game win streak come to an abrupt end tonight at the hands of the Carolina Hurricanes, 4-1.
The Predators were just outplayed by Carolina tonight, and couldn't break through the superior goal tending of Petr Mrazek.
Nashville was hoping to continue their momentum of late with a another chance on home ice for the win, but home ice advantage hasn't been something the Predators have been able to count on.
Carolina hit the score board first at 3:53 of the first period, when Jordan Stall took a pass from Justin Williams from behind the Nashville net to score the opening goal and Carolina took the early 1-0 lead.
In the second period, Nashville would answer back at just 48 seconds into the period when Jarred Tinordi fired a backhanded shot on goal that was deflected by Ryan Johansen who batted the puck out of the air and into the net, and the teams were tied, 1-1.
Then at 3:45 of the second period, Andrei Svechnikov took a pass in the circle and fired a shot from the far side past Juuse Saros and Carolina retook the lead, 2-1.
Nino Niederreiter would extend the Carolina lead at 8:02 on a backhand past Saros and the Hurricanes took the 3-1 lead.
The final score of the night would come from Carolina's Sebastian Aho who battled in front of the Nashville net and finally buried the puck past Saros for the final score, 4-1.
Carolina outshot the Predators 30-29 tonight. The difference was the play in net from Mrazek for Carolina.
Nashville will hope to change the direction of the team on Friday night when they travel to Chicago to face the Blackhawks. The Predators then return to the Bridgestone Arena on Saturday night to host the Columbus Blue Jackets. Puck drops at 7:00pm.