Austin Peay (20-10 | 14-3 OVC) at Murray State (21-8 | 14-3 OVC)
Saturday, February 29th, 2020 | 7:00pm CT
Murray, KY | CFSB Center

Clarksville, TN – It's all down to this. All 30 games have come to this, the rematch between the Austin Peay State University (APSU) men's basketball team and Murray State, with the winner earning the top seed in the Ohio Valley Conference Men's Basketball Tournament and at least a share of the regular season title.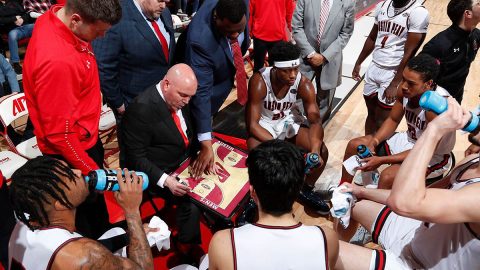 For the Govs to take the title, they'll have to go into the CFSB Center and topple the Racers, on their Senior Day, in a building where Murray State has won 20 consecutive games.
The contest will tip at 7:00pm CT following the women's contest.
About the Murray State Racers
Murray State and Austin Peay State University. As though the stakes weren't high enough anyway, the winner is the top seed in next week's conference tournament, and the loser doesn't even get a double-bye for their troubles.
Tevin Brown is the steady hand the Racers lean on, and he's developed into one of the nation's deadliest sharpshooters from distance, hitting threes at a 41.5 percent clip on nearly three attempts per night. He and freshman DaQuan Smith share ball-handling duties, but when the Racers need a bucket, Brown's going to be the man with the ball in his hands.
When KJ Williams is on, Murray State is winning. In the Racers 21 wins, the big man is averaging 14.5 points on 56.3 percent shooting from the floor and 69.2 percent at the line to go with 7.7 boards per game. However, in losses those numbers flatline to 7.9 points, 44.6 percent from the floor and 57.1 percent at the line and 5.8 rebounds. In the first meeting on February 14th, the Govs held Williams to 11 points and three rebounds in 30 minutes as a reserve.
It's likely this battle will be won on the glass, between the league's top offensive rebounding unit (Austin Peay at 12.03 per game) and a Murray State team among the nation's top 15 with 28.5 defensive rebounds per night. Austin Peay State University's conversion rate at the free-throw line and impeccable ball control won the Govs the last battle despite a slim loss on the glass; the Govs will look to build on a plus-6.1 rebounding margin during league play.
APSU Basketball's Last Game against Murray State
The APSU Govs took down Murray State in a 71-68 affair in the Dunn Center, February 14th, before a national audience on ESPNU. The rivalry game saw the lead change hands 14 times in 40 minutes and Murray State's last-gasp three go for nought.
The Govs forced 14 Racer turnovers, leading to 14 points, while Murray State forced just nine Gov miscues, leading to five points. Terry Taylor had 16 points and 14 boards, while Jordyn Adams scored a team-high 20.
Keep An Eye On
In the long and storied history of this rivalry, it's difficult to find something new under the sun but this is the first meeting between Austin Peay State University and Murray State on Leap Day (February 29th).
A win would give Austin Peay State University a season sweep of the Racers for the first time since 2009.
In Austin Peay State University's 20 wins, Carlos Paez is averaging 8.6 points on 44.3 percent from the floor and 40.7 percent from three, handing out 4.1 assists to just 1.2 turnovers. In losses, Paez is at 3.9 points on 20.0 percent from the field and 16.7 percent from three, with an assist-to-turnover ratio of 2-to-1.
Taylor is one of four active Division I players who has shot better than 50 percent from the floor (54.3), 35 percent from three (35.2) and 70 percent at the line (72.0) for his career. He's also one of four qualified players averaging 20 points and 10 boards for the season and the only Division I player leading his conference in both scoring and rebounding.
A win would be Austin Peay State University's first on Leap Day since February 29th, 1996 against Eastern Kentucky.
Milestone Watch—Career
Taylor needs seven free-throws to break into the all-time top-10 in program history. His next blocked shot will give him sole possession of fifth all-time in blocks, and he needs five steals to become just the fifth player in program history with 100 blocks and 100 steals in his career.
Milestone Watch—Season
Adams needs seven points to pass Taylor for the second-highest single season tally by a freshman in program history. He also needs four three-pointers to take sole possession of the freshman single-season record. At his current trajectory, Taylor is on pace to become the first Gov to average 20-plus points in back-to-back seasons since Bubba Wells (1995-97). If Taylor pulls down 10 rebounds, he'll reach 336 boards for the season, which would be fourth-most all-time.
APSU Tickets
All-session packages for the 2020 OVC Basketball Tournament are now available through the Austin Peay State University ticket office for $80.00. Single-session packages will go on sale through the ticket office early next week.
APSU Govs Online
Check back at LetsGoPeay.com and on Austin Peay State University's Official Athletics Facebook page often for up-to-date news about all Governor athletics, as well as the APSU Governor men's basketball Twitter page (@AustinPeayMBB). Live stats will be available during the game at PeayStats.com, and all home games and Ohio Valley Conference games can be viewed on the ESPN+ app.