Jacksonville, FL – The Austin Peay State University (APSU) baseball team could not pick up Sunday where it left off Saturday and dropped the final game of its three-game set against Jacksonville, 7-0, at Sessions Stadium.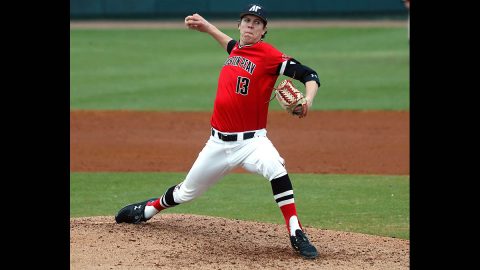 After scoring 11 runs on 13 hits in a Saturday victory that leveled the three game series, Austin Peay State University (4-7) was stymied throughout Sunday's contest by the Jacksonville pitching staff.
The Dolphins limited the Govs to four hits and five walks, and Austin Peay State University could not take advantage of nine plate appearances with a runner in scoring position.
Austin Peay State University's best scoring chance came in the third inning when designated hitter TJ Foreman led off with a single, catcher Tyler Cotto walked and third baseman Gino Avros loaded the bases with a bunt single. Jacksonville starting pitcher Austin Temple retired each of the next three batters to keep APSU off the board.
The APSU Govs would get a leadoff batter in scoring position again in the sixth when first baseman Ty DeLancey doubled down the right-field line. But two strikeouts and a pop out later and the Govs were left without a run again.
Jacksonville (5-7) took control in the second inning, scoring four runs with 10 batters coming to the plate. Shortstop Dakota Julyia delivered a two-run single for the rally's big blow with left fielder Langston Provitt and second baseman Scott Dubrule each supplied a RBI each. The Dolphins would add a run in the fourth and two more in the eighth to set the final score.
Avros, Foreman, Cotto and DeLancey each had one of the Govs four hits. Avros' bunt single in the third extended his reached safely streak to 25 games dating back to last season.
Austin Peay State University pitcher Kyle Nunn (1-1) suffered the loss in his first start, allowing four runs on four hits in 1.2 innings. Reliever Tyler Thompson went a career-high 5.1 innings, allowing one unearned run on four hits.
Temple (2-1) struck out eight over six scoreless innings, scattering three hits and four walks, for the win.
Dubrule went 3-for-5 with two RBI to lead Jacksonville's nine-hit effort. Julyia went 2-for-2 with three RBI, including a sacrifice fly in the eighth.
Next Up For Austin Peay State University
The Austin Peay State University baseball team returns home to start a four-game homestand with a 3:00pm, Tuesday contest against Southern Illinois.