Clarksville, TN – Every week, Clarksville Online will be bringing you pets from different rescue organizations that are in need of a good home in Clarksville-Montgomery County and surrounding areas. This week's pets are for the week of March 13th, 2023.
Dogs and cats of all ages, breeds, and sizes are available through area animal rescues and shelters, as well as opportunities to help homeless animals through foster programs, donations, and help with fundraisers and other family-friendly activities.
Contact a rescue near you to learn more.
Montgomery County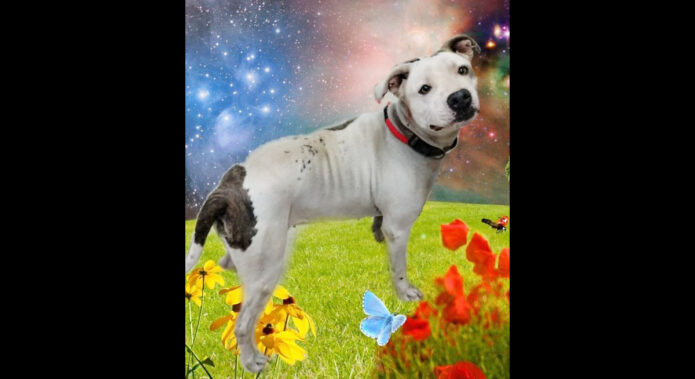 Jess is an adult female Pit Bull Terrier. She is fully vetted and will be spayed before heading home. She is a sweet girl looking for her forever home. Come meet this girl, take her for a walk and fall in love with your new best friend!! For more extensive details MCACC will be glad to answer your questions.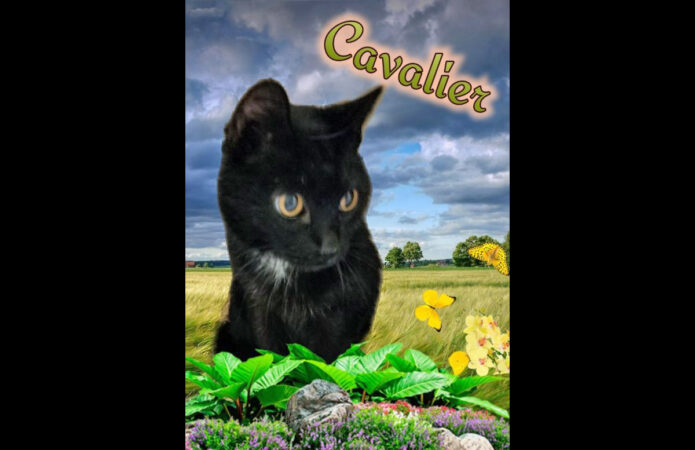 Cavalier is an adult medium size male Domestic shorthair cat. He is litter trained, fully vetted and will be neutered before he heads to his forever family. He is a very stunning cat, calm, loves wet food and a comfy bed. He is very easy going, kind of a go with the flow kind of guy! He would make a wonderful companion.
Find them both at Montgomery County Animal Care and Control, 616 North Spring Street, 931.648.5750, www.facebook.com/MontgomeryCountyAdoptionServices
Finders Keepers Cat Rescue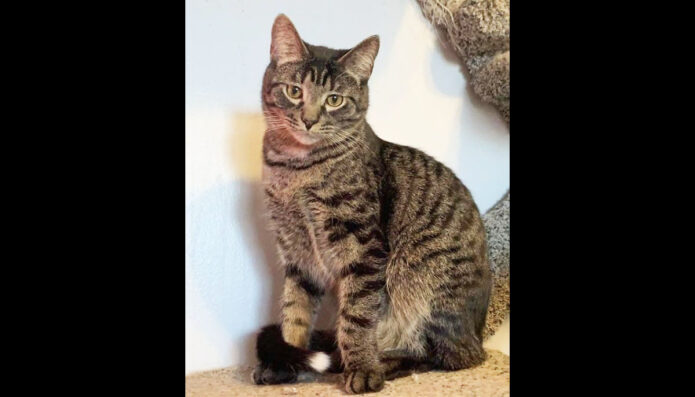 Ron Purrgundy is a young domestic shorthair mix. He is fully vetted, neutered and litter trained. Ron is a very low-key, lovable guy who is happy with belly rubs and curling up next to his people. He is patiently waiting for his forever family and says, stay classy Clarksville..( if you know..you know!!)
If you think Ron will be a wonderful addition to your family, he can be found through the Finders Keepers Cat Rescue, message them on FB or www.petfinder.com/member/us/tclarksville/finders-keepers-cat-rescue-tn984/ or email finderskeeperscatrescue@gmail.com
Cat Adoption Team of Stewart County (CATS)
Gerty is a sweet one-year-old female Domestic shorthair. This gal has lots and lots of love to give. She is fabulous and enjoys adults but unfortunately not so much being around children. Does well with other kitties and dogs. She is fully vetted, on flea and tick prevention, spayed, FELV/FIV neg, litter trained and she is an indoor kitty.
She can be found through the Cat Adoption Team (CATS). Contact Susan at 931.305.8212 text or leave a message or message through their FaceBook page www.facebook.com/CatAdoptionTeamOfStewartCountyCATS
Stewart County Faithful Friends Animal Rescue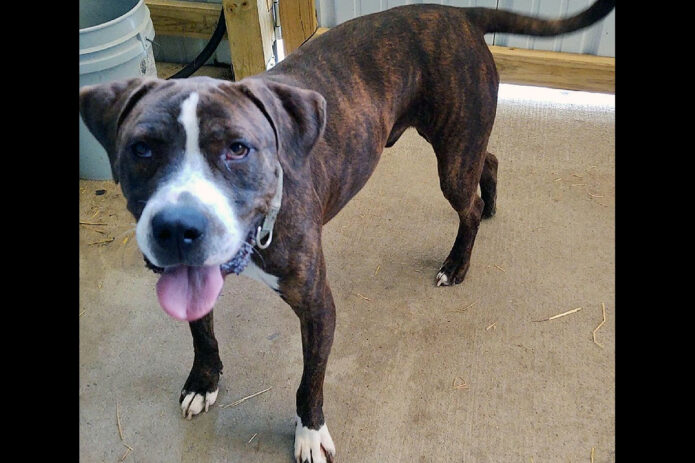 Drako is looking for his forever family!! This young guy is a Pit Bull Terrier mix and is fully vetted, neutered, housetrained and has had some training, and knows basic commands. He is very energetic so a large yard and active family willing to help him channel that energy will be ideal!
Drako would do best as the only dog in the home just due to his energy levels and no cats please. If you are looking for a reason to get out and hike, jog and just be outdoors, this guy will be your constant companion in all outdoor adventures!

If you think he will be a great addition please come for a meet and greet through Stewart County Faithful Friends Animal Rescue, 931.627.1459, www.facebook.com/scffar2010/
Companion Pet Rescue of Middle Tennessee
Larry is a smart, loving, curious, funny, and playful Pit Bull Terrier mix. This handsome guy is fully vetted, neutered, house-trained, and needs to be in a home without other dogs or cats. Loveable Larry enjoys the company of children and enjoys a big yard with lots of ropes and toys. Larry's one goal in life is to please his people and be right by their side for all the love and snuggles. Larry is pretty much your velcro boy. All he wants is a family of his own.
If you think Larry would be the perfect addition to your family, he can be found through Companion Pet Rescue of Middle Tennessee, at 615.260.8473, or www.facebook.com/companionpetrescueofmiddletennessee/
Two Ladies Caring Dog Rescue
Jada is an 11-week-old female old Mountain Cur mix. She is approximately 10 pounds and will be a medium size girl. Her parents were under 30 (dad) and 20 (mom) pounds so she will top out somewhere in the middle! She is friendly and gets along with dogs of all sizes. She is fully vetted, microchipped and the cost of her clinic spay is included in her adoption fee.
For more details and information you can find her through Two Ladies Caring Dog Rescue, 931.217.1587, www.petfinder.com/shelters/TN505.html
Sagley's Biker Bully Farm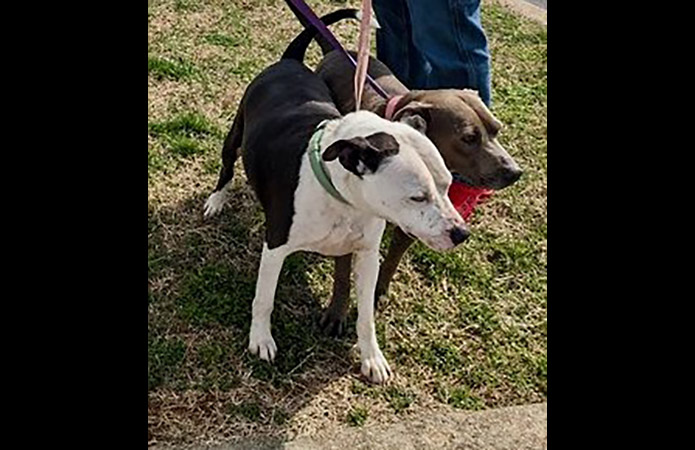 Paris (Blue) and Karma (Black and White) just sadly lost their pet parent and her fondest wish was to have them find their new forever family. They are about 3 years old, fully vetted, very sweet, and housetrained. They are a bonded pair, and must go to their new family together so Lisa will only have one adoption fee for both of these pups.
If you are looking for that special new family member please reach out to Lisa at Sagley's Biker Bully Farm, at 785.207.5641 or www.facebook.com/SBBF.Rescue
Puurrrfect Paws Rescue & Cat Cafe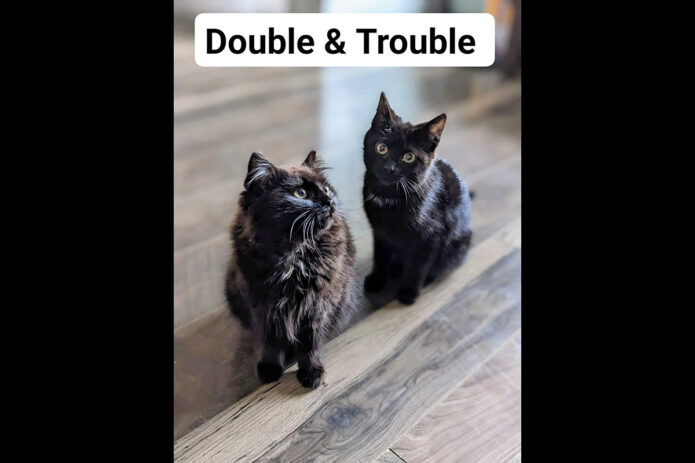 Double (m) & Trouble (f) are a 3-and-a-half-month-old beautiful medium long hair brother and sister duo. They are fully vetted, neutered and spayed, litter trained, and are very loving and affectionate.
Double is a bit more outgoing than his sister but both love chasing toys and do well with other cats. While they are siblings, they are not bonded so they can go to separate homes but will need a companion cat.
To set up a meet and greet and for more information on all the cats please go to www.puurrrfectpawsrescue.com or message them through their FB page, Puurrrfect Paws Rescue & Cafe.
Hot Rod's Garage Senior Sanctuary
Patton is a young male Rhodesian Ridgeback mix. He is affectionate, playful, sweet, athletic, and loves to give kisses. He is house-trained, neutered, and fully vetted. Patton is great with dogs, cats, and children.
He was totally abandoned as a young pup and had to endure the elements and seek shelter and food for several weeks before a good samaritan found him and brought him to rescue. Even after enduring all of this hardship, this sweet boy is loving, happy, super friendly, and loves human contact. He is just fantastic, super smart, and deserves his own family who will love and protect him forever.

If you think he will be a great fit in your life and you can be that special friend, please contact the rescue. For more details call 931.801.1907 or email Hrgsrsanc@gmail.com https://docs.google.com/forms/d/1GwXSlg0hKDKniRHmrTkHuRwGG9s-3GQ8Ke1Ftdg-F-Q/edit?usp=sharing
Mikaela's Mutt Motel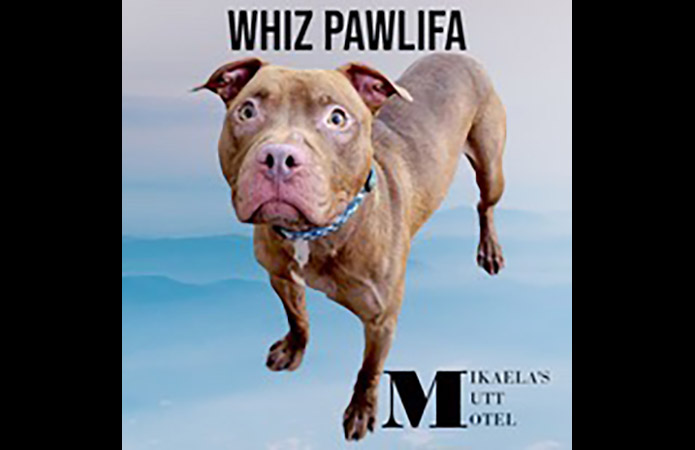 Whiz Pawlifa is a 4-year-old male Pit mix weighing in at 55 pounds. He has been undergoing some basic training lessons and does well with children and adults. He is fully vetted, neutered, microchipped, and on HW and flea and tick prevention.
He is learning basic commands, house manners, and socialization skills around other dogs. He is crate trained and just loves to please. Whiz comes with a free training evaluation at Legend Acres and 50% off 2 months of Parapooper Scooper if you live in their service area.
To find out more about him you can go to www.mikaelasmuttmotel.org/whiz-pawlifa or message them on Facebook at www.facebook.com/mikaelasmuttmotel
You can also reach them at 931.342.2526 and emailing adopt@mikaelasmuttmotel.org