Topic: Clarksville Community Organizers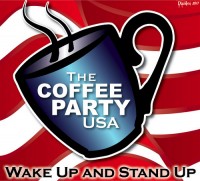 Clarksville, TN – The Coffee Party of Clarksville TN will host a "Meeting of the Minds" Summit/Meeting with the following organizations. The Coffee Party of Clarksville TN, Montgomery County Democratic Party, Clarksville for Obama, Montgomery County Organizing for America, and the Clarksville Community Organizers.
This event will take place on Saturday, January 22nd, 2011 at G's Pancake House Restaurant 803 South Riverside Drive Clarksville, TN from 12:00pm – 2:30pm.
«Read the rest of this article»
The group Clarksville Community Organizers held their version of a health care town hall at Congresswoman Blackburn's office in Clarksville, TN on Friday. Supporters of health care reform gathered outside to protest their representative's position on this important issue, while small groups were escorted inside to voice their support for health care reform to a representative of the Congresswoman. Two counter protesters, senior citizens who opposed Health care reform also showed up.


«Read the rest of this article»
Clarksville Community organizers will meet with Marsha Blackburn on August 28th 2009. The meeting will coincide with a healthcare reform rally from 2:00 p.m. till 4:00 p.m outside her "Clarksville District Office" (1850 Memorial Drive).
Clarksville Community Organizers is local grassroots group, and is part of the "Organizing for America" movement.
The group sent a letter to Congresswoman Blackburn expressing the importance of her representing the diverse local viewpoints on healthcare reform. Spokesperson Terry McMoore told Clarksville Online, "Clarksville Community Organizers looks forward to meeting with Congresswoman Blackburn, and educating her on this very important public health issue" He also wanted to encourage the public to attend the rally and show Congresswoman Blackburn that the community supports  the enactment of a healthcare reform plan.
Clarksville Community Organizers will host a "Rally for Health Insurance Reform NOW" at the "Clarksville District Office of Congressman Marsha Blackburn"
When: August 28, 2009
Address: 1850 Memorial Drive Clarksville, TN
Time: 2:00 p.m. – 4:00 p.m.
Come Support Quality Affordable Health Care For All! Bring your signs, comments and let's do our part to help get this bill past!
We are the change that we seek – President Barack Obama
For more information contact Terry McMoore at 931-378-1999
Clarksville Community Organizers is part of Organizing For America.
Back in January of this year President Barack Obama announced the formation of a new group known as "Organizing for America" that aims to continue the grassroots advocacy that began during his presidential campaign.
"As President, I will need the help of all Americans to meet the challenges that lie ahead," Obama said in a video message e-mailed to supporters. "That's why I'm asking people like you who fought for change during the campaign to continue fighting for change in your communities."
Since we currently are not in the campaign mode where we will operate under the name Clarksville for Obama we have been tasked to join the rest of the grass roots organizations across the nation in organizing in our communities under our new advocacy organizational name "Clarksville Community Organizers" (CCO). «Read the rest of this article»
That old adage about 'it may rain on the army but it never rains in the army' held true for the Wine Tasting hosted by Clarksville Community Organizers last Friday night, May 1st. Dreary weather couldn't dampen the spirits of those attending this event. A warm and friendly atmosphere was the setting for a pleasant evening of wine enlightenment and enjoyment, an array of colorful, great tasting food and good conversation.The wine tasting was an outreach affair conducted by the former local 'Clarksville for Obama' citizens activist network.
Guests were asked to bring a wine or two wines of their own choice, nothing extravagant in cost, and a finger food dish.That the attendance topped out at over thirty people was most gratifying to the organizers and hosting couple JoAnn and Dennis Latz of Adams. «Read the rest of this article»