Topic: Coleman Tractor Company

Clarksville, TN – Coleman Tractor Company has expanded their partnership with Austin Peay State University (APSU) by extending their current contract with the University for two additional years.
«Read the rest of this article»

Clarksville, TN – With 440 acres of land at the Farm and Environmental Education Center, Austin Peay State University Department Agriculture faculty and students already have the land they need to gain experience in hay and forage production.
But to continue their mission of educating students on current industry practices, department faculty said they recognized the need for an upgrade in its tools of the trade.
«Read the rest of this article»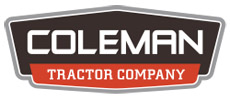 Torrance, CA – Spencer Coleman of Coleman Tractor Company, with dealerships in Paris and Clarksville Tennessee, has been elected to represent the Southeast Division and serve on the 2013 National Dealer Advisory Board for Kubota Tractor Corporation.
Comprised of eight members representing all regions of the United States, this Board is a critical link in the dealer-manufacturer relationship with Kubota.
«Read the rest of this article»

This week, the Clarksville community came together for a cause. This week, you gave your time and money to help people you will never know. Comedy on the Cumberland was held this week, and a packed house enjoyed some of the funniest stand up comedians in the country at the Roxy Theater.
«Read the rest of this article»
Clarksville, TN – Come out to the Roxy Theatre Tuesday night at 7:00pm for Comedy on the Cumberland,  and support the Clarksville Salvation Army. Tickets still remain for Tuesday night's show. This show features Paul Strickland, Brian Swinford, and  C.J Harlow; and is hosted by local talk show host and comedian,  Hank Bonecutter.
The show is being presented with the support of F&M Bank, Wendy's of Clarksville, Wyatt Johnson, and the Coleman Tractor Company.
Tickets are only $30.00, and all ticket proceeds go to benefit the Clarksville Salvation Army.  Tickets are available at F&M Bank, the Roxy Theatre downtown, or you can purchase them online here. Remaining tickets will be sold at the door Tuesday night while they last.
So for a night of laughs and fun for a good cause, get your tickets now and come on down to the show!

Clarksville, TN – Stand up comedy returns to Clarksville, on Tuesday, June 7th at 7:00pm at the Roxy Regional Theatre, as F&M Bank presents "Comedy on the Cumberland".  The Clarksville Salvation Army will be the beneficiary of the show.  This year, Bonehead Promotions is focusing on The Clarksville Hunger Project, an awareness campaign featuring benefits for the local agencies who fight hunger in our community, because hunger is no laughing matter. «Read the rest of this article»