Topic: Development
A letter to the editor from Keith Svadba on possible alternatives for funding new school construction and renovation.
Over the last week the school board made a request to the county commission budget committee for 56 million dollars for new construction of two schools and upgrades to North West High School. I do not think that anyone will argue against the need for new schools or that even more will not be needed in the coming years.
The County Commissioners find themselves faced with two options. Either raise taxes, or put off the construction. At present they are looking at a 6 cent increase in property tax from 2.88 to 2.94. This will an option that will be unpopular to most residents, and an undue burden to many. «Read the rest of this article»
Nick Steward Candidate for Clarksville City Council for Ward 1 held a meet and greet with the voter of his ward today in Patriot's Park. About 50 people showed up to enjoy what was billed as a picnic with hotdogs and hamburgers.
He is running to give something back to the community. "I've seen a lot of the progress we have had in the community over the last few years, and I have been very thankful for everything that Clarksville has given to my family and I over the last few years and I want to, no, I need to give something back to the community that has given us so much"
Steward is a Realtor with Keller Williams, and will be opening a business of his own in Clarksville in the near future.
«Read the rest of this article»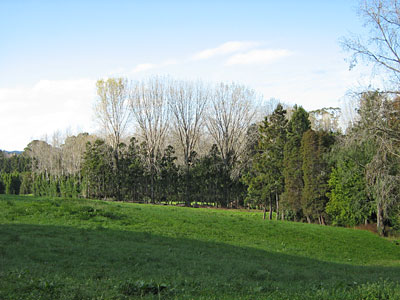 Mayor Johnny Piper announced Thursday at the City Council Executive Session that a donation of land by the Pressler family has been offered and accepted by the city. The land amounts to almost 94 acres and adjoins almost 17 acres of land already owned by the city. The land has considerable frontage on North Ford Street and is located off Peachers Mill Road just a few miles from New Providence Boulevard.
According to Councilor Bill Summers, "this land fits right in where the rails to trails effort has been needed" and adds another piece to help fill gaps from the River Walk, through Fort Defiance, toward Kenwood High and the new pedestrian overpass, along the Red River toward the West Creek school complex and Tiny Town Road. The land is a mixture of pasture and woodlands. The land had a 2003 appraised value of almost $171,000. «Read the rest of this article»
"What kills a skunk is the publicity it gives itself." ~~Abraham Lincoln
On the steps of our historic County Courthouse, a group of grassroots advocate citizens gave voice to an exercise that the founding fathers would have cherished. Members of the Clarksville Property Rights Coalition (CPRC), stood on the courthouse steps to declare their intent to protect their First Amendment Right of Free Speech in their criticism of government.
Bert Gall, a senior attorney with the Institute for Justice, stood with the group to announce that The Institute for Justice has risen to coalition's defense in a defamation lawsuit following publication of an ad by the group that stated that the plaintiffs, Richard Swift and Wayne Wilkinson, are developers and that as developers, they are using the power of government to benefit developers. Gall said that the lawsuit is frivolous on its face and it represents a callous attempt by government officials to silence and intimidate critics among the general public and the affected community in particular.
«Read the rest of this article»
Clarksville activists sued for protesting eminent domain abuse join with national law firm to fight back.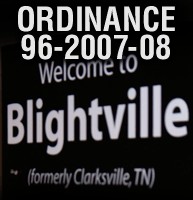 The Institute for Justice will stand with the Clarksville Property Rights Coalition on Monday, June 30, at 11 a.m. on the steps of the Montgomery County Courthouse at Millenium Plaza [corner of 2nd and Commerce Streets], to announce their legal plan to fight back against what they see as a "frivolous" defamation lawsuit filed by Clarksville City Councilmember Richard Swift and Wayne Wilkinson, a member of Clarksville's Downtown Development Partnership. "
Making the announcement will be Bert Gall, Senior Attorney for the Institute for Justice, and CPRC members Debbie Hunt, a homeowner, Joyce Vanderbilt, owner of Kelly's Big Burger, and Dr. Rebecca Slayden-McMahan.
IJ is a non-profit, public interest law firm that has a long and successful history of defending property rights and First Amendment freedoms nationwide.
The CPRC, a grassroots group, was formed in November, 2007, to fight the abuse of eminent domain after a controversial redevelopment and urban renewal plan was passed by the Clarksville City Council. The plan designated two square miles of downtown property as "blighted." «Read the rest of this article»
Tennessee's "Top Spot" hit bottom on Best Life Magazine's "Best Place to Raise a Family" list, coming in at #257 (out of 257) based in part on the listed amount of per-child school spending. Yet even as the city and the School Department challenged that placement and the numbers it was based on, the fact remains that Clarksville has both a lot more and a lot less to offer than many comparable cities across the country.
In leading up to the list for this monthly magazine aimed at male readers [with the survey actually targeting fathers in search of family friendly communities, researcher Sara Vigneri wrote:
"…fathers face reality when they're not in prime time. They want to raise their children somewhere safe [ed. note: read "low crime"], where they can attend good schools with favorable student-teacher ratios, above-average test scores, and respectable budgets. Plenty of museums, parks, and pediatricians also contribute to a good quality of life, whereas multihour commutes, expensive houses, and divorcing friends and neighbors do not." «Read the rest of this article»
It is with a walloping dose of dismay, a meager bit of optimism and sometimes amusement that I follow stories of the city's intent to address planning and development issues, including signage, as Clarksville braces for the transition of Gateway Medical Center from Madison Street to the St. Bethlehem area, and push forward development issues that affect the entire city. But let's start with signage.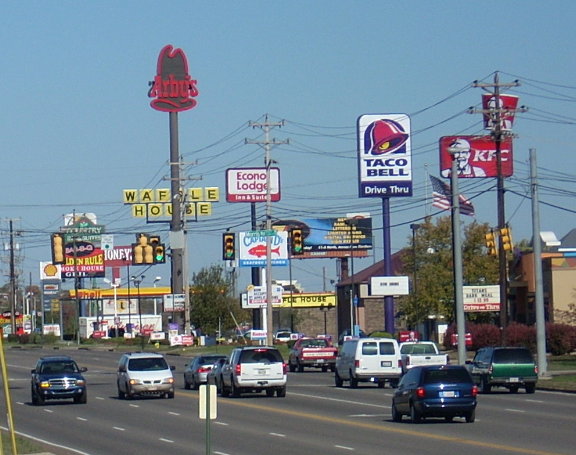 Signage. No kidding. Someone wants to talk about signs? It's about time, though it is only a starting point. When the city refers to "blighted" areas, it refers to areas not meeting a maximized tax potential. Your property is worth much less in tax revenue as your home, and so much more (to the city and developers) as a revenue-generating business-zoned cadre of condo's, apartments, another mini strip mall or as part of the growing Austin Peay State University campus.
In recent months we've heard talk of redevelopment, urban blight, and all manner of things relating to zoning and design. The fact is, when I consider what constitutes blight in Clarksville, it's not just Emerald Hill or Red River or Brandon Hills or any of a half-dozens areas that may or may not be blighted in the usual sense of the word but which trigger dollar signs in the eyes of developers. To see blight, all I have to do is drive down Fort Campbell Boulevard or Wilma Rudolph Boulevard and look out the car window. Blight. One big wall of urban blight in the guise of revenue-producing business districts. The heck with aesthetics.
Face the fact: the view is UGLY. «Read the rest of this article»