Topic: Mothers
Chicago, IL – Adults whose mothers were overweight or obese before pregnancy have a dramatically elevated risk of dying from heart disease or stroke, according to a new study presented at the American Heart Association's Scientific Sessions 2014.
"Excess weight among young women of childbearing age has important implications not only for their own health, but for that of their children as well," said Michael Mendelson, M.D., S.M., the study's lead author and a research fellow at the Framingham Heart Study, Boston University and the Boston Children's Hospital.
Previous studies had shown that people whose mothers were overweight before pregnancy were at higher risk for obesity, diabetes and elevated cholesterol. This study examined whether that translated into higher rates of cardiovascular disease and death. «Read the rest of this article»
Clarksville, TN – Does the picture to the left look familiar? As wives, mothers, sisters, neighbors and friends,   doesn't the juggling of responsibilities sometimes seem endless, whether working inside or outside the home most of our days revolve around taking care of our children, families and loved ones.
As women, we like to believe we are Superheroes who put on our capes and fly around saving the world, and that no job is too tough for us to handle. «Read the rest of this article»
New web forum provides Clarksville mothers with a much needed peer support resource.
Blythe Belenky was a member of TriangleMommies.com while living in Raleigh, NC,and felt completely lost without it when she moved to Tennessee.  She did not know how to find the answers to simple questions, such as what preschool is the best, where to get a haircut, which park will be the most fun, or where to buy the best produce.  In September 2009, she started ClarksvilleMommies.com to share her experiences and to offer other moms the advantages of a Mommies Network site and the ability to make friends.  It is wonderful resource for finding out about the area and finding friends, many of whom she knows will be life-long.
Members chat online in a private forum – discussing everything from the best photographers to the worst temper tantrums and all that lies between – and meet-up regularly at member-driven events around town.  Whether it's a late night commiseration on a crying baby (there are 4AM posts to prove it), or a Mom's Night Out, ClarksvilleMommies provides what local moms need, when and how they need it. «Read the rest of this article»
More and more young women are choosing to leave the workplace and make a home for themselves, their husbands and children. While it may look like an easy move, it does have its challenges. I can't possibly solve all your transition problems, but here are a few suggestions to help you make it as smooth as possible.
Transitioning from the workplace to staying at home with a child can sometimes be stressful and frustrating. You aren't alone in your struggle if you are learning how to manage your days and fill your hours productively at home.  Here is a letter from a young mom who had lots of questions about her new role as full-time stay at home mom.
I am a new sahm  (Stay At Home Mom) after seven years of teaching. I want to continue being at home. I want for my home to be clean and comfortable, to have an idea of what I am doing each day, to build relationships with God, my husband, my new baby,and others, and to take care of myself. I never knew that being a sahm would be so overwhelming. Before I quit teaching I used to get up a certain time of day, know what I was doing that day , had a time period to complete my tasks, was around other adults, enjoyed coming home to relax and went to bed around the same time. Now I feel overwhelmed. I do not know what expectations I should have for myself every day. What things should I be cleaning daily? What things should I only do occasionally? During the time that I am not cleaning what should I be doing? I have a 5 month old daughter. I do not want to be so devoted to cleaning my house that I miss time with her. I also need time with other adults. Any suggestions?
«Read the rest of this article»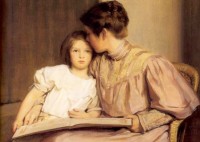 She pulled out of her purse a small, silver, Kodak easy share camera, like a proud Momma showing off her brag book. She turned it on and began to show me the most recent pictures of her children. There was her youngest daughter who is growing into such a stunning young girl, and there were pictures of laughter and silly moments between siblings on the couch. Then she got to the pictures of her oldest daughter who just turned eighteen-years-old last week. She had pictures of her in her poster-clad room surrounded by all the latest heart throbs, and pictures of her getting ready for her first real date. Then she came to a picture of this same daughter asleep on the couch with her hands curled up underneath her chin. This particular picture really took my breath away, because I had seen that sleeping face before. I had seen that face because it looked my little girl who turned the big 20-months-old last month. They look the same because they are related; the young sleeping beauty was my sister-in-law, and the proud Momma my Mother-in-law. I smiled as she showed me that last picture and said, "That's your baby." «Read the rest of this article»