Topic: Russell Qualls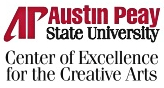 Clarksville, TN – Austin Peay State University's Area of Theatre in association with the APSU Center of Excellence for the Creative Arts is presenting the tragic tale of King Lear. Written by the English poet and playwright William Shakespeare, King Lear" is the story of an old monarch who watches his worst nightmare come true as his kingdom and his sanity crumble under the ruthless, bloodthirsty hands of his two eldest daughters. The play reminds audiences that power often blinds one to the pretense of loyalty and fidelity, but in one's most humble hour, true family and friends are discovered.
«Read the rest of this article»
The year is 1938. It's a Saturday night in Mount Pleasant, North Carolina. The Reverend Oglethorpe has invited the Sanders Family Singers to provide an uplifting evening of  singing and witnessing. On the way to the church, the Sanders Family bus turns over in a ditch near the pickle factory and they are delayed.
And so starts the hilarity as "Smoke on the Mountain" opens at Dover Community Theatre, this Friday and Saturday at 7:00pm with a 2:00pm matinee on Sunday. «Read the rest of this article»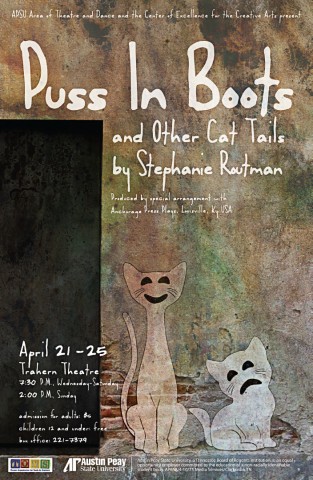 It is often hard for a parent with younger children to find wholesome entertainment to enjoy together as a family. However Austin Peay State University is doing their best to take care of that with a slate of Concerts, Art shows, and Dance & Theatre productions. Many of these events are free, or very low cost.
The APSU Department of Theatre and Dance along with the APSU Center of Excellence for the Creative Arts and the Theatre Organization for Youth by Students are currently staging a production of Puss in Boots and other Cat tales at the Trahern Theatre from April 21st-25th. Showtimes are 7:30 pm Wednesday-Saturday, and at 2:00 pm on Sunday.
This show is great for children of all ages. "Puss in Boots and Other Cat Tails" was written by Stephanie Routman, and is directed by Ricky Steven Young. It has an approximate runnning time of 50 minutes. Admission is free for children 12 and younger, and $5 for everyone else.
«Read the rest of this article»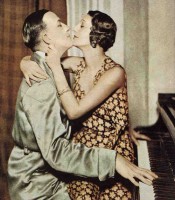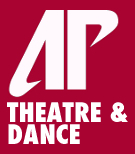 English playwright Noel Coward's characteristic wit and sophisticated sense of humor will be on display at Austin Peay State University next week with performances of his play, "Private Lives."
The show, directed by APSU associate professor of theater Dr. Sara Gotcher, runs from Feb. 24-28 in the Trahern Theater, with the shows starting at 7:30 p.m., Wednesday through Saturday and at 2 p.m. on Sunday.
"Private Lives" is a comedy of manners set in 1930s France. The play follows divorced couple Amanda and Elyot who, each while honeymooning with their new spouses, discover they're staying in the same hotel, in rooms with adjoining balconies. Old feelings are reignited, and Amanda and Elyot become convinced they are still madly in love, forgetting what made them so deplorable to each other in the first place. «Read the rest of this article»
We've got magic to do, just for you. We've got miracle plays to play. We've got parts to perform, hearts to warm. Kings and things to take by storm. As we go along our way.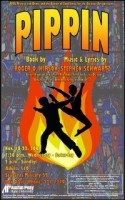 So begins the story of Pippin, a young man seeking his way in the world. This young man just happens to be the son of Emperor Charlemagne. Pippin knows with all his heart that there are great things in store for his life, but he has a hard time figuring out just what they may be. So he sets off to figure out the purpose of his life. Along the way Pippin is manipulated into a variety of situations by the mysterious Leading Player. Intrigue, plots to bring disaster! Humor, handled by a master! Romance, sex presented pastorally! Illusion, fantasy to study! Battles, barbarous and bloody!
The leading player is being played by Chris Hardin an assistant professor of voice and movement at APSU. He brings an intensity to the role worthy of Ben Vereen from the 1973 Broadway Production.
«Read the rest of this article»